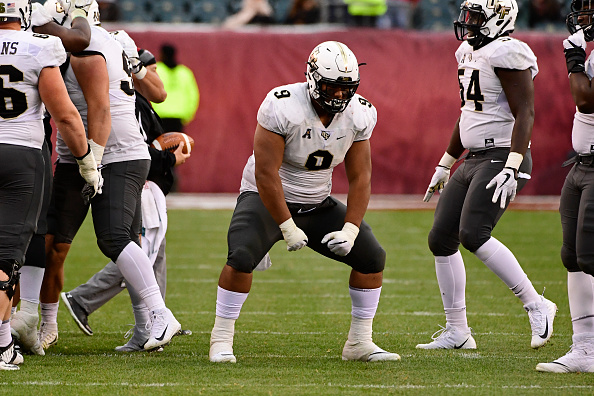 Trysten Hill spent most of the draft season under the radar. With under a month to go, that is starting to change. The defensive tackle out of Central Florida is beginning to make waves in the draft community, and deservedly so. Hill is a very talented, athletic player who will undoubtedly have a role at the next level. After declaring as a junior from a team that garnered a lot of attention around America, it is surprising he slipped through the cracks for so long.
Trysten Hill Is Rising Up Draft Boards
Background
Hill is a former three-star recruit who received offers from a ton of small schools, as well as a few larger schools. Kentucky, Georgia Tech, and Virginia were the Power 5 schools that offered Hill a scholarship. Hill committed to UCF, and it would be tough to say he regrets his decision after losing one game in the past two seasons.
UCF had four players drafted last season. That is the most since 2003, where that number was matched. The offensive side of the ball has seen some players get drafted high over the past half-decade in Blake Bortles, Breshad Perriman, Tre'Quan Smith, and Jordan Akins. In the past two seasons though, Shaquill Griffin and Mike Hughes were both selected as defensive backs by the end of day two. Hill looks to be the first defensive linemen selected through the NFL Draft in quite a while for the UCF Knights, and he could do so as a day two pick.
Traits
Hill was quite a surprise on tape. He tested as an explosive athlete, but he did not put up exceptional speed and agility numbers. The tape shows otherwise though.
Trysten Hill posted an elite #RAS at the #2019NFLCombine with good size and speed to go with split agility and elite explosion.
*Splits Projected* pic.twitter.com/5qdG5w37Lh

— Kent Lee Platte (@MathBomb) March 3, 2019
Hill's biggest flaw on tape actually comes from a positive trait. Sometimes he is so explosive off the line of scrimmage that he is too deep in the backfield to have an impact on run plays. His push rush moves are exceptional and he flashed the ability to beat offensive linemen off spin moves constantly. His athleticism is also rather good, and his strength in the trenches is significantly better than most at his size and stature.
Hill won't plug any holes as a pure run stuffer, but he does become a very good run defender when it comes to tackles for loss. He makes offensive linemen look lost so often that he constantly meets the running back early.
Some impressive short area quickness and flexibility from #UCF DT Trysten Hill who killed the #NFLCombine today. See that first step quickness to angle himself in the backfield and then he can bend and move his feet around the blocker to get the ball carrier. pic.twitter.com/jykTnzJI6H

— Evan Lazar (@ezlazar) March 4, 2019
His strength and quickness off the line of scrimmage is very difficult to match. He is incredibly well rounded and has very few holes. It would be unsurprising to see him step in and make an impact day one, especially on first down sets in the passing game. In a very deep defensive draft, Hill's film graded out as the fifth best interior defensive linemen.
Draft Fits
Some teams that he could be a good fit on include the Buffalo Bills, Cleveland Browns, and Houston Texans.
Buffalo Bills
The Bills may be the most unlikely of these three teams to take Hill, but it wouldn't be a bad idea. The Bills rostered defensive tackles amassed zero sacks last season. Star Lotulelei is a good but not great starter. Jordan Phillips would probably be better off in a rotational role, but the thing that may prevent them from drafting Hill is Harrison Phillips.  Harrison Phillips was drafted third round last year after a breakout season at Stanford, and he could play his way into some playing time this season. The Bills are not in win-now mode, and giving Harrison Phillips playing time to develop, while filling holes at other spots may not be a bad idea.
Cleveland Browns
The Browns signed Sheldon Richardson, and Larry Ogunjobi was solid last season, but they need depth badly. There is simply no one behind those two on the depth chart that can make a serious impact. Hill would bring some depth to the defensive tackle position. His explosiveness would also be an absolute nightmare in the passing game alongside Myles Garrett and Olivier Vernon.
Houston Texans
The Texans are looking to shift from a 3-4 to a 4-3 base defense. There may not be a better player than Hill to help bridge the gap. Dre'Mont Jones would also be a good fit, but Hill is better in the run game. D.J. Reader and Jadeveon Clowney prove that the run game is something the Texans value. Hill would bring a solid pass rush from the defensive tackle position; something that they have really lacked with nose tackle Reader. A defensive line of Watt, Hill, Reader, Clowney would be a great mix of run stopping ability and pass rush prowess.
Last Word
Trysten Hill is flying up draft boards, and it really is difficult to know where his draft stock will land. In the past couple seasons, the players to have their stock skyrocket have been Tyus Bowser and Marcus Davenport. They were drafted 47th and 14th, respectively. Bowser's landing spot is more likely where we will see Hill get drafted, but he would be of good value in the late second round to third round. He is also a scheme specific player, and he could very well be worthy of an earlysecond-round selection to the right team.
Main Photo:
Embed from Getty Images