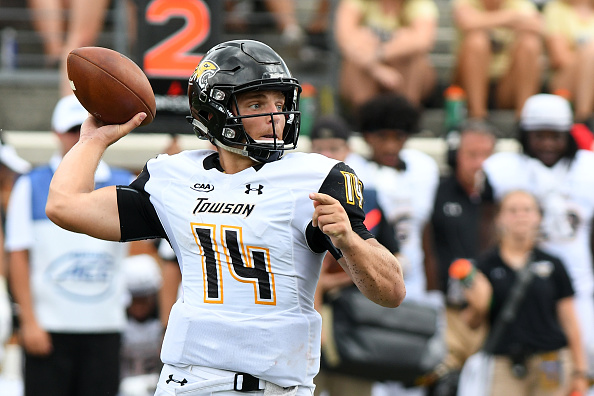 The Towson Tigers qualified for the FCS playoffs for the first time since 2013, when they lost to North Dakota State in the championship. The Tigers were picked to finish 10th in the CAA. They have finished 7-4 overall and 5-3 in the conference. They have three wins against top 15 teams, including a 41-10 blowout at number five Elon. Towson had a five game winning streak in which they scored 44 or more points in four of the five games. They also scored 50 points in two games. In what is considered the most difficult conference at the FCS level, the Tigers have earned a spot in the playoffs as one of six CAA teams to do so.
This was the first winning season in three years, and the fourth for head coach Rob Ambrose. The Tigers prepare for Duquesne, who finished 7-3 overall and 4-1 in the NEC. They did not play any ranked teams however, and four of the seven teams finished with losing records. This will be an opportunity for Ambrose to show what Towson can do, and he looks forward to the challenge. "If they let us play football one more game, let us in the playoffs. We all are brothers (CAA) who beat the hell out of each other but let us out of the cage and play someone else. Let us show what this league has to offer." This Tiger team is a special one, and if these six players have solid games, I believe the Tigers can advance to the next round.
Tom Flacco, redshirt junior quarterback
Tom Flacco won the starting quarterback job over Ryan Stover in camp. Coach Ambrose was impressed with both players and stated how close it was. "The two of them slugged it out in camp, Tom won by this much. Imagine the confidence you have as a team when you know you have not only one but two starting quarterbacks."
Flacco has been very impressive this season, throwing for 3124 yards and 27 touchdowns. He has completed 63.8% of his passes to 14 receivers. He is a dual threat signal caller who led the Tigers in rushing with 704 yards and 4 touchdowns. Averaging 64 yards rushing a game, opponents had to gameplan specifically to contain him.
His mobility and ability to buy time out of the pocket is similar to Russell Wilson and once he takes off he has the speed to go the distance, as he showed with his 78 yard touchdown against The Citadel. Flacco has been consistent in finding receivers, however the past few games has made some poor decisions and thrown some interceptions on questionable throws. If he prevents these poor decisions, he can take over a game and lead the Tigers offense to a victory, and possibly a long run in the playoffs.
Shane Simpson, redshirt junior running back
Every quarterback needs a ground game, and Shane Simpson has provided it for the Tigers. He has scored a touchdown in each game except the final two against Elon and James Madison. With 11 total touchdowns and 591 rushing yards he has been an effective weapon.
347 receiving yards fail to represent his impact in the passing game, while he is effective in screens and dump offs he has improved in pass blocking. His numbers don't scream feature back as Kobe Young has also had a significant impact, however Simpson has been the feature back in each game with Young used as a situational back.
He has more yards from kick returns than on offense, with 847 including three games over 100 return yards. He only scored once on a kickoff, however, it went 96 yards against a ranked Stony Brook team. His 100 yard games returning have come against two ranked teams and a power five FBS opponent in Wake Forest. Simpson has dominated multiple ranked rush defenses this season. This could be the difference in a playoff game where one play can change everything.
Shane Leatherbury and Jabari Allen, redshirt junior and sophomore wide receivers
Flacco has not had one reliable receiver, he has had two this season. Shane Leatherbury and Jabari Allen are the top receivers for the Tigers with 875 and 684 yards, respectively. Both have seven receiving touchdowns and over 50 catches. Leatherbury has 66 catches averaging 79.5 yards per game while Allen has 50 receptions averaging 62.2 yards.
Leatherbury's 76 yard catch against Villanova and Allen's 68 yard reception against JMU are the longest receptions for Towson this season. One of Allen's touchdowns against William and Mary was an acrobatic one-handed catch where he got his foot in bounds in the back corner of the endzone for a touchdown.
The play energized Unitas Stadium and was featured on ESPN. Leatherbury did not have a Sportscenter highlight, however was a reliable option for Flacco and made some tough catches in traffic. These receivers along with Sam Gallahan and Brent Richardson provide the Tigers a receiver core to tear up secondaries across America.
Robert Heyward and Diondre Wallace, redshirt junior and senior linebackers
Towson is not just an offensive team, as their defense has prevented some of the best offenses from taking over games. While inconsistent at times, the Tigers have held some of the top rushing offenses to under 100 yards and have constantly made key stops in crucial points in the game.
This unit is led by Robert Heyward and Diondre Wallace, however, Keon Paye, Monty Fenner, Mantriel Reeves, and Ricky DeBerry are all key factors. Heyward and Wallace led the team in tackles with 92 and 81 respectively. 9.5 of Heyward's tackles went for a loss, and 4.5 of Wallace's were behind the line. Against Elon, Heyward had a huge game with 13 tackles and a sack. Wallace had his season best against William and Mary with 12 tackles along with Heyward's 13. They both forced two fumbles and had four pass breakups. Bryce Carter had 12.5 sacks to lead the team, DeBerry contributed 9.5 as well. This is a team with talent on all three phases and has the potential to go far this postseason.
Hail TU
Towson was not supposed to be in the playoffs this season but proved all doubters wrong. Celebrating their 50th season in style with a return to the playoffs has electrified the campus and community. This is a special team. I believe they can go far this postseason. I've covered this team for The Towerlight, the student newspaper at Towson University and truly believe in this group. These teams do not come around often, and I believe this special season is just getting started.
Main Photo
Embed from Getty Images