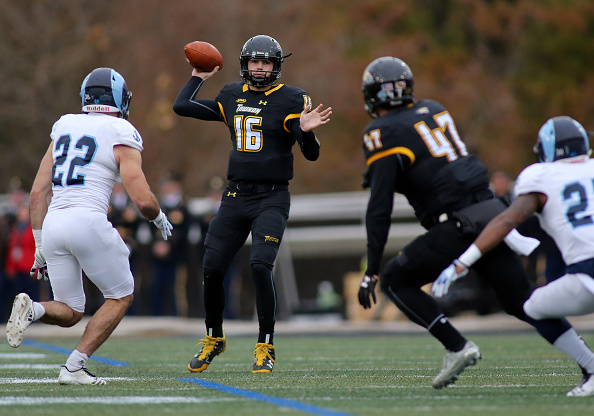 Baseball season is in full swing, and schools across America are beginning to let out for the summer. As pools and beaches increase in popularity, others are preparing for football season.
FCS football does not get much national attention, however, it is still Division-01 college football. Carson Wentz was an MVP candidate coming out of the FCS powerhouse North Dakota State. Darius Leonard was drafted 36th overall by the Indianapolis Colts from South Carolina State in this year's draft. For every powerhouse such as Alabama and USC, there is a North Dakota State Bison and James Madison Duke.
2018 Towson Tigers
Coming into the 2018 season, the Towson Tigers look to bounce back to their 2015 form. With an 11-game schedule with six road trips, the Tigers will be tested. The games against Wake Forest, Delaware, and JMU will test them and will be key games to determine their season.
Wake Forest
With an eight-win season in 2017, the Demon Deacons surprised many in the ACC. Against ranked opponents they were very competitive, their largest defeat was by only 14 points in Clemson. Yet they handled the Orange in Syracuse 64-43, the only team to defeat Clemson in the regular season. Including some wins over unranked but talented teams Louisville and Texas A&M, the Deacons are coming off a program-changing season.
This program has undergone massive improvement. In just two seasons they went from a three-win season to winning a bowl game. John Wolford looks to continue an impressive season behind center. He threw 25 touchdowns to just six interceptions. He also contributed on the ground, leading the team with ten rushing touchdowns and finishing second in rushing yards. This dual-threat ability could be a challenge for Towson, they are not used to having dual-threat quarterbacks in the CAA.
Towson's Ryan Stover led the CAA in rushing yards for a quarterback with just 335 yards. They may not be used to mobile passers, however, their defense has some pieces to contain Wolford. Diondre Wallace had 90 tackles in 2017. Robert Heyward had 64 tackles, including 7.5 for a loss. This will be game two of three in a row away from Towson to begin the season. Making a statement to the FBS could give them the confidence and momentum to contend in the CAA.
Delaware
The Blue Hens host Towson for game eight. They won two games against ranked opponents last season, and only lost by ten to the top-ranked FCS team in James Madison. Last year, the Hens lost a close one against Towson by just one point. Revenge will be on their mind. With North Dakota State on the schedule, the Hens will be a great test for Towson, especially if they keep it close with the Bison.
Kani Kane was the team's leading rusher last season with 594 yards and seven touchdowns. This may not seem impressive, however, they had a backfield with seven rushers combining for over 2000 yards. With 12 passing touchdowns between two quarterbacks. There was a lack of aerial offense that the defense made up for. They had six defenders with at least 50 tackles. Having over half of the defense contributing that well creates stops and prevents the Hens offense from having the pressure of insurmountable leads.
This will be an interesting test for Towson. The way that they spread the ball on offense could help them win two straight. 23 players caught at least one pass, and seven finished with at least 100 yards. Jabari Greenwood had over 600 yards, averaging over 60 per game. They had higher numbers in both passing and receiving yards than their opponents and this may allow them to have success against the Fighting Blue Hens.
James Madison
As the three-time defending CAA champs, the Dukes will be a difficult test. This is the final regular season game for both teams, and luckily for the Tigers, it is at home. The Dukes went 14-1 last year, only losing in the National Championship to ND State.
The Dukes last played Towson in 2015, winning 62-7. This team was ranked number one all season, and proved why each game. In 2017, the top three CAA leaders in interceptions came from JMU and four of the top ten were Dukes. Quarterback Bryan Schor played very well completing 65 percent of his passes for 3222 yards and 22 touchdowns. Also contributing on the ground with seven touchdowns, Schor rushed 146 times for 322 yards. Marcus Marshall made their ground game even more dangerous. He put up 850 yards and 11 touchdowns, averaging 61 yards per game. Trai Sharp made them a committee to watch with 759 yards and four trips to the end zone. Schor had some weapons to throw to as well, Terrence Alls and Riley Stapleton combined for over 1300 yards, averaging 14 yards per catch.
Their defense has some star-power as well. Kyre Hawkins had 111 tackles and six sacks. 12 defenders had at least 50 tackles, more than a starting defense of production makes them dangerous. Four of the top ten CAA leaders in TFL were Dukes, each having at least 13. Darrious Carter was a half sack away from leading the conference with 8.5.
Towson likely does not have enough to upset the Dukes, however seven seniors could provide the experience needed to shock the Dukes. One of them is a graduate transfer, wide receiver Trey Kilgore came from a top program in Michigan State. The experience of playing teams such as Ohio State and Penn State may provide wisdom that could beat a powerhouse in JMU.
Looking Ahead
Towson has potential to bounce back and compete for the CAA title. Head coach Rob Ambrose has a lot of work to do. However, the Tigers could surprise a few teams in 2018. Depth is crucial to succeed, especially in the trenches. Nine defensive linemen and 11 offensive linemen provide enough depth to survive any crucial injuries. If they can show up against Wake Forest, Delaware, and JMU- the Tigers can prove their might and contend for the CAA.
FCS football does not get the attention it deserves, and Towson can be a team to prove why less attention on Alabama and USC and more on Elon and Villanova could be beneficial to football fans everywhere.
Main Photo:
Embed from Getty Images