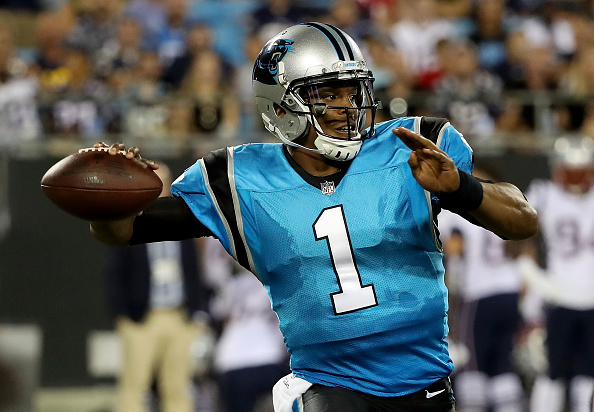 The Carolina Panthers turned in their tentative roster on Saturday. There were surprises in some areas while others were not. Of course, this roster isn't set in stone and they can make changes as other players become available. But let's entertain Panthers fans out there and examine the Panthers current roster.
Examining Carolina Panthers (almost) Final Roster
Quarterbacks 
Of course, Cam Newton gets the start, and rightfully so, he's been as consistent as they come since coming in 2011. His ability to run the ball has been good for the team because it gives them an extra threat on the ground, but bad for them because as a runner he puts his body in so much danger. Just look at how awkward he hit the ground playing against the New England Patriots. Still, he has undeniable talent and an armory of new weapons that should put him at the next level. Maybe with Norv Turner as the new offensive coordinator,  he'll finally break into the top-five quarterbacks.
Backing him up is none other than Taylor Heinicke which was a surprise to many fans. He got drafted last year and just didn't have the experience it seemed Garrett Gilbert did. The one game he played with the Houston Texans he passed the ball for just ten yards during his one play. Gilbert played in the National Football League longer but on paper actually had less experience. What Heinicke showed us during the preseason was that he has the ability to extend plays by running the ball which is a huge deal when you're back up to Newton. 
Heinicke might have won the job, but he still may not be the long-term answer. We'll see if he ends up keeping the job over the next week.
Wide receivers 
There are some interesting names among the wide receivers including veteran Torrey Smith who came from the Philadelphia Eagles. He is most notable for his time with the Baltimore Ravens, where he won his first championship and for playing with the Eagles. He didn't have as big a role with the Eagles as he did with Baltimore which is probably why he only played for one year. This season will be a test to determine whether he fits on the team or not.
Devin Funchess lines up across from Smith and offers his size and experience. What I like most about Funchess is that he hasn't rushed his progression, only taken his time and gotten better as a receiver. When Kelvin Benjamin got traded Funchess took on his responsibilities and has only gotten better. His ability to use his big body to make those catches the way he did during the preseason, only solidified his argument for becoming the number-one receiver.
DJ Moore has a lot to prove to the Panthers this season. We know what he is capable of and now he just needs to make good on it. We saw the flash of greatness during his game against the Buffalo Bills but didn't get a lot from him after that. Can Turner tap into his inner Steve Smith Sr.?
With six receivers, this is the deepest corp Newton has had during his time with the Panthers. Even if he has some trouble at the position, he still has a handful of veterans who will make him look good.
Tight end
Ian Thomas is number two behind Greg Olsen which doesn't come as a surprise considering how good he's been with receptions. The jury is still out on whether he'll have a lasting contribution with the Panthers. He has to learn how to be a better blocker if he wants to be the long-term answer for Olsen once he retires.
Chris Manhertz is staying on as third in line on the tight end depth chart. He didn't play during the preseason because of a foot injury and the Panthers are still uncertain of his reception abilities. This season will give us the answer to that question.
Offensive line
There were a ton of injuries to the offensive line that left plenty of people wondering whether this would be a problem area for the Panthers this year. Now that they have placed Matt Kalil on injured reserve that opens up possibilities in other positions but also leaves them in a tight spot.
I won't panic just yet because the Panthers proved throughout the preseason that they can hold their own against teams defenses. It will be interesting to see how Taylor Moton deals with the pressure of being left tackle. He starts off going up against the Dallas Cowboys defensive line who won't have mercy on him. If he can stand strong against this defensive team, he could find himself in a starting role.
Defensive Backs
This was another problem area for the Panthers over the last few seasons. It seemed like the problem was finally being solved when they brought in rookies James Bradberry and Daryl Worley. While Bradberry worked hard and became Carolina's go-to corner, they have been reeling trying to find consistency with the rest of their backfield. There are a lot of undersized men back there but they bring a chippy disposition that one needs to be successful.
One good thing that came out of Kalil's being placed on IR was the re-signing of Lorenzo Doss who I actually thought would be signed over some of the others. He now has a second chance and shouldn't waste the opportunity.
Last Word
As I mentioned, there are still plenty of questions concerning this roster. The first three weeks will tell us what the rest of their season will be like. Will the offensive line stand strong in Kalil's absence? Will the secondary finally be one that can shut receivers down? How will Moton fair as a left tackle? We find the answers to these questions and more in the coming weeks.
Main Photo:
Embed from Getty Images