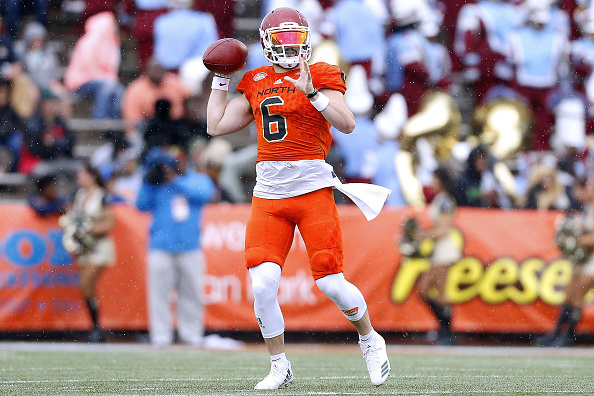 The draft starts Thursday, April 26th. This means the picture of what will happen in the first round is beginning to become crystal clear. So, here is my final mock draft for the 2018 season, including trades I believe will happen on draft night.
Connor Dale's 2018 NFL Mock Draft
1. Cleveland Browns: Sam Darnold, QB, USC
Every single top quarterback in this class has issues. There is no clear top elite pick in this draft, and that is why the Browns have to hit on this pick, because they will never hear the end of it if they draft a bust. Sam Darnold will be the number one overall pick in this draft. It's hard to say if he is worth the coveted number one selection, but there are games like the 2016 Rose Bowl show you how high Darnold's ceiling really is. The best part is with Tyrod Taylor already on roster, there is no rush for Darnold to immediately start. But when he does, he will help this team finally win games, and with a little bit of development could be a solid starter in the NFL.
2. New York Giants: Saquon Barkley, RB, Penn State
To many, Saquon Barkley is the best overall prospect in this draft class, maybe even a generational talent. He is a dominant rusher with receiving skills comparable to Le'Veon Bell. The last running back the Giants had that made any impact was Tiki Barber, but Barkley can change that. His rushing ability may just be the key to igniting a Giants team that wants to win while Eli Manning can still play.
3. New York Jets: Baker Mayfield, QB, Oklahoma
It seems like the Jets have been looking for a franchise quarterback since the dawn of time, and now they have finally found him. Baker Mayfield is accurate on all levels of the field, has great pocket awareness, and his arm strength is enough to where he can consistently make almost any throw. On top of all that, his leadership qualities will prove that Mayfield can and will be a successful quarterback in the NFL. Behavior concerns are nothing to worry about, as the are inconsistent and for the most part from his passion for the game of football.
4. Cleveland Browns: Bradley Chubb, DE, N.C. State
After the quarterback position, pass rush is the most important for any NFL team to succeed. Getting pressure on the opposing quarterback is the easiest way to disrupt an offense, and adding Bradley Chubb to play alongside Myles Garrett will be very tough to block. Together, this pass rush could take control of any game, now matter how dominant the offensive line may seem to be. This will be an exciting defense to watch next year.
5. *TRADE* Buffalo Bills: Josh Allen, QB, Wyoming
This will be my only trade because it just seems like this will happen on Thursday. The Bills move up to number 5 overall to select Josh Allen, while the Broncos receive the 12th and 22nd picks in this year's draft. Allen for the most part is a first round prospect solely because of his cannon of an arm. Unfortunately, his accuracy and anticipation are horrifyingly poor. He will need time to develop his game, because suiting up Allen as a starter would be disastrous. However, with the right coaching and determination, Allen can turn out to be a solid starter in this league.
6. Indianapolis Colts: Quenton Nelson, OG, Notre Dame
Andrew Luck has been tortured for far too long, and enough is enough. He needs to be protected at all costs, and Quenton Nelson is the talent the Colts need. Nelson is a monster that can start at right guard immediately. It may not be the flashiest draft pick, but fixing that offensive line gives Luck a clean pocket, and as long as Luck is healthy the Colts will be in playoff contention. Nelson is a can't miss pick.
7. Tampa Bay Buccaneers: Derwin James, S, Florida State
After a disappointing 2017 season, the Bucs are looking for the prospect to propel them back into the playoffs after 11 years. Defensively, they were one of the worst units in the league. They fixed the pass rush problem by trading for Jason Pierre-Paul, now they need to address the defensive backs. Derwin James is a natural strong safety the Bucs desperately need to match up with sophomore starter Justin Evans. James is a freak athlete that could be used in the dime backer role, playing both strong safety and linebacker. He's got the tools and skillset to be one of the most dominant safeties in the league in a few years.
8. Chicago Bears: Tremaine Edmunds, LB, Virginia Tech
The Bears decimated their linebacking corps during the off-season, losing quality starters like Jerrell Freeman and Pernell McPhee. Lucky for them, Tremaine Edmunds falls right in their laps. Edmunds is one of the best linebacker prospects in a while, as he has the ability to play inside and outside linebacker in a 3-4 scheme. He may still be raw, but being only 19 he has plenty of time to develop.
9. San Francisco 49ers: Roquan Smith, LB, Georgia
There is a decent chance that Reuben Foster never plays football as a 49er ever again. That leaves a giant hole in the linebacking corps, but Roquan Smith can come in and replace the talent that Foster brought. Smith was dominant in Georgia, and he can play near that same level in the right scheme. He does struggle to get off blocks, so playing him at will linebacker will help the 49ers get the most production out of him. He's a fast, explosive player that can make game changing plays right out of the gate.
10. Oakland Raiders: Minkah Fitzpatrick, DB, Alabama
Minkah Fitzpatrick lives and breathes football. You can hear countless stories about his tremendous work ethic and love for the game of football. A mentality like that is desperately needed in a Raider's locker room who seemed to have no answers on defending the pass last year. Fitzpatrick has the ability to not only play both safety positions, he can play slot corner as well.
11. Miami Dolphins: Josh Rosen, QB, UCLA
The Dolphins have a lot of options to choose from with this pick, and only fate decides which star talent will drop at their feet. In this mock draft, that player is Josh Rosen, to some a questionable pick. The Dolphins have had connections to Rosen as of late, which means they are probably asking the same questions that I am. Is Ryan Tannehill the future? After consecutive knee injuries in consecutive seasons, will he return to full form, or be a shadow of his former self? Rosen has a gunslinger's mentality with rare arm talent. He can make any throw along with pinpoint accuracy, to the Dolphins he may be too good to pass up. However, if the Dolphins draft him he will receive the Pat Mahomes treatment as they figure out what to do with Tannehill, so keep that in mind with this pick.
12. *TRADE* Denver Broncos: Denzel Ward, CB, Ohio State
To recap, the Broncos gave the 5th overall pick to the Bills in exchange for the 12th and 22nd pick this year. It seems that the Broncos are very close to being back in playoff form, they just need the right pieces. Case Keenum was signed via free agency as a band aid starter, so quarterback does not seem like the logical move. They did trade Aqib Talib to the Rams, so boundary corner rose up as a top need. Luckily, Denzel Ward is still on the board. Ward is a sticky man to man corner that could give some number one receivers a hard time. Complementing him with Chris Harris would be fun to watch, but a concern for him would be if Ward can cover tall receivers like Mike Evans or Tyrell Williams.
13. Washington Redskins: Vita Vea, DT, Washington
Defensive line seems to be a glaring need for the Redskins every year, and in a division where you face Carson Wentz and Eli Manning twice a year, a presence at nose tackle is a must. Tevita Tuliakiono Tuipuloto Mosese Va'hae Faletau Vea, or Vita Vea for short, is the perfect fit for the Redskins. He's a freak athlete that can disrupt the interior and collapse the pocket. Pairing him with Jonathan Allen and Stacy McGee on paper looks to be a formidable defensive line next season.
14. Green Bay Packers: Harold Landry, DE, Boston College
The Packers have a lot of holes to fill, especially on the defensive side of the ball. The pairing of Clay Matthews and Nick Perry does not scream dominant edge presence anymore, and that's why at this pick Harold Landry is a no brainer. He is so quick off the edge, and his bend around technique makes him such a hard player to block. He will immediately make this front seven scary, which in turn will help the production of the fairly weak defensive backs the Packers have. Landry is a ten sack player if used correctly.
15. Arizona Cardinals: Lamar Jackson, QB, Louisville
The Cardinals are not in a position right now to win games. They may not admit it now but this is a team currently rebuilding, which is a shame since Larry Fitzgerald isn't getting any younger. You need to begin planning for the future now, and Lamar Jackson has a bright future. Jackson is Michael Vick but a better passer, which is a deadly dual threat combination that any team would love to have. However, he will need to work on his mechanics as he transitions into the NFL, and Sam Bradford is a solid quarterback to learn under for a while. If he is thrusted into the starting position due to another Bradford injury, don't be surprised if he dominates the field.
16. Baltimore Ravens: Mike McGlinchey, OT, Notre Dame
Ozzie Newsome let everyone know that we may be surprised with who the Ravens select at 16, which basically means the player won't be from Alabama. Calvin Ridley has been the prospect of choice by many analysts, but they just signed Willie Snead, who fits the role Ridley would have played. So with the receiving corps seemingly fixed, Mike McGlinchey fixes the offensive line. McGlinchey can step into the starting right tackle spot and give Joe Flacco the time he needs to throw the ball downfield.
17. Los Angeles Chargers: Da'Ron Payne, DT, Alabama
The Chargers don't have very many holes going into the 2018 season. But with the rise of Joey Bosa and Melvin Ingram as dominant edge rushers, adding a guy to the interior can make this defensive line truly spectacular. Da'Ron Payne has all the tools to succeed in the NFL, but he struggles with consistency. If he gets it all together, watch out for the Chargers as potential contenders.
18. Seattle Seahawks: Isaiah Wynn, OG, Georgia
The Seahawks are rebuilding, so they could take almost any position with this pick. But with the Rams defensive line becoming one of the best in the league, they can't ignore the offensive line anymore, especially with Isaiah Wynn on the board. Wynn will send a chain reaction on this entire offense. Strengthening that offensive line will strengthen Russell Wilson's game, and the running game which was arguably the worst group on this entire team.
19. Dallas Cowboys: D.J. Moore, WR, Maryland
Dez Bryant is no longer a Dallas Cowboy. Even with the signings of Allen Hurns and Deonte Thompson, neither is a true number one receiver. To make sure Dak Prescott continues to improve as a quarterback, you need a reliable wide receiver to throw to, and the closest player on roster that fits that bill is Cole Beasley, which is not ideal to say the least. D.J. Moore gives Prescott a big target to throw to that can create separation and make big plays.
20. Detroit Lions: Marcus Davenport, DE, UTSA
Defensive end Ziggy Ansah is playing the 2018 season on the franchise tag. To make sure he produces to the best of his abilities, the Lions will need another defensive end to worry about. Marcus Davenport has the size and athleticism to be a day one starter for this team, and will give Ansah less lineman to get off of.
21. Cincinnati Bengals: James Daniels, OC, Iowa
As I said before, the worst offensive line in the league resides in Cincinnati. The loss of Andrew Whitworth and Kevin Zeitler last year killed the entire Bengals offense, and they need to give Andy Dalton more time to throw to his talented wide receivers. The Bengals traded for Cordy Glenn, so adding James Daniels to the interior makes the offensive line competent at best, which is a major improvement to the disaster it was last year.
22. *TRADE* Denver Broncos: Derrius Guice, RB, LSU
Earlier, the Broncos exchanged the 5th overall pick in exchange for the 12th and the 22nd. They already addressed the defense, now time to address the offense. C.J. Anderson was recently cut, and no one on the Broncos depth chart looks like an NFL starter. Derrius Guice is the perfect bell cow back for this team. He's very well rounded, who has the speed to break off long runs and the power to burst through the line in short down situations. Guice will help take some pressure off Case Keenum as well, and last year we observed the success Keenum can have with a good run game around him.
23. New England Patriots: Mason Rudolph, QB, Oklahoma State
The Patriots traded up for a reason, and all we can do is guess that reason until draft day. My guess is the Patriots are looking for the future of the franchise. Tom Brady is 40 years old, and great players unfortunately can't play forever. The Patriots need a plan in place for a potential upcoming minor rebuild, and it starts with Mason Rudolph. Rudolph doesn't get all the love as the other Oklahoma quarterback does, but Rudolph has the potential to be a serviceable player in this league. He reminds me a lot of Kirk Cousins, a guy that can do everything right and play to his strengths based on scheme fit. The Patriots get their quarterback of the future, or at least another trade piece.
24. Carolina Panthers: Joshua Jackson, CB, Iowa
The Panthers biggest needs are at wide receiver and cornerback, and either could get selected with this pick. But Josh Jackson is the best player available at a position of need, so he's the pick here. Boundary corner is a top need for the Panthers, and fits what they want to run on defense. With all the stacked wide receivers in this division, the Panthers have to find that true lockdown corner.
25. Tennessee Titans: Leighton Vander Esch, LB, Boise State
It's tough to find a hole on this Titans' team. They rebuilt the defensive backs this year, and the run game seems fixed with the addition of Dion Lewis. But linebacker, especially on the inside, leaves something to be desired. Leighton Vander Esch is a very well rounded linebacker that can do what he has to do. Ask him to stop the run, cover, rush the passer, he can make plays for your team without fail. Pairing him with an aging Wesley Woodyard sounds like a recipe for a scary front seven.
26. Atlanta Falcons: Taven Bryan, DT, Florida
During the off-season, the Falcons lost Dontari Poe, Adrian Clayborn, and Derrick Shelby. Their defensive line is the only real concern this team has, and that can be easily fixed with Taven Bryan. Bryan could play in any scheme that the Falcons want to run, he could be kicked in the trenches at DT or even outside at DE, he's that versatile. This is another team that just one right pick, and they could be borderline contenders. Bryan is that one player for the Falcons.
27. New Orleans Saints: Calvin Ridley, WR, Alabama
The Saints recently lost Willie Snead, so the biggest glaring hole on this team is slot receiver. To some, Calvin Ridley is the best wide receiver in this class. What's holding him back are two points. For starters, he's already 24, meaning his rookie contract will be up once he's 28. Another, he is more of a slot receiver than an outside receiver, but that fits what the Saints need. You can't deny his talent as a prospect, and he's definitely worth the pick here.
28. Pittsburgh Steelers: Rashaan Evans, LB, Alabama
Losing Ryan Shazier hit the Steelers like a truck, and they had no answers. They were one of if not the worst defense in the NFL, and after the free agency period they still have no answers on replacing him. Rashaan Evans is the obvious choice to fill this glaring need at inside linebacker. Another quirk is that Evans is a converted edge rusher. So, if Shazier decides to come back and outside linebacker Bud Dupree doesn't pan out, then Evans can still remain valuable.
29. Jacksonville Jaguars: Will Hernandez, OG, UTEP
The Jaguars offensive line is already a top unit in the league, but adding Will Hernandez to this mix and you have one of the best run blocking lines in the NFL. There is not much else to say about this pick, but just be aware that Hernandez is a monster and fits the Jaguars line really well.
30. Minnesota Vikings: Isaiah Oliver, CB, Colorado
The Vikings are arguably one of the best rosters in the entire league. With a limited amount of glaring needs, one must look at an individual player you can upgrade over. Trae Waynes is not terrible, but not good either. Isaiah Oliver has the chance to be great. He's a long, tall corner that can make plays off the ball and has the speed and arm length to make up for open space when the ball is in the air. Pairing him with Xavier Rhodes and Harrison Smith makes his defensive back group one of the best in the NFL.
31. New England Patriots: Connor Williams, OT, Texas
The Patriots have a lot more needs going into the 2018 season than usual. But the biggest is at offensive tackle after Nate Solder and Cameron Fleming. Protecting star quarterbacks is always a necessity above all else, especially if your quarterback is Tom Brady. In that case, Connor Williams can sure up the offensive line. He's a huge, powerful blocker that can be turned into a pro bowl caliber blocker, wherever Belichick wants to put him.
32. Philadelphia Eagles: Dallas Goedert, TE, South Dakota State
The reigning Super Bowl champions have little to no needs on paper, so looking at the future or at depth is the play here, The Eagles lost both backup tight ends Trey Burton and Brent Celek, but luckily Dallas Goedert will be a solid heir to Celek. He's a great blocker and athlete, and considereing he is one of the best tight ends in this class, it's surprising he fell this far.
Main Image Credit: Embed from Getty Images
Article Images:Embed from Getty Images