The NFL Draft is finally upon us. It's the most wonderful time of the year for NFL fans as teams get to open new players to their rosters and fans get excited to see what their teams big pick will do in the NFL. Without further adieu, here is John Vogel's NFL Mock Draft 3.0!
John Vogel's NFL Mock Draft 3.0
1. Cleveland Browns – QB Baker Mayfield, Oklahoma
Baker Mayfield is the latest Heisman Trophy winner, beating out Lamar Jackson and Bryce Love in the 2017 race. Mayfield is one of the most electric players entering the Draft, and has superstar potential on the field.
People make a bigger deal out of his off of the field issues then they really need to. He was arrested once, during the offseason in 2017, for public intoxication. He grabbed his crotch on national television while yelling curses at Kansas players. All of those issues, troubling as they may be, have deeper stories to them all.
On the field, Mayfield is the best quarterback in this draft. He's a grinder. He's commanding and charasmatic. He has no glaring weakness on the field. Baker takes over a locker room from the moment he steps into it. He is the best pick the Cleveland Browns can make.
2. New York Giants – QB Sam Darnold, USC
My sources tell me that the New York Giants love Sam Darnold above everyone else. No doubt he can develop into a star, but he has to be put into the right situation. Being brought under a 37 year old Eli Manning is helpful, and with the offense at the level that it currently is, the Giants are a good situation.
Darnold struggled with turnovers in his second year as USC's starter, throwing 13 interceptions and loosing 9 fumbles. Then, in the Cotton Bowl against Ohio State, Darnold looked lost playing against a pro defensive scheme.
Darnold has potential and is definitely blessed with special gifts, but needs time to develop them for the NFL level. He has a beautiful arm, the leadership and seems to be a nice kid, so a nice place to go would be great for him.
3. New York Jets (from Indianapolis) – QB Josh Allen, Wyoming
The New York Jets have set themselves up to draft a project quarterback and let him sit behind the likes of Josh McCown and Teddy Bridgewater. Josh Allen is that perfect project quarterback.
Allen struggled in the Mountain West. Most people credit this to his team quality being poor around him. The main problem with Allen is accuracy. Sure, he can throw a ball 80 yards down the field, but name me one time that he hit his man in stride from that distance. If you draft Josh Allen, you had better be ready to make him hit the books because he has a lot of studying to do.
4. Cleveland Browns (from Houston) – DE Bradley Chubb, North Carolina State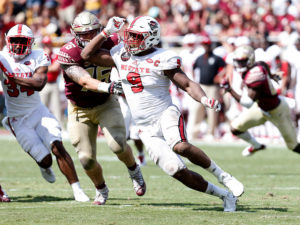 A lot of people speculate that the Browns will trade this pick to acquire more talent. I disagree strongly. The Browns have been trading draft picks down for years. Now, they stick to their guns and draft stars. Bradley Chubb is going to be a star.
He is the best prospect, in my opinion, entering this Draft. Remember how everyone was hyped about Jadeveion Clowney in 2015? Myles Garrett last year? Chubb is better then both of them. He's as good of a pass rusher as Garrett but has a better run stopping ability.
5. *TRADE* Buffalo Bills (From Denver) – QB Josh Rosen, UCLA
The Buffalo Bills are trying to land a quarterback, and they want a franchise guy. They signed AJ McCarron to the roster to replace Tyrod Taylor, who was traded in the first blockbuster trade of the year to Cleveland. So Buffalo moves their 12th and 22nd overall picks, and I would imaging some change, to Denver for the 5th overall.
Rosen has great talent, perhaps is even the most polished passer entering this draft. A lot of people, however, question his character, calling him a "walking contradiction" or "brash." It's clear that Rosen has other interests and loves outside of football. What is not clear us how other teams feel about that.
6. Indianapolis Colts (from New York Jets) – LB Roquan Smith, Georgia
Indianapolis has some serious holes to fill on their team. The last couple of seasons have made it terribly clear how valuable Andrew Luck is as a player. He's Aaron Rodgers to the Colts. He makes the team better and works with marginal talent and makes them a contender.
Now there isn't much that even Andrew Luck can do about that defense. So add an All-American linebacker with serious ballhawking skills from the SEC, and there isn't much that can go wrong. Smith won multiple awards last season as the nations best linebacker. He's violent, instinctive and has all of the tools you like to see in a linebacker going pro.
7. Tampa Bay Buccaneers – CB Minkah Fitzpatrick, Alabama
The Buccaneers have a weak secondary outside of last years first round pick, Vernon Hargreaves.  They need some serious help in their secondary.
Add Minkah Fitzpatrick, a versatile player who can play either sate position or cornerback, and still play at an elite level. Fitzpatrick has the ability to shut down receivers, play press, and play very good zone defense. He's the best defensive back prospect I have scouted in the last five years that I have been scouting. Love his upside and potential.
8. Chicago Bears – OG Quentin Nelson, Notre Dame
Chicago is going all in in developing their franchise quarterback in Mitchell Trubisky. They've spent the entire free agent period giving him weapons. Now it's time to invest in a long term starter to protect him.
Quentin Nelson is a hometown hero, and the best guard prospect I have seen since Zack Martin in 2013. Nelson would be a welcoming piece who could play at left guard immediately, and be a solid starter this year.
9. San Francisco 49ers – RB Saquan Barkley, Penn State
When there are a lot of quarterback needy teams in a draft, the top quarterback prospects are often the first to come off of the board. When there are four or five quarterbacks who teams value in the beginning of the draft, the quarterbacks push the best talent down the board.
The 49ers have signed former Tom Brady backup Jimmy Garrapolo to a massive deal, and now they need to make sure he is set up for success. The 49ers let running back Carlos Hyde walk this season, and have a gap at running back that they would like to fill.
Enter Saquan Barkley. A sure-fire top five pick at the beginning of the draft process, Barkley slips down to nine simply because of the quarterbacks. San Francisco profits from it, and adds the home run hitter to the offense. Barkley has the tools to succeed in the NFL, however there was no running back in college football who was tackled for no gain or a loss more then he was. He is your flashy home run hitter, not a contact guy.
10. Oakland Raiders – DE Marcus Davenport, UTSA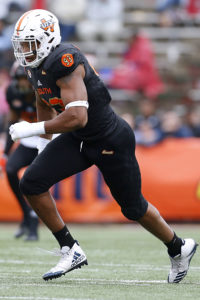 Everyone knows that John Gruden loves defense. If you are old enough to remember his days in Oakland and Tampa Bay, you will remember that Gruden didn't need a lot of offensive stars. He lived and breathed on his defense.
Gruden loves a great, dominant defensive player. When he was in the booth calling Monday Night Football, it was always the defense that got him more excited on a play. Marcus Davenport is a great, dominant defensive player.
Davenport dominated the Conference USA his entire career, collecting 17.5 tackles for loss, and 8.5 sacks in 11 games last season. He's violent and a very productive athlete on the edge, and Gruden likes this kind of player. Put him opposite of Khalil Mack, and Oakland has a serious pass rush duo.
11. Miami Dolphins – DT Vita Vea, Washington
Miami tried paying an elite defender a boatload of money and then putting him as the anchor on their defensive line. That guy was Ndamukong Suh, and it didn't work out.
Now, Miami turns to the NFL Draft to try and create their formidable defensive line. Vita Vea won the PAC-12 Defensive Player of the Year. He's a strong interior presence that can not only stop the run but also provide pass rush. He collected 9.5 sacks in his three years at Washington. Vea would pair nicely with the line Miami has assembled already.
12. *TRADE* Denver Broncos (from Cincinnati through Buffalo) – OT Mike McGlinchey, Notre Dame
Denver's offensive line has been crumby since Peyton Manning retired. Denver has tried to survive the past couple of years with a subpar line, and it's clear that the strategy is not working. Instead of gabbing a quarterback here, Denver elects to take someone to protect their quarterback, whomever it may end up being.
Mike McGlinchey was a solid presence on the offensive line at Notre Dame. Playing alongside of Quentin Nelson may have helped his draft stock, but he still has tools that will be well used in the NFL. He has the biggest bust potential out of the offensive tackles in this draft, due to his failure to dominate against weaker opposition.
13. Washington Redskins – WR Calvin Ridley, Alabama
Calvin Ridley is hands-down the best receiver prospect I have ever seen coming out of college. He has incredible hands, athleticism, speed and virtually everything you want to see in a receiver.
Whether he will ever be a number one receiver in the league remains in question. He has some size still to gain, but reminds me of an upgraded version of Santana Moss, a long time Redskins receiver. Ridley would fit perfectly into Washington, and could produce immediately for a team that needs help at that position.
14. Green Bay Packers – S Derwin James, Florida State
Green Bay has needed safety help for years. Demarious Randle was suppose to be the guy who could solidify the secondary at that free safety position, but that clearly didn't work out and he was traded to Cleveland to play cornerback. Now, the Packers have a hole in the back end of their secondary.
Green Bay picks up Derwin James, a true free safety, to come into his own as one of the next stars in the league. James played well for years at Florida State, has the size, the intensity and the smarts to play the position. There is some bust potential, as there is always, but with a tight run organization like Green Bay, he should be able to grab the ropes quickly.
15. Arizona Cardinals – QB Mason Rudolph, Oklahoma State
The Arizona Cardinals took a risk this season when they signed Sam Bradford to the team. A healthy Sam Bradford gets you through a season where maybe you pick up his second year option, and break your young quarterback into NFL ranks. An injured Sam Bradford ends with trial by fire.
Arizona likes the size of Mason Rudolph. You have to like his arm. He has a cannon for an arm and can remind you of Ben Roethlisburger. He is very much the same type of prospect that Arizona drafted in 2015 when they took Logan Thomas. They secure him with the fifteenth pick, and hope that Bradford stays healthy long enough to get him ready for the NFL.
16. Baltimore Ravens – WR Christian Kirk, Texas A&M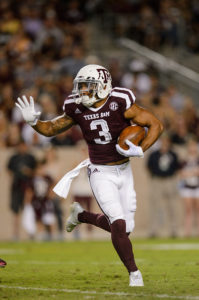 The Baltimore Ravens need playmakers for Joe Flacco. Granted, the Ravens at this point don't have much faith in their franchise quarterback, but they still need to give him every avenue for success so as to attract other quarterbacks to Baltimore.
Christian Kirk is a start to that cause. Kirk is an explosive playmaker, if not still a little raw, but a definite end zone threat every time he touches the football. He has good hands, and plays well out of the slot or the backfield. Think of a Randall Cobb type player, and that is Kirk. It's a start for the needy Ravens.
17. Los Angeles Chargers – C Billy Price, Ohio State
The Los Angeles Chargers realize that Phillip Rivers' career will soon be coming to a close. What a shame it would be for a great quarterback to retire without a Super Bowl appearance.
They can still go. Rivers has weapons on the field to throw to, an up and coming defense, now they need to protect the quarterback. Billy Price is the second best interior linemen entering this draft. He's strong, the cornerstone of the Ohio State line the last three years, and smart. He's not afraid to put his head down and grind and he knows about winning championships.
It's exactly what the Chargers need. Great fit and pickup at 17.
18. Seattle Seahawks – S Ronnie Harrison, Alabama
The Seahawks are swearing up and down that they aren't rebuilding, they're reloading. Yeah, right. The Legion of Boom is affectively gone, the secondary is in shambles, and no one knows if Earl Thomas or Kam Chancellor is playing football in Seattle again.
You kill adversity with first round draft picks. Ronnie Harrison has two National Championship rings on his fingers, and has no reason to believe he can't lead a Super Bowl caliber defense in the back end. He's a hybrid player, the perfect fit for the Seattle secondary.
19. Dallas Cowboys – DT Da'Ron Payne, Alabama
Dallas likes to take splash players. Sometimes it pays of, the Ezekiel Elliot pick has worked out tremendously well for them. But sometimes, Dallas plays smart and takes the low splash player.
Dallas needs to do it again with Da'Ron Payne. What a perfect name for a defensive tackle. Payne. That's what he effectively administers to opposing offensive playmakers. He is violent, a play wreaker, and showed in the National Playoff that he is capable of scoring touchdowns on offense too. Payne is a steal at 19.
20. Detroit Lions – OT Connor Williams, Texas
The Detroit Lions just barely missed the playoffs in 2017, ending up just shy of making the wild card round. They know what they need. Protection for Matthew Stafford.
Connor Williams is the best offensive tackle entering the Draft this year. Injuries derailed his season in 2017, but his 2016 tape is incredible. He's got quickness that is beyond explainable, his recovery is the best in this class, and his strength is more then commendable. Detroit could really use that help in protecting their $130M quarterback.
21. Cincinnati Bengals (from Buffalo) – EDGE Harold Landry, Boston College
I wouldn't be surprised to see Cincinnati trade out of the 21st spot, however, sometimes it is difficult to find a trade partner, so I will not project a trade here. Cincinnati really wanted a star offensive linemen to add to their roster, but will settle instead for another pass rusher.
Harold Landry has the flexibility to play either a defensive end or an outside linebacker. He's got the athleticism and skill to go top 10, but there are too many top 10 players this year so he falls into the top 25. One of the key notes that stuck out to me about him was he is the only player I saw who could contain Deshaun Watson one-on-one on the perimeter.
22. *TRADE* Denver Broncos (from Kansas City through Buffalo) – QB Lamar Jackson, Louisville
The Broncos made that trade to add a couple of picks in the draft, and for good reason. First, you add protection to help the offensive line. Now, you get a quarterback.
Lamar Jackson's draft stock has sunk and risen over the course of the draft process like a wild roller coaster. Some times being a top ten pick, other times being a third day pick. But in the end, the Patriots apparent interest forces John Elways hand and he takes the athletic playmaker with his new shiny pick from Buffalo.
Jackson isn't ready to compete in the NFL on any level, and has a lot to prove about his "smarts" after a rumored 13 Wonderlic score. However, he is an explosive playmaker whom some experts have compared to Teddy Bridgewater. He could be a viable starter in the NFL someday.
23.  New England Patriots (from Los Angeles Rams) – TE Mike Gesecki, Penn State
Rob Gronkowski is returning to New England to play football for the Patriots, thank goodness. However, after a full offseason of drama and speculation, Bill Belichick decides he needs to ramp up the competition. Add Mike Gesecki.
Gesecki reminds me of Jimmy Graham when he entered the league. He's huge, hulking and has a nasty knack to come down with big time catches. He can't contribute much towards the run game, but he can be invaluable in the passing game.
You know Bill Belichick would do this too, to teach a lesson to his "young padawans." If he works out, great. If not, you have trade bait. With another first round pick in the arsenal, it can't go wrong.
24. Carolina Panthers – WR Courtland Sutton, SMU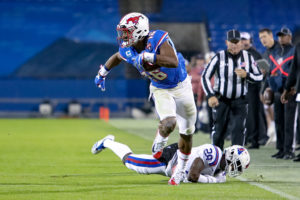 Carolina has missed Kelvin Benjamin. It's clear that Devin Funchess is a very talented number two receiver, but he is not built to be the number one. They need another big receiver.
Courtland Sutton is a big receiver with an attitude. His playing style reminds you of a Dez Bryant. Seems to fit the Carolina offense perfectly. He can step in and be a number one receiver immediately and give Cam Newton the security he likes to have on the field.
25. Tennessee Titans – LB Rashaan Evans, Alabama
The Titans are in a good position where they don't have glaring needs on the team. They have areas that could use some help, but no glaring, big gaping holes. One of the positions that they could use filling is inside linebacker.
Rashaan Evans was a fierce playmaker at Alabama and can be at the next level too. He's strong and fast, and a good sideline to sideline player. He could start right away, although he doesn't have to, and could make huge impacts in 2018.
26. Atlanta Falcons – TE Mark Andrews, Oklahoma
The Atlanta Falcons have needed a good tight end for quite some time. They've had good receivers, Julio Jones and Muhommad Sanu, so that they never required a tight end to be next level, but now it would be very nice to have a tight end worth a pro bowl look to give Matt Ryan that next level in his offense.
Mark Andrews plays like a poor mans Rob Gronkowski. He has the size, the speed and the hands to outman linebackers for the football. He's strong, and was Baker Mayfields outlet at Oklahoma on more then one occasion. Andrews could be a pro bowl tight end down the road in his career.
27. New Orleans Saints – WR DJ Moore, Maryland
The New Orleans Saints need a guy who can be effective out of the slot. Last season, they had Ted Ginn, and would put Alvin Kamara down there sometimes too. But what if they could land a solid slot receiver already polished and ready to burn it in the NFL?
Good thing DJ Moore is coming out of Maryland this year. One of the polished route runners in this years draft, Moore struggled with horrible quarterback play in school, and is often times overlooked by media scouts. You can bet your bottom dollar that NFL scouts aren't overlooking this guy.
He has solid hands, but doesn't possess burner type speed. New Orleans needs that final weapon for Drew Brees as he prepares to make his final run in his career for a Super Bowl, and Moore could be that final piece that the Saints need.
28. Pittsburgh Steelers – LB Shaun Dion Hamilton, Alabama
Star linebacker Ryan Shazier may never play football again after being just about paralyzed during a Monday Night game last season against Cincinnati. Now, the Steelers have a hole to fill.
Shaun Dion Hamilton would have been taken before Rashaan Evans had he not been injured last season. Heck, Hamilton may have gone in the top 10. But, no use crying over spilled milk because the Steelers are landing themselves a steal. Hamilton is another high motor player with a lot of energy and pop. He's a great guy for the Steelers to add to their linebacking corps.
29. Jacksonville Jaguars – LB Trumaine Emdunds, Virginia Tech
The Jaguars are another team who don't have any glaring weaknesses right now. So they simply nab the best player available, Trumaine Edmunds.
Edmunds is projected by most in the top 15. I personally don't believe NFL teams are buying that hype. I watched several Virginia Tech games live last season, and Edmunds never popped out as a true impact player. Yes, he is a good player and can develop into a great player, but he should have stayed in school another year and proved a lot. Jacksonville nabs him here to use as a developmental project behind Myles Jack.
30. Minnesota Vikings – CB Denzel Ward, Ohio State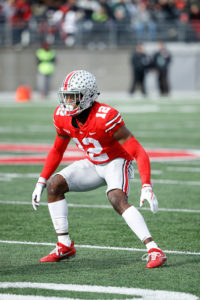 Minnesota is trying to put together a championship run, and they need all the help they can get. Denzel Ward in still on the board, so Minnesota snatches him to play nickel this season.
Ward is a very talented corner who struggled at times last season for Ohio State. With some coaching, Ward can develop into a very good cornerback in the NFL.
31. New England Patriots – RB Derrius Guice, LSU
New England went tight end with pick one, now they go running back with pick two. With the loss of Dion Lewis this off-season, New England needs some help at running back as they are left, pretty much, with Rex Burkhead and James White. Why pass on Derrius Guice?
Guice is my favorite running back in this draft. I think he is the most complete back, with the best overall skillset. Remember how I mentioned that I think Saquan Barkley is the home run hitter? Guice is the contact hitter who will pick up four or five yards a carry.
New England is trying to get back to the Super Bowl for what could very well be Bill Belichick's last year. Guice could be that piece that they need to give Tom Brady the support he needs.
32. Philadelphia Eagles – LB Arden Key, LSU
Philadelphia has used this offseason very well. Signing people quickly to replace what was lost and making a couple of key trades, Philly looks primed to make another Super Bowl run. At this point, the Eagles are just nabbing the best available talent.
Arden Key is going to be one heck of a pass rusher. He has elite speed, great instincts and can play the outside linebacker spot very well. It's a great addition for Philadelphia to add to their defense.
Main Image Credit: Embed from Getty Images
Article Images Credit: Embed from Getty Images