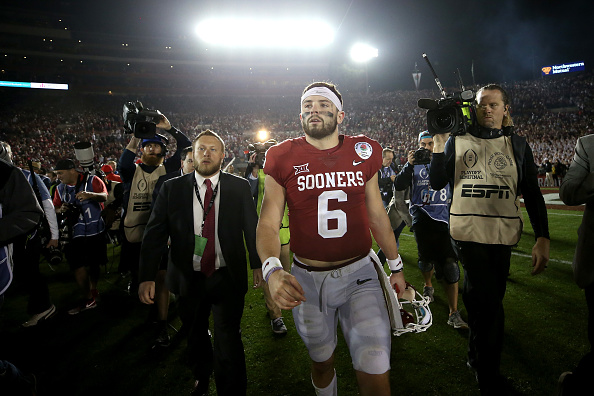 This weekend is jammed packed with sporting events. Down Under, the first tennis major will finish up with two excellent matches. The PGA Tour continues their California swing at Torrey Pines. College Basketball features the Big XII/SEC challenge and a matchup of two Top 5 teams. The Senior Bowl is taking place in Mobile, Alabama. With football winding down, The Pro Bowl will put the AFC/NFC all-stars. The NBA has three must-see games. Finally, the road to Wrestlemania begins in Philly at the Royal Rumble.
The Weekend Watch: January 27th-28th
What: Australian Open
When: Saturday and Sunday
Time: 2:30 AM
How to Watch: ESPN and WatchESPN
The first major of the tennis season will culminate this weekend. On the women's side, first seed Simona Halep will take on second seed Caroline Wozniacki. Both ladies are looking for their first major titles. Wozniacki holds a 4-2 record over Halep. The men's side will put number two seed Roger Federer against number six seed Marin Cilic. Cilic has already defeated Rafael Nadel this tournament. Also, he is looking for his second career major. This is old hat for Federer, he has 19 majors including five Australian Opens. Federer has dominated this match up with an 8-1 record.
PGA Tour
What: Farmers' Insurance Open
When: Saturday and Sunday
Time: 1:00- 2:30 PM 3:00-6:00 PM
How to Watch: Golf Channel, Golf Channel App, (1:00-2:30) and CBS (3:00-6:00)
Defending champ John Rahm looks to continue his success from not only last year but last week. He is coming off a win at the Career Builder. If Rahm wins, he can move to number 1 in the world. Also, a guy by the name of Tiger Woods is playing this week. Can he make the cut? Will he be a top the leaderboard come Sunday? Some other top players, Patrick Reed, Justin Rose, Phil Mickelson, and Ricky Fowler are competing.
College Basketball
What: 2 Virginia @ 4 Duke
When: Saturday
Time: 2:00 PM
How to Watch: CBS
A top 5 match-up between Duke and Virginia. Virginia holds a two-game lead over Duke in the ACC standings. Virginia has yet to lose in conference play and comes in at 19-1. Duke is 6-2 in conference in 18-2 overall. Virginia has won 12 in a row and Duke has won five in a row. Duke can climb to a game back with a home win.
What: 12 Oklahoma @ Alabama
When: Saturday
Time: 2:15 PM
How to Watch: ESPN or WatchESPN
Oklahoma travels to Alabama in the BigXII/SEC showdown. This will be a battle of freshman, Trae Young (Oklahoma) vs Collin Sexton (Alabama).  Oklahoma is coming off an upset win over Kansas and likes to play an uptempo game. They are second in the country at 91.2 points/game. Alabama is coming in as the winner of 4 of their last 5. This will be a contrast of style with Oklahoma looking to push and Alabama looking to slow it down. Look for Sexton to try and use his height to bother Young.
What: Kentucky @ 7 West Virginia
When: Saturday
Time: 7:00 PM
How to Watch: ESPN or WatchESPN
Kentucky travels to Morgantown to take on the number 7 Mountaineers. West Virginia is coming off a loss to TCU. They have lost 3 of their last 4 in conference play. Kentucky is 2-2 in their last 4 games. This isn't the normal Kentucky team who has struggled but still have a 15-5 record. This is a great game to cap off the Big XII/SEC challenge.
NBA
What: Boston Celtics @ Golden State Warriors
When: Saturday
Time: 8:30 PM
How to Watch: ABC or WatchESPN
The Celtics travel to Oakland to take on the West-leading Warriors. The Warriors have won 6 of their last 7 and are leading the NBA in scoring at 115.9 points/game. The Celtics have been struggling, losing 4 of their last 5 games. Also, they are second in points allowed at 98.3 points/game. The Celtics look to get back on track in this Saturday Night Showcase.
What: Los Angeles Clippers @ New Orleans Pelicans
When: Sunday:
Time: 4:00 PM
How to Watch: NBA League Pass
The Clippers travel down to New Orleans to take on the red hot Pelicans. The Clippers have lost three in a row and have fallen to the 9th seed in the Western Conference. The Pelicans have won three in a row in 7-3 in their last ten games. The Pelicans are in the 6th seed and 3.5 games up on the Clippers. This is a big game for the Clippers to try to creep back into the top 8 of the Western Conference.
What: Philadelphia 76ers @ Oklahoma City Thunder
When: Sunday
Time: 6:00 PM
How to Watch: ESPN or WatchESPN
The Thunder host the young 76ers in this Sunday evening showdown. The Thunder have been surging winning of five straight and 5th in the Western Conference. The 76ers come in winners of four of their last five. The 76ers are 7th in the Eastern Conference. The Thunder big three are finally starting to gel. Ben Simmons vs Russell Westbrook which player will get a triple double.
What: 2018 Senior Bowl
When: Saturday
Time: 2:30 PM
How to Watch: NFL Network
What players will stand out in this year Senior Bowl. It is always fun to watch these players and picture them in your favorite team's uniform. Two of the top quarterback prospects will be playing for the North, Baker Mayfield (Oklahoma) and Josh Allen (Wyoming) which quarterback will have the better game and raise their draft stock.
What: Pro Bowl
When: Sunday
Time: 2:50 PM
How to Watch: ABC, ESPN, or WatchESPN
Only two weeks left of pro football, the Pro Bowl is taking place from Orlando, Florida this year. The NFC is lead by Drew Brees, Larry Fitzgerald, and Todd Gurly. The AFC is lead by Jalen Ramsey, Le'Veon Bell, and Alex Smith. If you like football, you should take sometime out your Sunday and get your football fix in.
What: Royal Rumble
When: Sunday
Time: 7:00 PM
How to Watch: WWE Network or Pay Per View
The road to Wrestlemania begins with the Royal Rumble. Two rumble matches this year with the first ever 30 women Royal Rumble. Also, a triple threat match between Brock Lesnar vs. Kane vs. Braun Stroman. Who will main event Wrestlemania? Roman Reigns, John Cena, or maybe a dark house.
*All Times are Eastern
Main Photo:
Embed from Getty Images