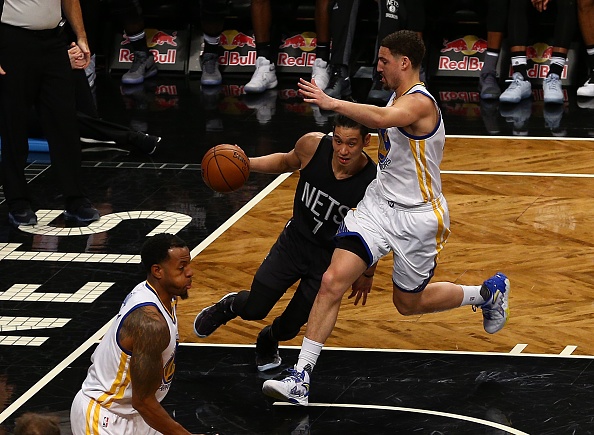 So far in this fresh 2017-2018 NBA season, some teams have already lost games. For a few other teams, they have lost even more with their star players being out of the season. One, for example, is forward Gordon Hayward of the Boston Celtics being injured in the first game against the Cleveland Cavaliers. Another huge injury to a star player is to a team trying to make a name for themselves this season. Brooklyn Nets guard Jeremy Lin ruptured his patellar tendon in the first game of the season against the Indiana Pacers. Lin was hoping to become more of a high-velocity playmaker like he was during the phase of "Linsanity" back in the 2011-2012 season with the New York Knicks but this injury further delays his goal.
What the Nets lose with Jeremy Lin out
Jeremy Lin started and played a full 25 minutes at point guard for the Nets until he suffered the injury late in the fourth quarter. Lin immediately knew it was bad. In his 25 minutes, Lin scored 18 points; had 4 assists, as well as 3 turnovers. Lin was the third leading scorer of the night but was also second in assists. Not only did the Nets lose one of their consistent scorers, they also lost arguably their only true point guard. His excellent court vision and ability to spread the ball around is a key asset for the team. While the Nets acquired former Los Angeles Lakers point guard D'Angelo Russell in a trade, he was placed at shooting guard as a reliable scorer than a passer.
Lin is not only an electrifying scorer but he is also a role player who thrives on creating plays through his eccentric passes. Losing Jeremy Lin for the season will hurt the Brooklyn Nets offensively as well as defensively. The defense suffers without Lin's ability to close off driving lanes and protect the 3-point line.
Career Health Issues
Lin has had a hard time staying healthy when he only played 36 games last season in his first season with Brooklyn last year. In his first year, Lin accounted for 14.5 points per game, 3.8 rebounds per game, 5.1 assists per game, and 1.2 steals per game as well as accounted for a season field goal percentage of .446%. The healthiest that Lin has ever been in the NBA was when he started all 82 games in the 2012-2013 NBA season with the Houston Rockets. D'Angelo Russell finished the night at the Point Guard position for Lin as he played 63 games at PG as well as played the Shooting Guard position for the Lakers last season. Caris LeVert and Allen Crabbe split playing time at the Shooting Guard position against the Pacers.
D'Angelo Russell steps in at Point Guard
With Lin out for the season, they will need a reliable and consistent point guard. In comes former Laker D'Angelo Russell, who was one of the Nets' biggest off-season acquisitions. Russell scored 15.6 points per game while starting primarily at point guard for the Lakers. Russell was traded from Los Angeles due to drama with the organization, as well as the Lakers decision to draft Lonzo Ball from UCLA.
With a tenacious and tremendous ball-handler like Jeremy Lin already with Brooklyn, Russell was determined to become an effective shooting guard. After one game, Russell will switch to his familiar point guard position.
Russell went 8-for-16 for 17 points, 3 rebounds, 6 assists and 3 steals in the close 126-121 win over the Orlando Magic on Friday. Russell had a great night scoring and creating plays with his tenacious passing to his teammates. If the Nets want to have more success offensively, they will need Russell to be the leading ball-handler. Russell turned the ball over eight times (out of the 18 total turnovers by the Nets) against the Magic. He will need to control the ball better and more efficiently. One reason for the high turnover rate could be the rapid transition of Russell to the main point guard spot without much off-season preparation. Over time, Russell should become more efficient.
DeMarre Carroll, Allen Crabbe and the rest of the Nets must step up
With an explosive offensive player like Jeremy Lin out and D'Angelo Russell tasked to spread the ball more throughout the court, the Nets will need to have more reliable scorers outside of the point guard position. First year Brooklyn Nets forward DeMarre Carroll went 6-for-9 on field goals for 17 points, 3-for-4 behind the 3-point-arc, 8 rebounds, 2 assists, and 2 steals against the Magic. The game before against the Pacers he accounted for 10 points and 9 rebounds. Although Carroll is a better defender, head coach Kenny Atkinson and the Nets will need Carroll to be a go-to offensive player with Russell as the main ball-handler.
Although Allen Crabbe was placed at starting shooting guard and played 25 minutes in the game against the Magic, Caris LeVert had more playing time with 27 minutes. LeVert's high-volume intensity is more reliable coming off the bench as where Crabbe is more of a role player in the main group with Russell and Carroll. The guards accounted for 9 points with Crabbe going 1-for-5 and LeVert shooting 4-for-11. Expect there to be a position battle for the starting shooting guard spot, however.
Other Line-Up Changes
Through the first two games of the season, small forward Rondae Hollis-Jefferson has averaged 14.5 points, four rebounds, and two steals per game. Hollis-Jefferson might be the team's most reliable wing scorer outside of Russell. The Nets want to place Carroll inside the paint to help first-year Nets center Timofey Mozgov.
Expect the Brooklyn Nets to take more daring risks to further develop their passing game with the offensive rhythm disarrayed because of the major injury to Lin. In a weak Eastern Conference, the Brooklyn Nets have a chance for a strong season. A great scenario for Brooklyn this season, however, is still achieving only 30 wins but that goal might be even harder with Lin out. It will be up to D'Angelo Russell to prove that he is a starting point guard in the NBA. The Nets (1-1 as of last Friday night) will try to stay alive in the Eastern Conference playoff race.
Main Photo:
Embed from Getty Images