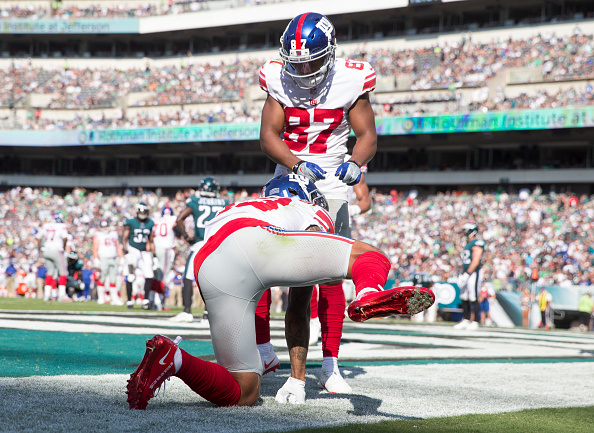 Let's think about a double-edged sword; either way you swing it, it's going to slice. The stronger you wield it, the deeper it cuts.  As shown is the NFC East, Divisional showdown versus the Philadelphia Eagles, his 13 targets, and nine receptions for 79 yards and two touchdowns prove once again that he is the difference maker. Even when covered in double-team coverage, he's able to bring down the ball with his fingertips. He's un-coverable and certainly irreplaceable.
The Odell Beckham Jr. Conundrum
In or out of the line-up, he's a team leader even though he's not a designated captain. When you think of a leader, you think of confidence, commitment, drive, selflessness, ect. Certainly, Beckham Jr. exudes these qualities and more. He's the type of leader that teams dream of. Or, do they? What happens when that same sword swings the other way?
When it swings the other way, we witnessed "The Beckham Circus" in the exact same game against the Eagles. Celebrating his second touchdown catch "Dog pee-gate 2017" was born. When the league and nation was on edge with the various anthem protests, "Dog pee-gate", only brought more outside attention to the League and more importantly to a 0-3 struggling New York Giants team who lost a heart breaker on an improbable 61-yard field goal.
When the game was over, fans and armchair generals had their opinions on what went wrong for the Giants. Lot's of "could've, would've, should've" reflections made. What I saw was a "leader" (OBJ), who picked an opportune time to celebrate his touchdown with brass taste. Some claim it was harmless, some, motivational for his team and some, believed it was uncalled for. Personally, I looked at the bigger picture.
Is he a Leader?
With a big payday looming (contract) for OBJ; do I see a leader? Certainly, not a leader like Michael Strahan, Justin Tuck, Eli Manning or Phil Simms. Many fans let OBJ off the hook. They say he's young and immature. People believe that "we" need to give him another year. That may have been true two years ago.
As every season passes, Beckham becomes a year older and only continues to re-invent the same old antics of his past. I for one don't want to let him off the hook. If he is "that leader" outside of the stat line, I want him to be accountable to himself and teammates and be the leader that they need him to be. They NEED a leader who is mature and wise and willing to put others before him.
The "Beckham Show" can and should continue, but only based on his ability to "PLAY" the game. Is he a distraction? Yes he is. Do the Giants need him in the line-up to help them win games? Absolutely! So the real question is, when are we going to see him grow-up and lead this team and make it HIS? The sword only needs to swing one way. When and how it does, is anybody's guess.
Main Photo:
Embed from Getty Images