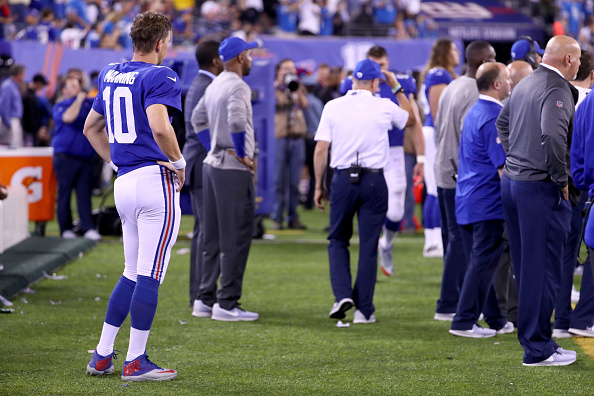 Like Week One in Dallas, the New York Giants struggled again in Week 2 in their home opener against the Lions. The Giants fell 24-10 in an poor showing. Now standing with an 0-2 record and an upcoming matchup in Philly, here are five issues the Giants are facing.
1) Offensive Line
The right side of the Giants offensive line played well on Monday night. John Jerry very quietly played a good game, after struggling in Week One. Bobby Hart lasted all of two plays before being pulled with an ankle injury. Justin Pugh jumped in at right tackle, and Brett Jones subbed in at left guard and both held their own.
The left side, specifically Ereck Flowers, didn't play so well. Eli Manning took the beating of his life, getting sacked five times. Flowers was beat all night by Ziggy Ansah, as Ansah recorded three of the five Lions sacks.
With Hart going down, he may have just lost his starting spot to Brett Jones. If the Giants can make do with Jones at left guard and Pugh at right guard, maybe the protection can improve. No matter who's playing on Sunday, they better be ready as Philly has one of the best pass rushes in the league.
2) Play Calling
Ben McAdoo has officially proved to everybody that he is a terrible play caller. Last night with the Giants down 14 in the 4th quarter, McAdoo thought it would be fun to try to establish a run game. With that offensive line, not going to happen.
Then again in the fourth quarter, the Giants run a pair of plays on fourth down and get stopped short both times. Both plays, the Giants receivers ran routes short of the first down marker. That is inexplicable to twice on fourth down call plays that would even pick up the fourth down.
McAdoo, it's time to hand over the dinner menu you call a playbook. Offensive coordinator Mike Sullivan should call plays next week in what is pretty much a must win game against the Eagles.
Brandon Marshall was a ghost in week one against the Cowboys. He was held to only one catch for ten yards on four targets. Marshall and Eli Manning clearly weren't on the same page. Jump ahead to last night, Week 2 against the Lions. Marshall sure made his presence felt.
The veteran again had just one catch for a whopping seventeen yards, and one huge drop. In the fourth quarter with the Giants staring down a comeback, Eli Manning dropped a dime into a wide open Marshall's bread basket. Marshall had nothing but green grass ahead of him, and was set for a big gain. One problem, Marshall dropped the ball. This was a game changing play as two plays later, the Lions returned a punt for a touchdown putting the nail in the coffin.
Marshall is clearly off to begin his Giants career. He needs to get his head right, and fast as the Giants need a huge bounce back in Week 3 at Philly.
4) Regression of Eli Manning?
Playing behind a very porous offensive line, Eli Manning may struggle to put up huge numbers. However, it hasn't exactly always been the offensive lines fault. Eli has struggled at times, with only himself at fault. Last night, Manning took a delay of game penalty on fourth and goal from the two yard line. The blame for that doesn't go on thre line, it goes on Manning and the center. Manning has also appeared to hold onto the ball too long, forcing sacks a number of times.
Also, after the Giants recovered a Matthew Stafford fumble in the second quarter Eli gave it right back. On the first play after the fumble Manning threw a pass too high and behind Evan Engram, giving the ball right back to the Lions.
Manning and the Giants offense are clearly struggling even with Odell Beckham. Is this the beginning of the end for Eli Manning? Or is Manning just off because of the poor pass protection? Either way, the two-time Super Bowl MVP has to step up.
5) Dropped Passes
Eli Manning did not play well Monday night, however his receivers weren't helping him out. Brandon Marshall, Evan Engram, Sterling Shepard, and Odell Beckham all had dropped passes during the loss.
The Giants offense is currently at a stand still. They showed some life on Monday night, however they are still a work in progress. This strong receiving core should not be one of the issues on this team, however they currently are. To pull off an upset in Philly, Manning his receivers are going to have to have a big game.
Main Photo: