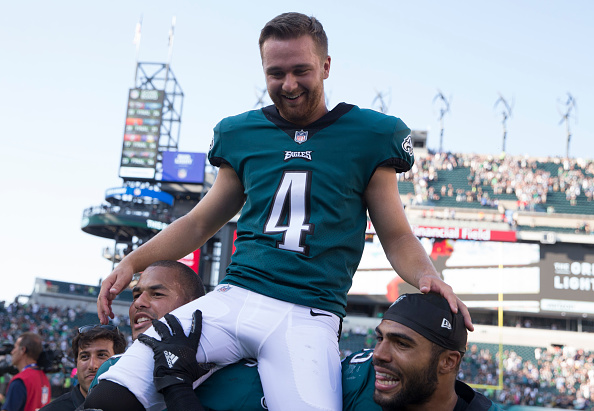 Week three of the NFL played host to some of the best and worst individual and team performances so far this season. Complete with one-handed catches, all out stompings, and even team meltdowns.
Let's break down the three best and three worst performances this week in the NFL.
Best Performances of NFL Week 3
OBJ wasted no time returning to his old form in a divisional match-up against the Philadelphia Eagles. Even though his team came up short, losing their third straight, the star wide receiver still showcased to the world why he is vital to the New York Giants organization.
He didn't have 100 receiving yards, but what he did have was two more nuggets to add to his highlight reel. He averaged 8.8 yards per reception which is a figure for the Giants to be excited about. Now, if he could just stay healthy. The Giants offense is nothing without Beckham. That man can catch a ball.
Welcome, everyone, to the Blake Bortles and Marcedes Lewis show. They steamrolled the Baltimore Ravens; Baltimore's defense was hot coming into this game. Bortles who is constantly trying to prove himself as a starter had a monster performance over the pond.
Lewis only had one season that was pro bowl worthy. The rest of his career he had very minimal production. The type of production that the Jags saw from him last week, could be beneficial to the team if he continues on that way. Although this team may not have a 44-point victory every week, that win proved that there is plenty of potential for their team. It also proves that maintaining that strength could help them win the AFC South.
1. Jake Elliot
Being a rookie anywhere is hard. Being a rookie in the National Football League is even harder. Elliot was drafted by the Cincinnati Bengals in the fifth round. At 22 years of age, players are full of excitement and passion for wanting to play. But what happens when you're faced with having to kick the game-winning field goal? 61 yards at that. The reason Elliot takes the number one spot is that that was a major accomplishment for the young man early in his career. Veterans that have been in the league know their job and know how to do it well. The pressure from that long field goal wasn't enough to rattle him and he sank those three points like a pro.
Worst Performances of NFL Week 3
The Panthers lost their first game to a tough divisional opponent. Granted, they have lost important players on offense and had others shaken up on defense. Still, the team took two steps back in their performance in front of a muted home crowd.
Cam Newton played one of the worst games of his career. His three interceptions showed he had no faith in his receivers except for the occasional flash of success. Newton looked outright deflated and defeated.
The defense was no different. In the first two games, they didn't allow one offensive touchdown. Last week they gave up four. Given, it was a 5,000 yards per season passer. But the defense that was on the field last Sunday, couldn't stop a stop sign.
With all the bumps and bruises this team has sustained the last three weeks, it looks like their woes will surely continue.
Just one week ago, I predicted that the Raiders could be AFC champions. After their showing against the Washington Redskins, I may have to retract my statement. Sure, it was just one loss, but they have a long way to go if they hope to square off with the New England Patriots (if it comes to that).
Their usually high-powered offense was non-existent for the majority of the game. They didn't score a single point in the first half; just 10 for the game. Marshawn Lynch had only 18 yards on his six carries which were not nearly enough to help his struggling offense. Derek Carr's two interceptions only made the situation worse and left people wondering how they would bounce back from that loss.
1. Ravens defense
Baltimore's defense is usually known for its dominance over opponents.  Last week they looked like they were trying to hold water in a fishing net. Although they did well their first two games, Baltimore's defense struggled to help their quarterback while he did the same. Or did their quarterback not help them?
Joe Flacco stumbled through his London performance with a single touchdown and two picks. It was still no excuse for a group that only got three quarterback hits on Bortles and absolutely no sacks. Their quarterback has a lot to figure out, but so do they. Defense is just as important, if not more, to a team.
Each week is a new week
These performances were just one week in the crazy world known as the NFL. Week four can most certainly have a different outcome. The most consistent part of this league is the fact that one never knows what to expect.
Main Photo:
Embed from Getty Images