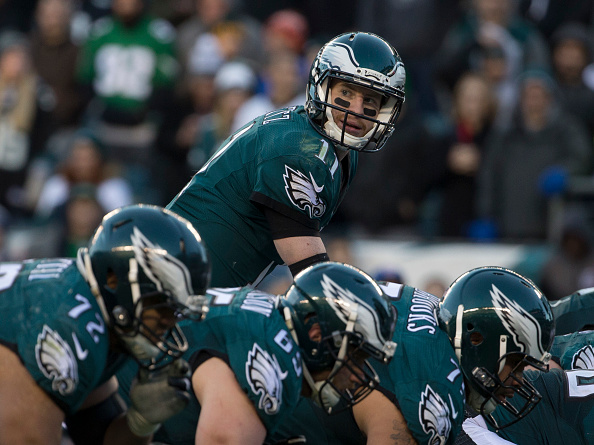 Allen Iverson, Donovan McNabb, and Ryan Howard have all been considered "The Guy" in Philly Sports, but who's the man now? To define what it means to be "The Guy", you have to be the first name that comes up when you think about any city's sport team and to also be the face of that city's sports teams. For example, when I think about Cleveland, I think about Lebron James. When I think about New York, I think about Odell Beckham Jr., and when I think about New England, obviously I'm thinking about Tom Brady. There are three major candidates who can be considered "The Guy" in Philly, but there's only one town and only one can be the top dog in this sports rich city.
Top 3 for the Role of "The Guy" in Philly Sports
Joel Embiid
This is who I think most Philadelphians would say is "The Guy" in the city of brotherly love. Last season, we saw a glimpse of Embiid in his first action of his pro career after sitting the past two seasons with injuries. We all saw his possible greatness in the 31 games he played. His totals were 20.2 PPG, 7.8 RPG, 2.1 APG, and 2.5 BPG. Everyone lost it when we saw what he can actually do! We might as well have named him King Joel while we were at it.
Why Joel Embiid?
Embiid is a perfect choice because of all the hype that has been going on around him and this new and improved Sixers team.Yes we all know about his social media presence and how he tried to ask out Rihanna, but he isn't who I would consider to be "The Guy." Sure, he's the most popular player in town due to all they hype over the upcoming season for the Sixers, but it takes much more than popularity. Embiid is still very young and has plenty of time and talent to be considerd "The Guy," but for right now, we just need this guy to get on the court and play at least a full season before he wins this title.
Carson Wentz
Carson Wentz is another strong candidate for this role due to the importance and popularity of football in Philadelphia. We often hear stories about how passionate Eagles' fans are about our team and how some fans even threw snowballs at Santa! All Carson needs to do is take us to the playoffs and he will undeniably be "The Guy" in this town.
Why Carson Wentz?
Carson Wentz threw for 3,782 yards and 16 TDs in his rookie year, which began with a 3-0 start before the bye week. Wentz is the starting QB for the Philadelphia Eagles, which means he possibly is the most important athlete in the city. Just like Embiid, he is still young and has so much potential to be great for this city. I wouldn't mind him being "The Guy," but in my opinion there is a more deserving person for this honor.
Malcolm Jenkins
This is my pick as "The Guy" in Philadelphia. Malcolm Jenkins has proven on the field that he is someone to watch out for when the ball is up in the air or even when it's in your hands. Jenkins has been with the Eagles since the 2014 season and went to the Pro Bowl in 2015. With his partner at safety, Rodney McLeod, they make up what I believe to be the second best safety tandem in the league, behind Kam Chancellor and Earl Thomas. He has reached over 250 tackles with the Eagles and has started and played in every game since his arrival.
Why Malcolm Jenkins?
What makes him stand out more than the others in Philly isn't just what he does on the field, but what he says and does off the field. News has come out recently about Malcolm Jenkins and the comments he made about Colin Kaepernick and the fact that no team has picked him up yet from free agency. Jenkins called the NFL owners "cowards" for not picking up Kaepernick over the possibility of public blowback. Jenkins has even spoken publicly about the issues surrounding the shootings of unarmed black men in the recent past. He isn't afraid to speak out on controversial issues; he makes his opinions known. Isn't that what Philly is all about? Malcolm Jenkins is someone that represents what Philly stands for: fighting for what you believe is right. If that doesn't make him "The Guy" for any city he plays for, then I don't know what will.
Closing
People have different opinions about who is "The Guy" in Philly, but if these 3 guys, Joel Embiid, Carson Wentz, or Malcolm Jenkins aren't one of their picks, I don't know where they're coming from! If there is a player for a team in any city that gets brought up in a conversation, whether it's for a great play they made or something they said off the field, then that guy can be on top. What makes an athlete "The Guy" is how long that player can keep on doing what he's doing at the highest of levels.
Main image credit:
Embed from Getty Images