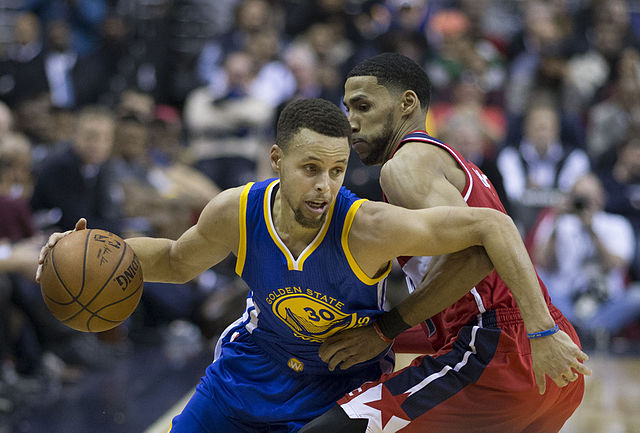 Let's pretend the NBA defaulted and all teams were cleared of their rosters, with an NBA re-draft occurring today. Who would go where?
This isn't a top five NBA player list, but instead looks at values given today's market as well as for years to come. Criterion such as age, talent, success, ability to make others better, and to some point, ability to win games, have all been taken into consideration.
The order has been determined based on the five worst records as of 1/11/17.
1. Brooklyn Nets record: 8-29
2. Miami Heat record: 11-29
3. Philadelphia 76ers record: 10-25
4. Dallas Mavericks record: 11-27
5. Phoenix Suns 12-26
Top 5 Picks in an NBA Re-Draft
1. Stephen Curry
Golden State Warriors
Age: 28
Stats: 24.7 pts, 4.4, reb, 5.9 ast
Let's face it, the Association is becoming a league of guards. Who's a better choice to start a franchise than the 28-year-old All-Star, former MVP, and NBA champion? Curry's unselfishness and deadly shot draws attention so others can get good looks at the basket. He's the oldest on this list, although if you can shoot in this league you'll have a long career.
2. Anthony Davis
New Orleans Pelicans
Age: 23
Stats: 29.1 pts, 12.2 reb, 2.2 ast
Perhaps the most talented player in the league, Anthony Davis has hit the ground running since being drafted from Kentucky number one overall in 2012. There is no weakness in Anthony Davis' game, however staying healthy has been an issue. He has missed a ton of games every season but when he plays he is a once in a lifetime talent. If I've got the third choice in this re-draft, I'm taking the risk. There is too much upside to let this opportunity go.
 3. Russell Westbrook
Oklahoma City Thunder
Age: 28
Stats: 31.2 pts, 10.6 reb, 10.4 ast
Russell "Triple Double" Westbrook is having a season unlike anything we have seen since Oscar Robertson. He may need more talent around him to bring the Sixers a championship, but he can definitely carry a team to the playoffs by himself. Westbrook is a scary competitor and he may bring the city the spark and excitement needed at guard, which it hasn't seen since the Iverson days. It's only right to snatch up the triple-double machine with the third pick in this re-draft.
 4. Karl-Anthony Towns JR
Minnesota Timberwolves
Age: 21
Stats: 21.7 pts, 11.6 reb, 2.9 ast
Similar to Davis, Towns' upside is unique, and would be a solid pick for the Mavs. The big man can score, rebound, and has the unselfishness to get his teammates involved. Not to mention he is a defensive superstar and is only 21 years old. Therefore, Dallas picks Towns at four.
5. Kawhi Leonard
San Antonio Spurs
Age: 25
Stats: 24.1 pts, 5.8 reb, 3.1 ast
The two-time defensive player of the year, NBA champion, All-Star, All-NBA First Team, and Finals MVP, Leonard is having his best statistical year and has taken the torch from Tim Duncan to attempt to lead the Spurs back to an NBA Championship. He would be a piece the Suns could build around.
That concludes the top five picks in the 2017 NBA Re-Draft. The NBA is extremely talented, and there are many players who can be selected in variety of picks to fulfill a franchise's needs. What would your top five look like? Have your say in the comments below.
Photo Credit: Wikipedia