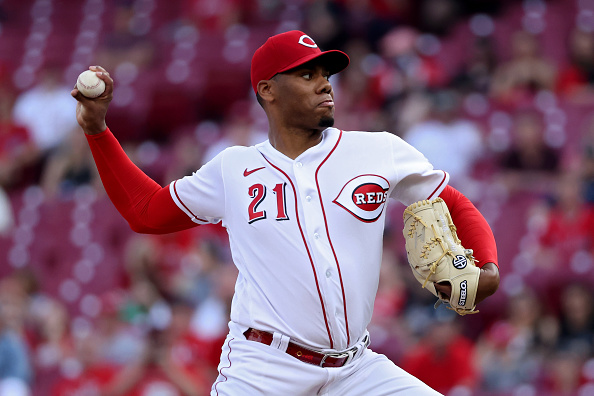 After getting embarrassed in the NL Wild Card in 2020 and faltering down the stretch in 2021, missing playoffs, the Reds sold off most players who cost more than $5. Even though the ownership doesn't deserve a fan's support, there are a few Reds players worth your support. It's not the fault of the players that the Reds front office is cheap. 
Even though Cincinnati is likely looking to emulate the Tampa Bay Rays model of developing prospects, keeping payroll low, and trading them away before paying them, there are plenty of Reds players worth your support as a fan. 
Even in a Terrible Year, There Are Reds Players Worth Your Support
Jonathan India
The 2021 Rookie of the Year. Jonathan India is the future at second. Last year, India slashed .269/.376/.459 with 21 home runs and 69 RBI. With 3.1 WAR in 2021, India finished tied for third-best. While it took him a month to really get going, India made the jump from AA after not playing at all in 2020 due to the COVID-19 pandemic shutting down all of Minor League Baseball. 
His 2022 has been marred with injuries, most recently a strained hamstring. India has only played 11 games this year, slashing .295/.311/.341. He seemingly re-injured his hamstring in the team's April 29th loss to the Rockies. With the 2022 season in the garbage, the Reds are not going to rush him back. 
India is a fan favorite already. Cincinnati has a history of flashy second basemen who the Reds faithful just fall in love with. India showed that he is a man of the people during the Cincinnati Bengals Super Bowl run last year. He was spotted on a few occasions tailgating and chopping it up with fans. India even frequents esports sites to play with fans, such as the one you can click here.
India is a fans-first kind of player and gives his all. He was a serious silver lining last year and will be again this year once fully healthy. India is absolutely a Reds player worth your support in 2022 and beyond. 
Tyler Stephenson

Embed from Getty Images
In all of the payroll shuffling, the Reds made a move that many had actually expected: they traded away Tucker Barnhart, paving the way for Tyler Stephenson's emergence. 
Stephenson exploded onto the scene in 2020. In his first-ever appearance against the Chicago Cubs on July 27th, Stephenson went 2-2 with two RBI. He hit a home run in his first career at-bat and was rewarded by the Reds not playing him again for another 39 days. He finished 2020 slashing .294/.400/.647 with a pair of home runs and six RBI in 17 at-bats. 
2021 was his first taste of significant playing time with 350 at-bats. Stephenson finished the year .286/.366/.431 with 10 home runs and 45 RBI. Stephenson finished just behind India in WAR with 2.0.  
Heading into 2022, Stephenson was looking to be the Reds full-time catcher. At the point of this publication, Cincinnati is 12-26. Stephenson was knocked out of the lineup for 10 games and the Reds dropped nine of them. Now, the team being 11-17 with him in the lineup isn't something to write home about, but it's significantly better. 
[pickup_prop id="22681″]
Stephenson is as exciting of a Reds player as any. As a batter, Stephenson has the power to run into a home run every now and then. While he isn't as defensively gifted at Barnhart behind the plate, Stephenson is a threat to throw-out runners. In 2022 alone, Stephenson has caught six runners stealing, good for a 30% caught stealing rate. He's going to be around for a long time and will continue to wow Reds fans. 
Hunter Greene
The hard-throwing rookie phenom is quickly turning heads in 2021. He was selected second overall in the 2017 Amateur Draft and has been well worth the high selection since. Across his 179 innings pitched across four Minor League levels, Hunter Greene was a strikeout machine, earning an 11.8 K/9. He missed all of 2019 rehabbing from Tommy John surgery and, along with the rest of MiLB, did not play in 2020. 
Through his eight starts in Cincinnati in 2022, Greene has had a bit of bad luck, posting just a 1-6 record. He's finding out that it's harder to get MLB batters out with just a blazing fastball. Even then, he's earned an 11.44 K/9. That bad luck came to a head in his May 15th start against the Pittsburgh Pirates. Green threw 7.1 no-hit innings and, along with Art Warren, combined for a no-hitter…but the offense couldn't do their job. The Reds lost 1-0 to be the sixth team in MLB to throw a no-no and lose. It was the second time in Cincinnati's history that they've done so. 
Green already has what it takes to be a star. His rookie year has been full of growing pains, naturally. Once Green can get his walks down and stop allowing so many home runs (he's allowed 12 thus far), he will turn into the next ace of the rotation. 
Joey Votto
JOEY VOTTO STILL BANGS JOEY VOTTO STILL BANGS JOEY VOTTO STILL BANGS JOEY VOTTO STILL BANGS JOEY VOTTO STILL BANGS JOEY VOTTO STILL BANGS JOEY VOTTO STILL BANGS JOEY VOTTO STILL BANGS JOEY VOTTO STILL BANGS JOEY VOTTO STILL BANGS JOEY VOTTO STILL BANGS JOEY VOTTO STILL BANGS pic.twitter.com/0bsGlieMc6

— Cincinnati Reds (@Reds) July 29, 2021

What is left to say about one of the best Reds of all time? Joey Votto is tied with Frank Robinson for fourth-most WAR in Cincinnati Reds position player history with 63.7. He's led the NL in on-base percentage seven times in his 16-year career. He won the 2010 NL MVP and finished top-six four other times; top three twice. If Votto doesn't swing, it's not a strike. He has a command for the strike zone and it's paid off considering he led the NL in walks five times. 
For as storied as the Reds history is, Votto is continuously towards the top in most metrics. He's tied for first with Joe Morgan in OBP with .415, first with 1306 walks, and second with .931 OPS.  
Votto has been a fan favorite ever since his debut. Considering he is on the back-end of his career, there isn't much time to have him as one of the Red players worth your support. As painful as it would be, there is a sentiment within the Reds faithful that Cincinnati just needs to trade Votto to a contender so that he has a shot of winning a ring. He certainly isn't going to get one in Cincinnati. 
Main Photo: