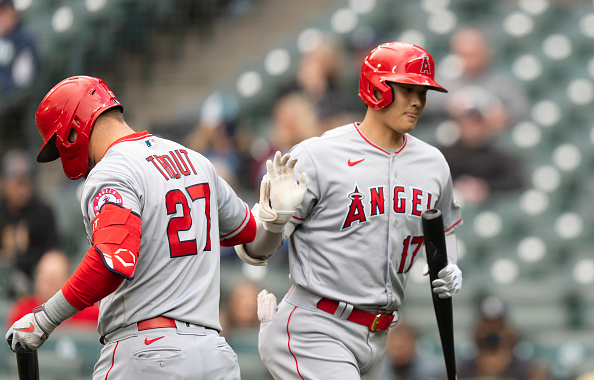 We are just under two weeks away from the start of the 2022 season and the American League MVP odds have come out. A pair of teammates that have won the award in the past top the list at one and two while a young phenom stands right behind them in the chase. It's been a long offseason for everyone involved but now that baseball is underway, Opening Day across the league is set up to be one of the most anticipated in a long time.
Odds to Win the 2022 American League MVP
Shohei Ohtani (+300)
Shohei Ohtani is the favorite to win the American League MVP for the second consecutive year. He's not only on top because of his bat but because of his ability on the mound. Ohtani hit a whopping 46 home runs with 100 RBI while posting a 9-2 record with a 3.18 ERA and 156 strikeouts in 23 starts on the mound. His efforts earned him the MVP last season and he's looking to do the same this season. What Ohtani has done is truly special and if he can stay healthy, he'll be fighting with his teammate for the award in 2022.
Mike Trout (+350)
Speaking of teammates, Mike Trout is right behind Ohtani for the best odds to win the American League MVP. There are multiple valid arguments to be made that Trout actually should be first or at least tied for first on this list. He had the best odds to win the MVP last year and many years before that. Trout is coming off an injury-riddled year that saw him only play in 36 games in 2021. Before the injury, he was set to have one of the best seasons of his career, as hard as that is to believe in his historic run. In the 36 games he played, he had a .333 batting average with eight home runs and 1.090 OPS.
The Los Angeles Angels are lucky to have two MVPs on this team and are hoping it translates to something bigger. Like Ohtani, if Trout can stay healthy, it's hard to go against the three-time MVP.
Vladimir Guerrero Jr. (+400)
Another player getting a lot of talk for MVP is Vladimir Guerrero Jr. He's another player that has an argument to be first on this list. Guerrero Jr. finished second in the MVP voting last season with a .311 batting average and 111 RBI while hitting 48 home runs. He also won the Silver Slugger award and the Hank Aaron Award. The Toronto Blue Jays are legitimate playoff contenders because of what he can bring to this team. Vlad Jr. is entering his age 23 season in better shape than he was last season. He's looking to have yet another explosive year as he has a great chance to win the triple crown in 2022.
Aaron Judge (+1500)
After Vlad Jr., there's a pretty steep drop in the odds for the next player and that's Aaron Judge. While Judge is a clear MVP candidate and can be one of the best in the league, there are always questions of his durability throughout the season. Aaron Judge has had two healthy seasons since his rookie year in 2017 with the New York Yankees.
In that year, he played in 155 games while tallying 114 RBI with 52 home runs and took home Rookie of the Year. Ever since then, Judge has had a few stints on the injured list every season until last season. In 2021, he played in 148 games while having 98 RBI and 39 home runs. We've seen what Judge is capable of when he's healthy and that's being a perinatal MVP candidate. He finished 4th in the MVP voting last season and can realistically challenge Ohtani, Trout, and Vlad Jr. for the award.
Wander Franco (+2000)
Back in November, Wander Franco signed a massive 11-year, $182M contract with the Tampa Bay Rays when he was just 20 years old. The Rays recalled Franco on June 20th and made his Major League debut two days later. He only played in 70 games last season but immediately showed everyone why he was the top prospect in baseball at the time.
He hit .288 with 39 RBI and 7 home runs in only 308 plate appearances. Franco also had a strong showing in his first postseason experience. At just 21 years old, he still has a few things to work on, notably his power, but it's inevitable that we see him as a MVP before it's all said and done.
Next Best Odds
Rafael Devers (+2000)
Luis Robert (+2000)
Jose Ramirez (+2000)
Corey Seager (+2200)
Bo Bichette (+2200)
Main Photo: