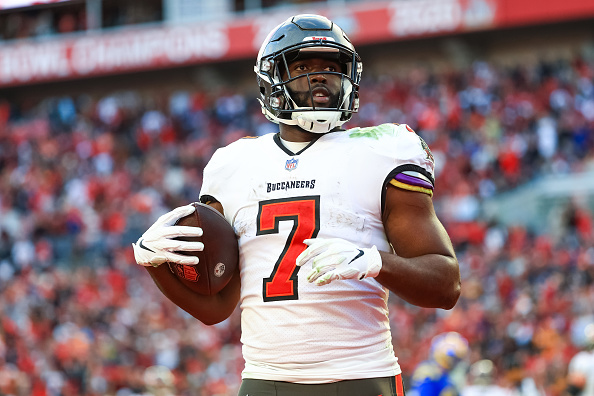 NFL free agency begins next week and there's a lot of talent across the board at almost every position. The running back market might look bleak at first glance but if you dig deeper, teams would be smart to bid on the services on some of these free agents. The fun starts next week as general managers start the process of piecing together their teams for the 2022-23 season.
NFL Free Agency: Top Five Running Backs
5. Cordarrelle Patterson
The Atlanta Falcons have a big decision to make on Cordarrelle Patterson next week. The nine-year veteran is coming off of by far the best season of his career. Patterson has been a duel threat whether he's a running back, receiver, or kick returner. He had 618 yards on the ground, 548 through the air, and 434 on kick returns in just 18 attempts. Patterson also had over 1,000 yards on kick returns in 2020 and has had at least a touchdown return in six of his nine years. All of this versatility earned him the 2021 NFL PFWA Most Improved Player. His efforts should also get him a lot of interest out on the market.
4. Chase Edmonds
After completing his rookie contract with the Arizona Cardinals, Chase Edmonds is set to hit NFL free agency after showing a glimpse of what he's capable of last season. Even though he only played in 12 games due to injury, he showed some promise heading into the open market. Edmonds rushed for 592 yards and two touchdowns while having 5.1 yards per attempt, the ninth most in the league. He also proved he can be a threat through the air as he had 311 receiving yards. The only question teams will focus on is his durability because he had a few different injuries throughout the season but when healthy, he can help a team in a big way.
3. James Connor
As the Kyler Murray situation seems to have settled down, the Arizona Cardinals have another problem to figure out as their top two running backs are set to head into free agency. One of them is James Connor, who split time with Edmonds and even took over the starting role due to injury. Connor missed a couple of games himself but was relatively healthy all season.
In 15 games, the most he's played in a single season, he put up 752 rushing yards with a whopping 18 total touchdowns (15 on the ground). Connor can also catch the ball out of the backfield and that's what makes him dangerous when healthy. He'd love to return to Arizona next season and expects to get a multi-year contract wherever he goes. 
2. Melvin Gordon
Melvin Gordon hits the free-agent market with real interest in returning to the Denver Broncos next season. The last two years have been very encouraging as he's had back-to-back 900-yard seasons. He's also had eight or more touchdowns in every year but his rookie season. Gordon also gathered more than 200 yards through the air in 2021 to go along with two touchdowns.
While the Broncos have liked what they've seen, Javonte Williams had a great rookie season in the backfield and looks like the future for this team. With the urgency from Denver not to pay him being there, it'll be interesting to see what happens next week.
1.
Leonard Fournette
There are a lot of question marks heading into the 2022-23 season for the Tampa Bay Buccaneers. The biggest one is the quarterback position with Tom Brady announcing his retirement. After that, the running back position becomes the biggest question with Leonard Fournette and Ronald Jones hitting NFL free agency.
When it comes to Fournette, he had a down season in his contract year. He had 812 rushing yards with eight touchdowns but he only played in 14 games. The five-year running back is capable of being a pass-catcher out of the backfield and has gotten better since being with Brady. Fournette had 454 yards through the air with the two touchdowns. He was a big part of Tampa's Super Bowl run in 2020 and now hits free agency with an interesting market for him.
Other Notable Free Agent Running Backs
Sony Michel
Raheem Moster
Rashaad Penny
J.D. McKinnon
David Johnson
Ronald Jones
Alex Collins
Darrel Williams
Main Photo: