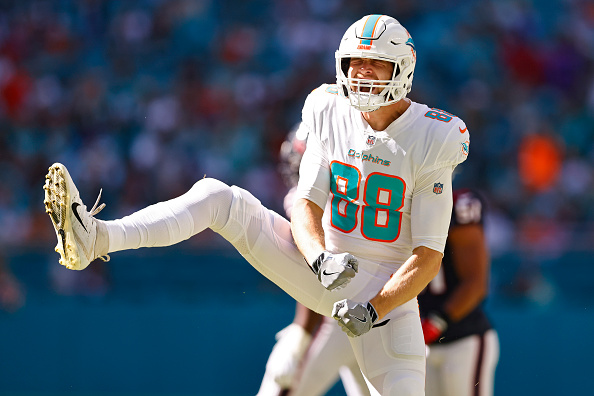 With the offseason schedule hitting NFL free agency in a couple of weeks, it's time to look at the best talents on the market. Teams shouldn't have too much trouble finding talent on offense this offseason. Not only is the wide receiver group strong, but the tight end position has a few players that are coming off a strong year looking to make good money. Everyone feels the excitement in the air as we approach one of the best dates on the NFL calendar.
NFL Free Agency: Top Five Tight Ends
5. Robert Tonyan
With four seasons under his belt, Robert Tonyan has only had one full good season with the Green Bay Packers which came in 2020. That year, he caught 52 passes on 59 targets for 586 yards and 11 touchdowns. Tonyan was on his way to a solid year in 2021 until he tore his ACL in week eight against the Cardinals. He had 204 yards and two touchdowns before the injury. Aaron Rodgers spoke highly about Tonyan even before he burst on the scene and we saw why the past two years. He can catch nearly anything thrown his way and he works the middle of the field almost better than any tight end in the league. Even coming off his ACL injury, Tonyan is expected to make a good chunk of change in NFL free agency.
4. Rob Gronkowski
Rob Gronkowski game out of retirement in 2020 to join Tom Brady in Tampa. He helped the Buccaneers capture their second Super Bowl in franchise history and collected his fourth overall. Gronkowski had an even better 2021 than 2020 as he caught 55 passes for 802 yards and six touchdowns. This was all while only playing in 12 games because of a rib and back injury. Gronk showed that when healthy, he is just as dangerous as ever. No one knows what the 11-year veteran decides to do when it comes to playing football in 2022 but if he stays and finds a stable quarterback situation, he'll be dangerous yet again.
3. Zach Ertz
After wanting out of Philadelphia this past season, Zach Ertz was traded to the Cardinals and showed everyone that he's still a top tight end. Between six games with the Eagles and eleven with the Cardinals, Ertz has 763 yards and five touchdowns. He ranked top ten in catches, yards, and touchdowns among tight ends. If the Cardinals can figure out this situation with Kyler Murray, Ertz might thrive even more in his second year with Arizona if they re-sign him but if not, he's in for a good payday for anyone looking for a tight end.
2. Dalton Schultz
2020 was just a glimpse of what was to come from Dalton Schultz at the tight end position. He caught 63 passes for 615 yards and four touchdowns. This past year, he took full advantage of Blake Jarwin's injury and the fact that it was his contract year as he caught 78 passes for 808 yards and eight touchdowns. Schultz's receptions ranked third among tight ends while he ranked 6th in receiving yards and 5th in touchdowns. He wasn't highly thought of when he first came up but now he's set to become one of if not the highest-paid tight end in free agency.
1. Mike Gesicki
Now time to get to the best tight end in NFL free agency. With up and down quarterback play, Mike Gesicki has still been putting up numbers over the past three years. In 2019, Gesicki mustered up 703 yards with five touchdowns. He also gathered back-to-back 700-yard seasons in 2020 (6 TDs) and 2021 (2 TDs). The 26-year old is one of the most athletic tight ends in the league and has the ability to catch every ball that's thrown his way. The Dolphins have the most cap space in the NFL so it'll be interesting whether the team decides to pay him or not.
Other Notable Free Agent Tight Ends
David Njoku
Evan Engram
C.J. Uzomah
Maxx Williams
O.J Howard
Gerald Everett
Jared Cook