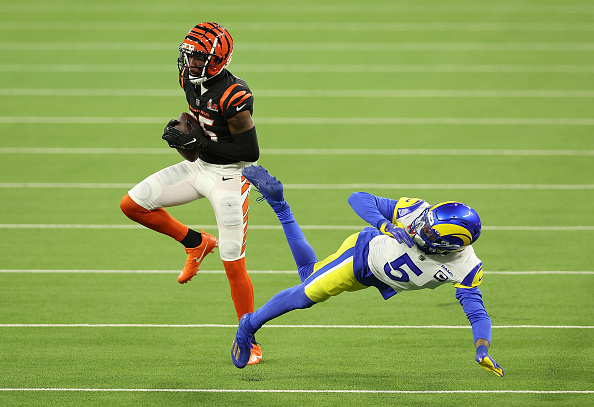 On August 31, 2018, several of the ice hockey world's biggest news outlets adorned their websites and socials with spins on a common headline: "Jalen Ramsey says he can make the NHL." While alluding to a broader trash-talk streak by the All-Pro cornerback of the National Football League, fresh off an AFC Championship Game appearance with the Jacksonville Jaguars, each article employed varying degrees of earnestness to address a characterization of Ramsey's athletic talents made in an ESPN The Magazine feature, transcribed by Mina Kimes:
"Aside from baseball, which he says he lacks the coordination for, he's excelled at every sport he's ever tried… He's never tried skating, but if he trained for six months, he says, he could probably crack the NHL.
At first, I thought Ramsey was self-mythologizing. But as he recounts his athletic exploits, it becomes clear that his unshakable confidence stems from lived experience."
Between the incongruous timing of the interview with the hockey calendar, its outrageous premise, and the nature of the inciting quote's delivery, paraphrased in a single sentence in print, one might anticipate a limit to the story's staying power beyond the realm of typical "off-season content." Six days later though, the Worldwide Leader in Sports™ would display a masterstroke in cross-promotion, publishing a follow-up article soliciting the opinions of ten of hockey's brightest stars under a sly headline: "NHL players taken aback by Jalen Ramsey."
The Jalen Ramsey NHL Dream Is Dead
The athletes interviewed by ESPN, as well as by the NHL itself on YouTube, expressed a variety of sentiments ranging from curiosity and amusement to indignation, as expected from a community of thousands of players. You would never be able to tell at a distance though: Google "Jalen Ramsey NHL," and the footprint left by the frenzy spells out anger and annoyance, even as the now-Los Angeles Ram has spun his fandom into collaborations with the NHL's Nashville Predators and Los Angeles Kings. Elements of sensationalism on a search engine are to be expected; still, the question of why a possibly small and certainly loud segment of the hockey community cannot take a joke is worth further examination.
Hockey's "Little Brother Syndrome"
Despite millions of ardent fans, dozens of iconic competitors and jerseys, and the NHL's multi-billion-dollar successes, hockey's status as North America's fourth (or perhaps even fifth) sport seems to have instilled within the culture the necessity to constantly justify the game's existence. Perhaps stemming partially from hockey's place as a Canadian cultural institution, fans of the sport and the media enterprises who cover it subscribe to a set of values—hard work and poise for instance—that when supposedly transgressed never fails to light the community ablaze.
Are you familiar with the intricacies of ice hockey's "unwritten code" of fighting? Ever debated the myth of competitive parity in the National Hockey League compared to its basketball counterpart? Have you harbored an irrational disdain for soccer since childhood?
If you answered yes to any of these questions, you may be entitled to compensation as a victim of the "Little Brother Syndrome" that permeates the sport's identity. This cycle of moral panics is not exclusive to hockey: college sports in the United States, both men's and women's, grapple between amateurism and professionalism every time a top prospect loses eligibility or suffers a major injury. However, few analogs exist in other sports for the hockey world's reaction to a 2018 statement from football player Jalen Ramsey that was so blatantly exaggerated.
The Top Five NHL Talents In The NFL
If it was not on ice before, the Jalen Ramsey NHL dream is certainly dead in the water as of February 2022, the month the cornerback won his first NFL Championship in Super Bowl LVI. Since being traded from Jacksonville to Los Angeles in 2019, Ramsey has accumulated three Pro Bowl and two All-Pro appearances while earning the highest salary at his position in the league. Regardless, none of these facts will inhibit me from envisioning other individuals stepping from the gridiron to the ice rink. Here are a few favourites:
Eli Apple, Corner, Cincinnati Bengals
Ramsey's counterpart on the Super Bowl LVI-losing Bengals caught fire from colleagues and fans in equal parts for weeks of Twitter antics and for faltering in the futile job of keeping Rams wide receiver Cooper Kupp out of the end zone. Should Apple be run out of the country, Toronto Maple Leafs fans are always looking for new defencemen to scapegoat.
Derrick Henry, Running back, Tennessee Titans
As the inspiration for this article, I believe the 6-foot-3 247-pound former Heisman and NFL Offensive Player of the Year winner could lead the most devastating forecheck of all time if he learned to skate. Hockey fans may refer to Dustin Byfuglien, an imposing player who won a Stanley Cup as a winger before a very-fringe Hall of Fame career on defense as a base for a Derrick Henry model. Then give that player a 4.54 second 40-yard dash time. No more needs to be said.
Retiring cleats in favor of a pair of skates could be beneficial for the Cowboys coach for two reasons. Firstly, the NHL's Bay Area franchise, the San Jose Sharks, has a penchant for postseason futility, boding well to counteract McCarthy's NFL playoff record against the San Francisco 49ers. Second, not only do NHL refs throw the rulebook away in the playoffs, but every whistle in a hockey game also freezes the clock immediately, rendering NFL Wild Card round-style shenanigans impossible. McCarthy will surely find himself on an Edmonton Oilers shortlist if the team fails to make the playoffs this season.
Tim Tebow, Tight end, Free Agent
The door is wide open for Tebow to make his claim to "Greatest Athlete of All Time" with a late-career entry into hockey: in 2020 the former Jacksonville Jaguar joined the ownership group of the same city's ECHL team, known as the Icemen, a minor league affiliate to the New York Rangers of the NHL.
J.J. Watt, Defensive end, Arizona Cardinals
Honorary Canadian and easily the most credible name on this list, who grew up playing hockey in Wisconsin before ballooning into his 6-foot-5 288-pound frame. Mr. Watt has taken a liking to Montréal Canadiens phenom Cole Caufield's game: however, from this day forth he is assigned to the Detroit Red Wings, to save the Midwest franchise from a five-year and ever-growing stretch of playoff-less hockey.
Main Photo: