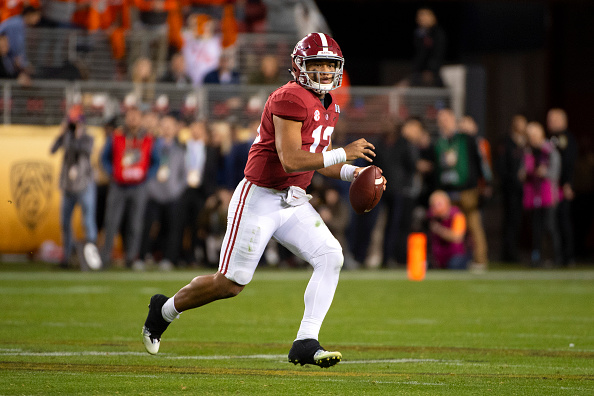 Every avid sports fan has an opinion on just about everything within the industry. One of these ideas is paying college athletes. Athletes should have the opportunity to make money regardless of whether or not their sport generates revenue.
This is not an argument about getting paid because the athlete plays a certain sport. They should be able to profit off of what the NCAA should not own: their name. Athletes should be allowed endorsement deals, collect prize money for post-season success, and collect income generated by their likeness.
It's Time to Start Paying College Athletes 
Sponsors And Endorsements
College athletes are not allowed to sign endorsement deals with sponsors under the current NCAA format. The punishment for endorsing a product varies from case to case. In some instances, the athlete could be suspended for the first half of a contest, while others are barred from participation in multiple games. One way we could be paying college athletes is to allow such deals to take place. There are so many opportunities for athletes to endorse a product, ranging from big names like Nike to Subaru.
When you watch the Final Four match-ups this weekend, how many advertisements are you going to see? The television companies, NCAA, and the conferences of the teams will receive a payout from these endorsements. How much money will the students get?
Professional athletes are allowed to sign endorsement deals, so when the talk of paying student-athletes by means of sponsorship comes up, the general public thinks the athletes are being paid to play. This is not the case. The athletes in question would be paid to wear certain clothing or drink a certain beverage, rather than being paid to play football, basketball, etc.
Post-Season Success
Another way to give students financial compensation is to allow them to collect some of the winnings from post-season success. For football, D-I FBS teams who make a postseason bowl or College Football Playoff game, receive prize money.
For example, the lowest recorded amount from the 2014-2015 bowl season was $100,000 for the Idaho Potato Bowl between Bowling Green State University and South Alabama University. Inversely, The Ohio State University and The University of Oregon got $22 million for their participation in the inaugural College Football Playoff Championship Game.
Schools should be able to designate a percentage of their winnings to pay students for their efforts, considering the students miss finals for the earlier games, and could possibly miss the beginning of the spring semester for the later games.
This was evident with the Florida State University Seminole football team when they made the College Football Playoff at the end of the 2014-2015 season. The athletes actually missed the first days of the spring semester due to their involvement in the Rose Bowl.
If FSU were to designate 10% of their winnings, it would be $1.8 million. Divide that up by the number of athletes, trainers, and graduate assistants on the team, each person would receive about $13,235. At least with this money, the students could pay back their parents for coming to the game, considering the NCAA chooses to not help families of the athletes and coaches travel to CFP semi-finals or title game.
March Madness Is No Different
Student-athletes who participate in the tournament miss at least one week of classes for their games. They can miss upwards of a month if they make a deep run into the Final Four or National Championship.
The NCAA exploits the athletes by collecting on TV deals and make upwards of tens of billions of dollars. Since 2005, advertising has generated $7.5 billion for March Madness and the NCAA and only the NFL playoffs generated more money off of advertising in 2014 (around $1.3 million). All of this profit and the NCAA is unable to give a small percentage to the athletes who cannot afford to eat, whether or not they even have time. Create a tiered system of payment where participants get a certain amount and it increases as the team progresses. The coaches receive bonuses, why can't the players?
Name, Image, Likeness
The proposal to pay student-athletes is not geared towards the schools to pay these athletes. Most Universities are actually losing money in regards to their athletic programs. Athletes should be able to make money off of their name, image, and likeness.
The public would generate that revenue for the athletes. If the NCAA allows athletes to make money based on their likeness, athletes in smaller schools and markets could earn more than they would in a larger market.
Star quarterback McKenzie Milton from the University of Central Florida would be a prime example. This would also help these smaller schools recruit. If a player knew they could become a standout, they may be more likely to choose Bowling Green over Ohio State. They could earn their revenue for being a great player who stands out for a "bad" team.
Athletes should be compensated when something is created in their likeness or appearance. EA Sports were in this exact spot when they made the "NCAA Football" games. For 20 years, there was a college football video game for die-hard fans who loved to play out the top NCAA Football rivalries. EA Sports was actually willing to pay student-athletes for the use of their numbers, dimensions, and skill set for their games.
Unfortunately, the NCAA ruled that paying the athletes for the games would be taking away their amateur status. Paying an athlete because they play the sport is taking away the amateur status. Paying the athlete because a video game wants to make the University of Alabama quarterback look just like the real-life Tua Tagovailoa is not.
The Last Word
There are many other ideas as to how we could be paying college athletes. Paying athletes could also keep students in school to finish their degrees. The overwhelming majority of collegiate athletes do not go on to play professionally. By profiting off of themselves, it would provide them with some financial backing. This would be crucial to their success after their playing days are over.
Paying athletes is not a moral issue, it's a greed issue. The NCAA makes billions off of the blood, sweat, and tears of collegiate athletes from every school and in every sport. Despite this, they give none of the revenue back to the working students. When the NCAA is making billions, the athletes actually working for that money deserve to make some kind of money. How would you feel if you worked more than full-time and never got to see any rewards for your work?
Main Photo:
Embed from Getty Images