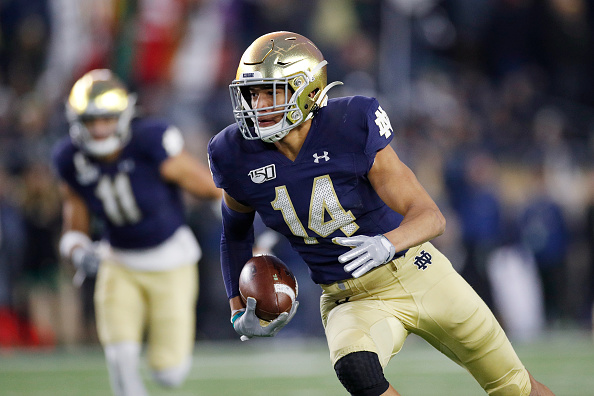 With Super Bowl LVI coming very shortly, we can get to the draft. As the season draws to a close, I am looking at first-round locks. Ie., people who you can expect to be selected in the upcoming draft. After the locks, I will go over some people who missed out and why.
2022 NFL Draft First Round Locks
Locks for the first ten picks
Quite self-explanatory here. Hutchinson dominated the college scene, racking up Heisman votes as a defensive player alongside being the consensus favorite for the first overall pick. So it would be a real shock if he were to drop out of the top five picks, let alone the first ten.
[pickup_prop id="19516″]
Another player who is heavily mocked to go number one overall. However, he has fallen to pick five in a few mocks that I have seen. That being said, I would be shell-shocked if he does indeed slide that far and would be even more surprised if Thibodeaux is picked outside the top ten.
Despite some concerns over his footwork and his technique, I would find it hard to believe he makes it past both New York teams at four and five respectively, and even Carolina at pick eight.
Among the most polarising players in the draft, with some having him as the number one overall pick, and some have him slipping out of the top ten picks. But I believe that the NFL is too tackle-needy to let him slip out of the top ten as there are at least four teams who could use him in the trenches.
Perhaps the only non-guaranteed top ten pick here, but I believe that there is no way that Hamilton, my highest-graded player this year, slips out of the first ten picks. Despite positional value negatively impacting this pick, Hamilton makes up for it with his immense versatility and all-around brilliance.
[pickup_prop id="19301″]
Locks for the rest of the first round
Stingley just missed out on the previous list, but would have been the sixth player had I included six. But his inconsistent and injury-plagued performances since his freshman season could be viewed as a red flag for teams around the league and, mark my words, we could see Stingley begin to slip on draft day.
Cross impressed heavily in Mike Leach's scheme in Mississippi, a scheme that relies very heavily on the passing game. This means that he has already proved he is a capable pass blocker, a skill that is coveted in today's NFL. He was also able to hold his own against very strong SEC opposition.
Despite playing at center, a position that is one of the lowest paid in the NFL, Linderbaum's talent is unbelievable. He is one of the best interior offensive line prospects to ever come out of the draft and should be a franchise center in the NFL, so is thoroughly deserving of a first-round pick.
A few weeks ago, I had Karlaftis a lot higher and was in serious contention for a top ten lock, but after watching some more tape on him I have become a bit lower on him. He is somewhat unidimensional, with his only pass-rushing move being one of power, but he is unbelievable at that and still deserves a first-round pick, at least.
Ojabo has been a quick riser for me over the past few weeks. I was not too high on him, but after watching tape on him, I have changed my mind and I think he is a premier edge-rushing talent, one extremely worthy of a first-round pick.
Dean shot up draft boards following an otherworldly college football playoffs and all the hype is extremely warranted. He flies around the field and makes big play after big play, and with lots of teams needing a linebacker, Dean would be the perfect player for them.
Almost everything I said about Dean could be repeated here for Lloyd. They are both players that have an "X-factor" and could both be taken within the top ten, but I am taking the safe bet that they both get taken in the first round.
Although Williams is not my top receiver in this draft, he possesses all the traits that NFL teams prefer in their wide receivers, alongside having among the best athletic profiles of any player in this draft class.
Gardner did not give up a touchdown in his entire collegiate career, and his aggressive playstyle heavily reflects the kind of corner the NFL is beginning to prefer, for that, I think that he will easily be a first-round pick.
Kenny Pickett is exactly the kind of quarterback that the NFL wants. His accuracy and consistency are hard to come by and are both traits that are needed to be a good quarterback in the NFL. Even though more than one quarterback will go in the first round, I am sure of this, Pickett is the only one that I have as a first-round lock as they are all too similar after him.
Finally, my hottest take of the bunch. Burks will be a first-round pick due to his physical profile. His size, speed, and agility are all off the charts, and it's that body type that has been dominating the league today. I don't think the league will make the same mistake they made with DK Metcalf, and will take Burks high.
My highest rated players that missed the cut
Although Wilson is my top-ranked receiver, his lack of elite speed or size could lead to him slipping a bit. His route-running is off the charts brilliant and so I expect him to go on day one but didn't want to include him on the list.
Kenyon Green, Interior Offensive Line, Texas A&M
I like Green and have consistently mocked him very highly. But, his iffy performances last season and the amount he was moved around could lead him to fall to day two.
Both Elam and Booth rank very highly for me and are both extremely talented players. However, I feel that they could get passed over as they play at a position that is always deep in the talent level, and so a team could pass one, or both, believing that they could snag one later.
While I believe that at least one of these two will go in the first round, I cannot trust the league with interior defensive linemen after Christian Barmore last year. I loved Barmore and thought he was a lock for the first round, but he ended up falling to the second round. So, I am not putting any faith in interior defensive linemen again.
Any of the other quarterbacks
I have no idea how to separate the quarterbacks in this class. They all are good, but none are very good. I also believe that Pickett is the one that will get selected first, but I have no clue what the league thinks about the rest of the prospects. I am sure that at least one other quarterback will get selected, but I do not know who it will be.
Main Photo: