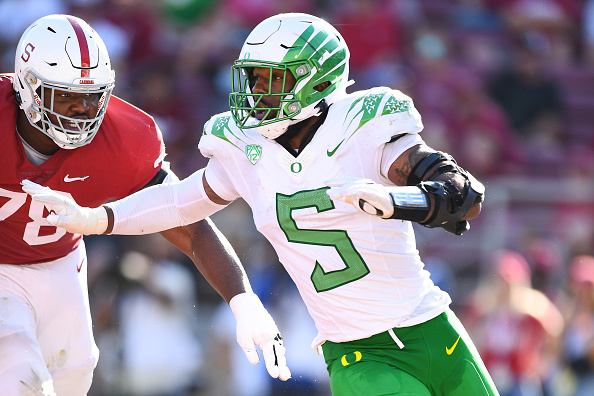 With the first 24 picks having been decided, it's time for another mock draft. The order has shuffled around a little bit since last time, but I will try to include some different picks and some different players where possible.
2022 NFL Mock Draft 2.0
#1 Jacksonville Jaguars – Kayvon Thibodeaux, EDGE, Oregon
I gave them Hutchinson last time, so this time they get Kayvon Thibodeaux. Thibodeaux has lit up the Pac-12 throughout his college career, and this year was no different as he racked up seven sacks despite missing games through injury.
#2 Detroit Lions – Aidan Hutchinson, EDGE, Michigan
Aidan Hutchinson returns to Michigan to play for the Detroit Lions. Having grown up close to Ford Field, this could be the ultimate reunion for Hutchinson as he looks to improve on a very strong college career in the NFL.
#3 Houston Texans – Kyle Hamilton, S, Notre Dame
The Texans are not a very strong squad and need new players at almost every position, but Hamilton is a good place to start. My favorite player in college football at the moment, Hamilton has been unbelievable for Notre Dame as part of a secondary that was quite strong last season.
[pickup_prop id="19191″]
#4 New York Jets – Derek Stingley Jr, CB, LSU
Despite having hardly played over the past two seasons, Stingley showed everything he needed to in his freshman season as he was the best corner in college football as a teenager. Injuries derailed his college career, and the Jets will be hoping that Stingley can find his form again and help an improving Jets defense to go to the next stage.
#5 New York Giants – George Karlaftis, EDGE, Purdue
Karlaftis has been unbelievable for Purdue and wholly deserves this draft position. The Giants are in dire need of a new edge rusher and Karlaftis is a premium player at that position. Karlaftis has shown his power rushing ability time and time again and will, hopefully, be the breath of fresh air that the Giants need to revamp their defensive line.
#6 Carolina Panthers – Evan Neal, OT, Alabama
The Panthers pick is an intriguing one here. They need new QB play, but their atrocious offensive line would make it difficult for any QB to succeed here, and so I think that the Panthers should look to strengthen their play in the trenches and target a QB in the next draft as the QB class appears to be stronger in 2023 than 2022.
#7 New York Giants (via Chicago Bears) – Icky Ekwonu, OT, NC State
The Giants use their second top ten selection to take Icky Ekwonu. The Giants are also in need of an offensive line boost, and Ekwonu has the strength, agility, and the technique to be exactly that, and the Giants will be hoping that he can form a fearsome tackle duo with Andrew Thomas for years to come.
I gave the Falcons Linderbaum last time and I'm doing it again. The Falcons' interior offensive line is terrible, and Linderbaum is an interior offensive lineman – it's a perfect match.
#9 Denver Broncos – Matt Corral, QB, Ole Miss
I said last time that Kenny Pickett may end up being my QB1 come draft day. He is very close to doing so, but not quite there yet as Matt Corral is just a tiny bit better as of right now. Either way, the Broncos need sustainable QB play, and Corral offers that at a high level.
#10 New York Jets (via Seattle Seahawks) – Charles Cross, OT, Mississippi State
This Jets offensive line is not as bad as I originally presumed, but it is still not good. Charles Cross has been dominant for the bulldogs and Robert Saleh will be hoping that he can do an equally good job at protecting Zach Wilson.
#11 Washington Football Team – Kenny Pickett, QB, Pitt
I feel as though Washington almost doesn't deserve sustainable QB play, it just seems so correct for there to be a constant QB controversy in the capital. However, Kenny Pickett should be good enough to put an end to the conversation and can be a top 10 QB, something Washington hasn't had for decades.
#12 Minnesota Vikings – Kaiir Elam, CB, Florida
Elam is in a similar boat to Stingley in that they were both extremely underwhelming this season. But, like Stingley, Elam has shown he has all the traits and the athleticism to be a top NFL corner. If he can turn into that is a different question, but the Vikings will be hoping so.
#13 Cleveland Browns – Garrett Wilson, WR, Ohio State
Once the Browns traded Odell Beckham Jr, their passing game fell off a cliff and they were in dire need of new bodies at receiver. Garrett Wilson has played out of his mind at Ohio State and has the best route-running ability in this draft class, something the Browns need desperately.
#14 Baltimore Ravens – Devin Lloyd, LB, Utah
A bit of a surprise selection here. The Ravens have not had good linebacker play and Lloyd's performances at Utah could be enough for the Ravens to pull the trigger on a new starting middle linebacker. They need offensive line help badly, but no lineman would be reasonable picks here unless they trade down.
#15 Philadelphia Eagles (via Miami Dolphins) – Nakobe Dean, LB, Georgia
Back-to-back first-round linebackers for the first time since the 2020 NFL Draft (can you name them?). Dean has been ridiculously good for Georgia and is just as good as Lloyd, but Lloyd's playstyle fits the Ravens more and Dean's playstyle fits the Eagles more – it's another match made in heaven.
[pickup_prop id="19303″]
#16 Philadelphia Eagles (via Indianapolis Colts) – Ahmad "Sauce" Gardner, CB, Cincinnati
It is still ridiculous that Gardner never gave up a touchdown at Cincinnati on 138 career targets. The Eagles have struggled for a big-time player apart from Darius Slay, and Gardner promises to be exactly that in the NFL.
#17 Los Angeles Chargers – DeMarvin Leal, IDL, Texas A&M
The Chargers' defensive line has been atrocious at stopping the run. This was highlighted in their week 18 loss to Las Vegas, where Josh Jacobs ran the ball through them for enough to get into field goal range. Leal has been stout in run defense at Texas A&M and will help this run defense massively.
#18 New Orleans Saints – Jameson Williams, WR, Alabama
The Saints could be tempted to draft a quarterback here, but Jameis Winston showed enough before he got injured this season. Instead, they should wait until next season to throw a dart at the QB dartboard and instead get another receiving weapon, in the shape of Jameson Williams.
#19 Philadelphia Eagles – David Ojabo, EDGE, Michigan
After having an unbelievable season in Ann Arbor, Ojabo has declared for the draft and the Eagles should be excited at this. The Eagles have had quite a disappointing pass-rush as their big stars have been aging quite quickly, Ojabo should put an end to that and should breath new life into their pass-rush
#20 Pittsburgh Steelers – Carson Strong, QB, Nevada
Strong is my QB3 at this point, as I was blown away by his accuracy and how comfortable he looks in the pocket. As Ben Roethlisberger has retired, the Steelers need fresh legs lining up under center, and Carson Strong has been that at Nevada and the Steelers will be hoping he can help stabilize this offense and lead them back to the playoffs.
#21 New England Patriots – Andrew Booth Jr., CB, Clemson
After having traded Stephon Gilmore and JC Jackson out of contract in the summer, the Patriots will need new bodies in their secondary. Booth has been a lockdown corner for the Tigers in college and should work well in Belichik's defensive scheme.
#22 Las Vegas Raiders – Kenyon Green, IOL, Texas A&M
After having traded three primary pieces of their offensive line coming into this season, the Raiders offensive line has struggled massively. Kenyon Green has been a very solid interior offensive lineman for the Aggies and looks to have the ability to be just as good in the NFL.
#23 Arizona Cardinals – Roger McCreary, CB, Auburn
Despite their high-powered offense, the Cardinals' pass defense has struggled this season after letting Patrick Peterson walk last season. McCreary has been electric at Auburn and should go a long way to improving this Cardinals secondary.
#24 Dallas Cowboys – Nik Bonitto, EDGE, Oklahoma
I have already done a scouting report on Bonitto. But to sum it up, his physical traits are elite, and while he is a little undersized, he looks to be everything that you need from a speed rusher in the NFL. The Cowboys could use him across from DeMarcus Lawrence and form a high-level pass-rushing duo in Dallas.
#25 Cincinnati Bengals – Trent McDuffie, CB, Washington
Their offense has been ridiculous this season so I don't think they should make any major adjustments on that side of the ball. However, they will need better players in their secondary if they're going to compete with the big boys in the NFL.
#26 Miami Dolphins (via San Francisco 49ers) – Trevor Penning, OT, Northern Iowa
The Dolphins' offense has struggled with pass-protection this season, and with a QB with injury concerns, the last thing they need is a bad offensive line. Trevor Penning has been elite at Northern Iowa, and concerns about his playing level can be shut down by the fact that many small-school offensive linemen have had lots of success in the league (Joe Staley, Willie Roaf, etc.)
#27 Buffalo Bills – Drake London, WR, USC
London's contested catch ability perfectly compliments Stefon Diggs' route-running ability to form a beautiful tandem in Buffalo for Josh Allen.
#28 Detroit Lions (via Los Angeles Rams) – Treylon Burks, WR, Arkansas
Outside of Amon-Ra St Brown, the Lions have had very little in terms of targets for their passing offense. Treylon Burks' big body and his agility should work perfectly in this offense moving forward.
#29 Kansas City Chiefs – Chris Olave, WR, Ohio State
The Chiefs need a third option at wide receiver and they get one here in Chris Olave. His route-running and elite hands should serve very well.
#30 Tampa Bay Buccaneers – Jordan Davis, IDL, Georgia
The Bucs do not need many more players as they have a near-complete roster. However, they could look to get younger at the interior defensive line position, and that's what Davis is here to do. Davis is not an every-down rusher, but when he is on the pitch, he is almost unblockable.
#31 Tennessee Titans – Cameron Thomas, EDGE, San Diego State
Like I said previously, the Titans do not have many holes, and the players who could fill those holes would be reaches if taken here. So, I think that they should look to reinforce and reinvest in their defensive line and get a defensive end for the future in Cameron Thomas.
#32 Green Bay Packers – Jahan Dotson, WR, Penn State
Like I said in my last draft, this may end up being Jordan Love's offense come next year. Dotson's ability could go a long way to making Love more comfortable as he provides a solid, talented cover at receiver if Davante Adams leaves in free agency.
Main Photo: