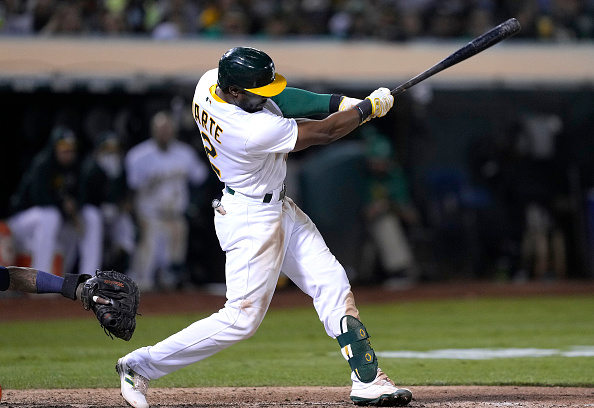 The hot stove has been turned on high for the past couple of weeks as the current CBA is set to expire on December 1st. Justin Verlander, Noah Syndergaard, and Eduardo Rodriguez are the most notable names to sign with teams to start MLB free agency. There have been contract extensions for not only players but managers too. Trade talks have been swirling around the league as well. There's a lot of material to follow so far this offseason, including in the shortstop and starting pitching market, and many expect it to pick up even more within the next week before December 1st. 
MLB Free Agency: Top Five Outfielders
Nick Castellanos (Right Field)
After opting out of his final two years with the Cincinnati Reds, Nick Castellanos hits MLB free agency after making his first all-star game and winning the Silver Slugger Award in 2021. He hit .309 with 34 homeruns and 100 RBI. Castellanos came to the Reds hoping for a chance to compete but that didn't happen. He is now one of the best if not the best offensive weapons on the market and a lot of teams will be looking for this kind of talent to strengthen their lineup.
Starling Marte (Center Field)
A lot of teams have already expressed interest in Starling Marte and there are several reasons why. He is a consistent hitter as he carried a .310 average with 12 home runs and 55 RBI. Another strong part of his game is his baserunning, as Marte stole 47 bases in 2021. If that wasn't enough, Marte has been known as a viable defender, winning two gold gloves as a left fielder. He's bounced around a few times over the past years, including being traded from the Miami Marlins to the Oakland Athletics this past season but he's looking to find some stability with his next contract.
Michael Conforto (Right Field)
Michael Conforto has been very valuable to the New York Mets in his career but 2021 was a bad time to go cold in a contract year. He only hit .232 with 14 home runs and 55 RBI. As for defense, Conforto can play all over the outfield, most notably the two corner outfield positions. He's made a few Gold Glove-caliber catches in his career and is certainly capable of more. If teams go off of his track record, Conforto shouldn't spend too much time on the open market entering his age 29 season.
Kyle Schwarber (Left Field)
Many teams are looking for a power bat this offseason and Kyle Schwarber has been the topic of discussion. A big part of the offseason with Schwarber is whether or not the national league will pick up the universal DH whenever the CBA is worked out, which is very likely.
The 2021 all-star tore the cover off of the ball this season for the Boston Red Sox and Washington Nationals hitting 32 home runs and batting in 71 runs. At one point, Schwarber hit a whopping 12 home runs in 10 games. He was headed for an even bigger season if he wasn't injured, as he was limited to only 113 games. The former World Series champion is expected to have a big market this offseason.
Eddie Rosario (Left Field)
The top five of this MLB free agency list may not have included Eddie Rosario a few months ago but his stock has gone through the roof like no other after his postseason run with the Atlanta Braves. He earned NLCS MVP as he had 14 hits with three home runs, 9 RBI, and an OPS well over 1.000. Overall in the postseason, Rosario hit .383 with three home runs and 11 RBI to capture his first World Series Championship.
The free-agent outfielder recently hit 32 home runs and 109 RBI in 2019 with the Minnesota Twins. Rosario has the speed and capable defense to add to his offense. The Braves adding Rosario provided a big spark to the Twins so whoever signs him hopes for the same result. 
Other Free Agent Outfielders
Avisail Garcia
Mark Canha
Chris Taylor
Tommy Pham
Adam Duvall
Andrew McCutchen
Main Photo: