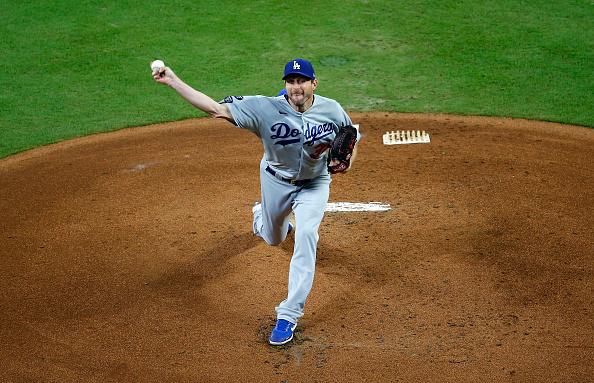 The starting pitching market in MLB free agency will probably be the most interesting to watch as we move along into the offseason. Multiple players have earned the right to get paid after having outstanding years in 2021. The shortstop position might have all the stars in MLB free agency but it stops and starts with pitching. As expected, multiple teams have already expressed interest in boosting their rotation. Just like at other positions, I wouldn't be surprised to see some movement with a few of these guys soon.
MLB Free Agency: Top Five Starting Pitchers
Max Scherzer
Age is just a number, at least if your name is Max Scherzer. The 37-year old put up another Cy Young-worthy performance this season. Scherzer got traded from the Washington Nationals to the Los Angeles Dodgers at the trade deadline and he got even better. With Washington, Mad Max was 8-4 with a 2.76 ERA and 147 strikeouts. He went over to the Dodgers and made his case for the Cy Young Award even stronger as he went 7-0 with a 1.98 ERA and 89 strikeouts.
Overall, Scherzer posted a 15-4 record with a 2.46 ERA and 236 strikeouts. That bulldog and workhouse mentality stays with him every single outing. A lot of teams will be bidding to get the services of the eight-time all-star and multiple time Cy Young winner.
Marcus Stroman
If teams don't get Scherzer, all the focus will turn to acquire Marcus Stroman in MLB free agency. During his time with the New York Mets in 2021, Stroman was one of the few bright spots on the team. In 33 starts, he tallied a 10-13 record with a 3.02 ERA. The 2019 all-star is one of few pitchers that pitch to contact, something teams with a good defense treasures. With the performance he put up in a drama-filled season for New York, his market will be heavy this offseason. 
Robbie Ray
Robbie Ray is one of many players over the years to bet on themselves with a one-year deal and it paid off. With the Toronto Blue Jays, Ray went 13-7 with a 2.84 ERA with 248 strikeouts in 32 starts, both tops in the AL. His performance in 2021 has earned him Cy Young Award votes. It would make sense for Ray to stay in Toronto, but given the numbers he put up this past season, a lot of teams will be trying to spend a good chunk of change for the 30-year old.
Kevin Gausman
2021 was the best season of Kevin Gausman's career, posting a 2.81 ERA in 33 starts with the San Francisco Giants. He had a great recipe for success in 2021 and that was a high strikeout rate (10 K/9) and a low walk rate (2.3 BB/9). Gausman played on the qualifying offer this past season and it worked out. Now he is one of the best pitchers to hit the free-agent market this offseason. Gausman was on track to become a Cy Young finalist but just missed the cut. Now he finds himself in a good position to get paid entering his age 31 season. 
Carlos Rodon
A lot of people were rooting for Carlos Rodon to succeed in 2021 after basically being off the radar for the last few years. This past season, he bounced back in a big way as he went 13-5 with a 2.37 ERA in 24 starts. Rodon also threw a no-hitter in an 8-0 win over the Cleveland at the beginning of the season. He earned his first all-star game bid in 2021 and will be looking for more success after getting what's to be expected a multi-year deal from a team.
Other Free Agent Starting Pitchers
Clayton Kershaw
Justin Verlander
Noah Syndergaard
Jon Gray
Zack Greinke
Main Photo: