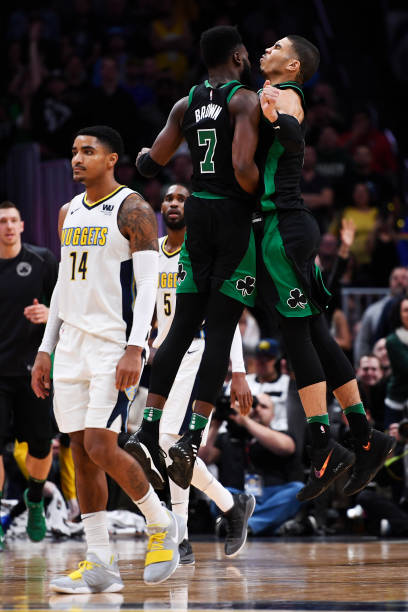 Love them or hate them, you cannot deny that Boston Celtics fans are one of the most passionate fanbases in sports. Often overly irrational and downright ignorant at times, Boston fans make a Monday night preseason game feel like primetime basketball. There are a handful of takeaways to pull from Monday's action versus the Orlando Magic. Lots of good, some not so good, but fans came away with a general consensus that this season is set to be a fun one for Celtics fans.
Overreaction SZN: The Boston Celtics Are Going To Be VERY Fun This Year
The Jays Already Look In Mid-Season Form
The Boston Celticsare driven by their two franchises superstars Jayson Tatum and Jaylen Brown. The two have grown side by side, and are now at the forefront of one of the most storied franchise's climb to the top. While it is preseason action, you would like to see your two stars put forth meaningful minutes at a high level, and they did just that.
After missing out on the 2020-21 NBA Playoffs due to wrist surgery, Brown returned to action Monday and did not look like he missed a beat. Playing around "80-85%", the former Cal Berkeley star turned in 25-4-3 on 8/16 shooting (4/12 from three), while providing a few highlight reel plays along the way. The lackluster three-point shooting came on a night when Boston could not manage to put much of anything in the basket, but Brown has managed to turn that aspect of the game into a strength of his these last few seasons.
Jayson Tatum. No mercy. 😱 pic.twitter.com/X4MFEF2lce

— NBA on ESPN (@ESPNNBA) October 5, 2021
Tatum was right there with Brown as he put up 18 points and 9 rebounds on 6/16 shooting (1/4 from three), including a monster poster dunk over Magic center Wendell Carter Jr. While Tatum did not have much to prove on the floor Monday night compared to others, his physical appearance looked a lot burlier and muscular compared to how last season ended, and Tatum played with that same physicality. If Tatum can continue to grow into his body, while maintaining his touch and explosiveness, then we are bound to see the former Duke star take yet another monstrous leap in 2021-22.
Have fun guarding Jayson Tatum when he faces up like this. (via @celtics) pic.twitter.com/EzxP0TwdxC

— SLAM (@SLAMonline) October 5, 2021
Schroder Is Tons Of Fun
Regardless of how Celtics fans feel about Dennis Schroder after his storied history with the franchise, it sure is fun to have him on our side now. While he did not fill up the stat sheet Monday night, he gave the team an extra boost in energy on the defensive end while showing off his offensive touch that makes him so valuable to nearly any team in the league (unless he's sharing the floor with LeBron James).
Dennis Schroder and @Al_Horford sharing the court for the first time since 2016… chemistry's still there 🤝 pic.twitter.com/DSPyaOeXuy

— Taylor Snow (@taylorcsnow) October 5, 2021
Schroder brings a gunslinger mentality to the team. Having him come off the second unit and provide the team instant offense is a major upgrade compared to walking in with Jeff Teague like the C's did a season ago. As pointed out by Brian Scalabrine many times on the broadcast, he provided a handful of flashes reminiscent of Rajon Rondo, as his on-court flashiness combined with his mannerisms surely reminded fans of their former franchise point guard. Those are not bad comparisons by any stretch, and it should translate to some meaningful contribution from a potential Sixth Man of the Year candidate.
There Is A Newfound Energy On This Team
For the first of four preseason games, the energy on the floor and in the arena felt like a postseason matchup. Marcus Smart diving for loose balls halfway through the first quarter, Dennis Schroder picking up opponents the full-length of the floor, and Aaron Nesmith making hustle plays on both ends, Monday was a ton of fun and a positive sign of things to come.
What an athletic sequence by Aaron Nesmith pic.twitter.com/Cw14gLX8dw

— Taylor Snow (@taylorcsnow) October 5, 2021
The team looks bought into Ime Udoka's style of play already. The former Brooklyn Nets assistant emphasized team defense and ball movement that moment he walked in the doors, and it translated to great team play on Monday. Despite the team shooting just 35% from the field, it was clear that defense was the focal point, as pointed out by Jaylen Brown postgame. The shooting woes will shake once the team gets more wind under them, until then, there are still plenty of positives to take away from the team's performance.
Building Off The Win
Monday's finish did not conclude without its fireworks, as Romeo Langford capped off a 4th Quarter comeback with a go-ahead three-pointer that saw Boston take one from Orlando. The last few minutes saw Boston trot out second unit players such as Langford, Nesmith, Payton Pritchard, Enes Kanter, and Josh Richardson, who although playing against a depleted Orlando Magic bench unit, provided some stellar play late game.
There are still some kinks to work out before these games start to count, but the Boston Celtics have plenty of reason to be excited for things to come this year.
Main Image Credit
Embed from Getty Images