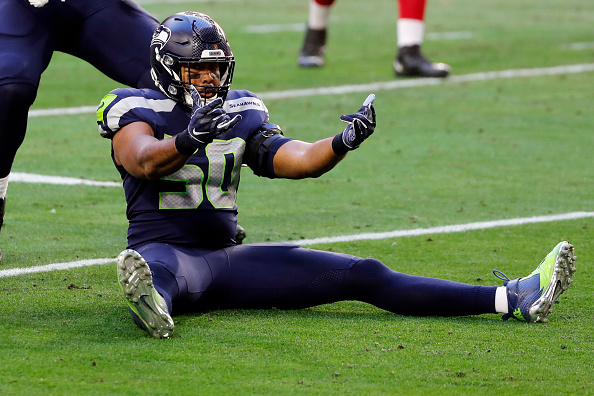 There are still many significant free agents on the market in the NFL as we sit here in late May. With the NFL Draft well past us and Organized Team Activities just about wraped up around the league, another wave of free agency might hit soon as we inch closer to minicamp. There are many rumored landing spots for K.J. Wright, the former Seattle Seahawks linebacker, who is one of many veterans still on the market. He will get a lot of interest from many teams as we move into the dog days of summer.
Best Landing Spots For K.J. Wright
Seattle Seahawks
Landing back in Seattle would be one of the ideal landing spots for K.J. Wright. He's played his entire ten-year career in Seattle, suiting up for 144 games while racking up 941 tackles, 13.5 sacks, six interceptions, and nine fumble recoveries. With Jordyn Brooks emerging next to Bobby Wagner, Wright may have to take a backseat if he returned.
If he's willing to take that role on a team he's familiar with and has had success with over the years, a reunion might come true. Wright's leadership and work ethic is reason alone to bring back the fan favorite.
[pickup_prop id="5490″]
Los Angeles Chargers
The Los Angeles Chargers have a sneaky good defense and adding Wright would make them even better. He'd be surrounded by talent all around with names like Derwin James and Joey Bosa on that side of the ball.
Wright would add to a linebacker position that looks like it needs some more support. Being versatile is highly coveted and Wright can most certainly be that. It would be a good look for this Chargers team who has to deal with the Kansas City Chiefs and would like to contend right away.
Green Bay Packers
The Green Bay Packers rarely look to add a linebacker like Wright but with new defensive coordinator Joe Barry, who's worked with linebackers in the past, maybe it would be a perfect fit for a team in win-now mode. Adding the former Seahawks linebacker would bring a huge boost and much-needed experience to that group.
There are not many perfect landing spots for K.J. Wright, as the Packers would be, but if this were to happen, Green Bay would become even more of a favorite than they already are as long as Aaron Rodgers is under center.
Dallas Cowboys
If you thought the Packers were one of the perfect spots for the K.J Wright, the Dallas Cowboys might be even better. With Jaylon Smith struggling last season and Leighton Vander Esch not being able to stay healthy, adding Wright would make perfect sense for a team that needs an overall boost to the defense.
Playing for Dan Quinn a few seasons back is also why this relationship would make sense. Wright would also bring some super bowl veteran experience to a team that needs it to fight in the division.
Philadelphia Eagles
No one knows what to expect from the Philadelphia Eagles this season but it might look a little like last year. Carson Wentz had a horrible year in 2020 but now it's Jalen Hurts' time to take the snaps under center. They have an underrated backfield and have some young talent at wide receiver.
The defense is a question mark and that's in part due to a linebacker core that isn't great. Wright would immediately come in and demand work ethic in the position that desperately needs it. Although the Eagles aren't a contending team at the moment, Wright would look at the NFC East and think they have a chance to make a run at the playoffs.
Stats From 2020
No matter what the best landing spots for K.J. Wright are, he will give max effort anywhere he goes. He's started all 16 games each of the last two games and has played in 13 or more games in each of his ten seasons except one. In 2020 for Seattle, he gathered 86 combined tackles, 11 for a loss, with two sacks and an interception.
Wright also deflected ten passes and recovered two fumbles with one of them being forced by himself. He is a durable player with a lot of heart and soul poured into this game. Any team will be lucky to have a player like that and we should find out who that is as we head deeper into the summer.
Main Photo:
Embed from Getty Imageswindow.gie=window.gie||function(c){(gie.q=gie.q||[]).push(c)};gie(function(){gie.widgets.load({id:'421VTAzOTbJEqlVUq6m-YA',sig:'Bp8dak4e0jS9oiur4aGHTqZvxpfDmfwn0yjQsIV5nPo=',w:'594px',h:'396px',items:'1294629040′,caption: true ,tld:'com',is360: false })});