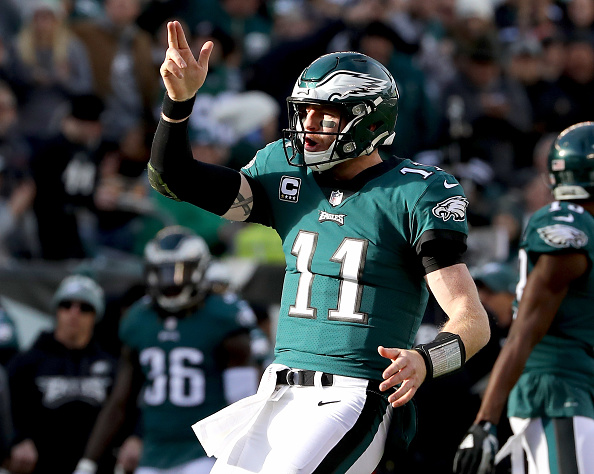 On February 18, the Indianapolis Colts became super bowl contenders in the eyes of some when they traded for Carson Wentz. And all they had to give up was a third-round pick in 2021, and a conditional second-round pick in 2022. Depending on who you ask, that haul is either too much or not enough for the 2016 second overall pick.
The Colts were contenders entering last season with a 39-year-old Philip Rivers at quarterback. So why shouldn't they be considered the same with a 28-year-old Wentz? Who in case you forgot, had his best season when Frank Reich was his coach in Philadelphia. In this piece, I'll explain why the Colts are Super Bowl contenders with Wentz.
[pickup_prop id="5001″]
Why The Indianapolis Colts Are Super Bowl Contenders With Carson Wentz
Wentz and Reich Reunited
In 2017 when Wentz was an MVP candidate, Reich was his offensive coordinator. The results were an 11-2 record, and Wentz being the favorite for MVP thanks to a magnificent 33 to seven touchdown-interception ratio. He showed arm strength and a willingness to throw deep. As well as an ability to keep plays alive in the pocket that got comparisons to Ben Roethlisberger. Unfortunately, with three weeks left in the season, Wentz suffered an ACL injury and never played under Reich again. The hope around the Colts organization is that Reich can rekindle the magic they once had.
Since 2017, Wentz has been a mixed bag. In 2018, he missed five games and was encompassed by the national media attention gathered by Nick Foles. In 2019, he responded with a better season (27 to seven touchdown-interception ratio) that saw him throw for 400 yards in his last four games.
However, 2020 was the year that made this trade possible as Wentz was one of the worst starting quarterbacks in football. Wentz led the league in interceptions with 15, total turnovers with 19, and was sacked 50 times in just 12 games. That said, Wentz can't be fully blamed for this collapse. The injury bug hit his team seemingly every season since their super bowl. In addition, the Colts roster doesn't have as many holes and is much closer to super bowl contention than the Eagles.
The Colts Roster Is Much Better On Offense
First and foremost, the Colts offensive line will be much better than the Eagles one that gave up 50 sacks in 12 games. Quenton Nelson, Ryan Kelly, and Braden Smith are three studs, although replacing retired left tackle Anthony Castonzo has to be at the top of their to-do list. Still, in 2020, a barely mobile Rivers was only sacked 19 times with that line.
Another advantage the Colts have over the Eagles is a diverse running game. In 2020, the Colts and Eagles actually finished ninth and tenth respectably in run yards per game. But while the Eagles have one guy (Miles Sanders), the Colts have two. Nyheim Hines is one of the more reliable pass-catching running backs in the NFL. And rookie Jonathan Taylor averaged a superb 5.0 yards per rush and went over 1,000 yards in just his first year. If Marlon Mack is brought back, that gives the Colts another 1,000-yard rusher, but his return isn't likely with the other Colts' needs.
Most notably, T.Y. Hilton is set to become a free agent. Hilton's last 1,000-yard season came three years ago, and injuries have mounted the last two years. But Hilton is still worth bringing back, the question will be if the Colts are willing to pay him with players like Justin Houston, Xavier Rhodes, Denico Autry, and more needing new contracts.
Without a doubt, the Colts will need to draft or sign a couple of playmakers to help Wentz and truly become super bowl contenders. Because right now Michael Pittman Jr and Parris Campbell are his top two receivers under contract. Someone like Curtis Samuel, who was involved in trade rumors with the Eagles in 2020, would be a great pickup.
The Defense Should Still Be Elite
Unlike the Eagles defense, which has aged and regressed each season since 2017, the Colts have been building and improving a young defense. Players like Darius Leonard, Anthony Walker, and Kenny Moore II have all developed into great players since being drafted by Indy.
While outside acquisitions like Houston, Rhodes, Autry, and DeForest Buckner helped the defense become arguably the league's best in 2020. This offseason could shake things up though as Houston and Rhodes are likely to leave for bigger paydays elsewhere. But a couple of losses would be worth it to re-sign Walker, Autry, Malik Hooker, and their other depth players on defense.
But what's so impressive about the Colts is that they have depth at seemingly every position. For example, if Hooker leaves, second-year pro-Julian Blackmon can fill the role. The same goes for Rhodes; if he leaves, that means more playing time for the third-year pro, Rock Ya-Sin, and veteran T.J. Carrie. Expect general manager Chris Ballard to draft more defensive depth in the later rounds. While in the earlier rounds he focuses on a  starting-caliber tackle, wide receiver, defensive end, and cornerback.
The Colts Are Super Bowl Contenders: But The Path Is Difficult
The bottom line is I believe the Colts will be super bowl contenders in 2021. There will be enough key players re-signed on defense that they won't slip below a top ten unit. If they can add one or two pass-catchers to go with Hilton and Pittman, that'll open up the field much more for Wentz. The running game will help open up the play-action game, and having a guy like Hines as a safety net is big. Wentz likes to throw to tight ends, so the Colts should do their best to give him an option at that position. At the end of it all though, the ceiling for the Colts will depend on the Reich and Wentz relationship.
Main Photo: