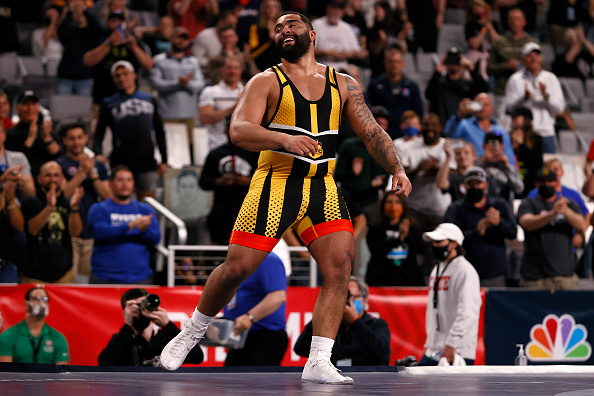 The Hodge Trophy is the most prestigious award in all of college wrestling. It is labeled as the Heisman Trophy of college wrestling. Each year, the award is given to the nation's top collegiate wrestler. This year's Hodge Trophy winners also made a bit of history. 
For only the second time in history, there are co-Hodge Trophy winners. Iowa's Spencer Lee and Minnesota's Gable Steveson were both awarded the trophy this year. The only other co-winners were Cael Sanderson and Nick Ackerman in 2001. 
College wrestling was a lot different this year. This was due to COVID-19 restricting certain things and some teams being knocked out due to positive COVID tests. But what made these two wrestlers stand out the most of all out of every wrestler in the nation?
Spencer Lee and Gable Steveson Are Hodge Trophy Winners
Gable Steveson
Gable Steveson has made a case to be the face of college wrestling. The junior has always been a winner on the wrestling mat.
Steveson saw early success as a Golden Gopher. He started as a freshman and picked up a few tournament titles along the way. Steveson would eventually run into his long-time foe, Anthony Cassar of Penn State, twice. He would end up placing third at the Nationals his freshman year. 
Steveson picked up right where he left off at the start of his sophomore year. His season was off to a rocky start after being arrested with a teammate in June. He would eventually come back and go 12-0 during the regular season. He would defeat Mason Parris of Michigan in the Big 10 finals to earn the number one seed at the Nationals.
Unfortunately, the Nationals were canceled due to COVID-19. Steveson would have competed in his home state of Minnesota. 
Steveson competed as a junior this past season. He would go undefeated throughout the year on his way to a National Championship, where he once again beat Mason Parris. 
Steveson is the best heavyweight in the nation and nobody comes close. What separates him from everyone else is his freak athletic ability. He can move around like a 125 pounder at 285 pounds. Steveson can hit a duck from anywhere and can hit a double perfectly, even when you know they are coming. 
Spencer Lee
We talked a lot about Spencer Lee last week, so click here to view his history in college wrestling. But we will do a recap of his senior season.
Like Gable Steveson, Spencer Lee was on a level of his own at 125 pounds. Lee would be able to tilt and turn some of the top-ranked wrestlers in the nation with ease. What made Lee special this past season was his toughness. 
Lee won a National Championship on no ACLs and tore one of them eight days before the tournament. Do I have to say anymore? Last year's Hodge Trophy winner is the toughest man on the planet!
Tale of the Tape: Who is Better?
It is tough to tell who is the better wrestler between these two. You can make a case that either one of them should have won it by themselves, but it is tough.
If you prefer watching lightweights or wrestled at a lightweight spot (like I did in high school) you will appreciate Spencer Lee more. If you prefer watching heavyweights or wrestled heavyweight at any point in your life, you will appreciate Gable Steveson's game more. 
You can't go wrong with either pick here. This year was the perfect year to have co-Hodge Trophy winners. Watch out for both of these men to be Hodge Trophy winners again next year. If Lee wins it again next year (if he competes) he will be just the second three-time Hodge Trophy winner behind Cael Sanderson.