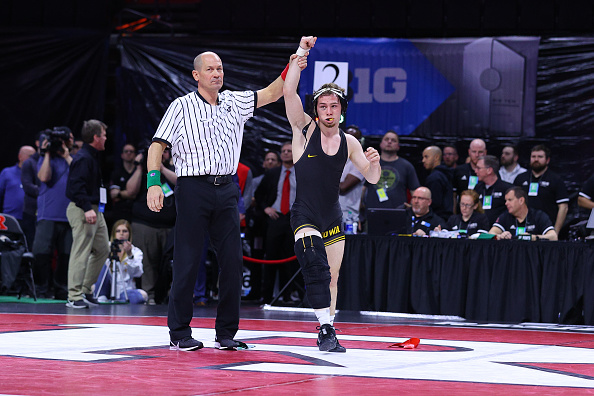 No matter where he goes or who he is up against, Spencer Lee wins no matter what. This past weekend, the more forgotten NCAA tournament of March took place. Yes, the NCAA Wrestling Championships took place from March 18th through the 20th. Dedicated fans of college wrestling will say this tournament is crazier than March Madness. 
There were upsets and many great storylines throughout the three days. But there was no greater story than the one of Iowa's Spencer Lee. Lee caught the attention of not only the wrestling world (not that he hadn't already), but he caught the attention of the entire sports world.
Spencer Lee Wins 3rd National Title 
Spencer Lee has been the starting 125-pound wrestler for the Iowa Hawkeyes since his freshman year. After deciding not to redshirt his freshman year, Lee made a statement in his first year. 
In that year's NCAA Tournament, Lee pinned Nick Piccininni of Oklahoma State and Nathan Tomasello, a former NCAA Champion, to get to the finals. In the finals, Lee topped Rutgers' Nick Suriano with a 5-1 decision. The college wrestling world knew he was here to stay.
Adversity Leads to Success 
Lee's sophomore year led to more dominance. He would win the NCAA Tournament for a second time, but it didn't come without a few obstacles in the way. 
Lee would get pinned for the first time in his career by Nick Piccininni at the Iowa vs Oklahoma State dual meet. Lee would also fall to Sebastian Rivera of Northwestern, a foe that Lee would lose to twice before the NCAA Tournament that year.
But those losses would be the least of Lee's worries that year. Lee injured his other ACL during the National Tournament that year. Yes, other because he tore the first one in high school. 
Despite this, Lee avenged his regular-season loss to Nick Piccininni and beat Jack Mueller of Virginia to win his second National Championship. Lee was looking to become a four-time National Champion for the Hawkeyes. 
Spencer Lee Wins Again
During his junior year, Lee went 15-0 during the regular season. This is where he began to show his ability to dominate all of his opponents. Lee scored bonus points for the Hawkeyes in 14 out of 15 matches in the regular season. 
Lee finally won his first Big 10 Championship by defeating Devin Schroder of Purdue 16-2. He was the top seed in the NCAA Tournament and was the favorite to win. Unfortunately, the Nationals were canceled due to the COVID-19 pandemic. This seemed to crush Lee's chance of becoming a four-time National Champion.
Luckily, the NCAA granted an extra year of eligibility to winter athletes who had their season cut short. Lee still had the chance to become a four-time champion. 
Lee was 4-0 during the regular season. Why only four matches? This was because Iowa had to suspend all team activity due to COVID-19. But once again, this didn't stop the relentless Spencer Lee. 
Lee went ahead and captured his second Big 10 Championship, defeating Devin Schroder once again, picking up a tech fall in the process. Lee looked to dominate in the NCAA's once again. 
During the National Tournament, Lee did what everyone expected him to do. He was able to roll through the tournament, picking up tech falls and major decisions as he moved through the bracket with ease. Lee faced off with Arizona State's Brandon Courtney in the finals, where he would beat him 7-0. Lee had captured his 3rd National Championship. 
"Excuses are for Wusses"
Lee winning an NCAA Wrestling Championship isn't what caught the attention of the sports world. It was something more remarkable than that. Some might even call it reckless.
In a post-match interview, Lee revealed that he had torn his ACL 8 days before the tournament. He claimed that he was wrestling on no ACLs, which seems impossible, but he still managed to do it.

Spencer Lee wins at 125-pounds!#NCAAWrestling x 🎥 @espn pic.twitter.com/LuF1V2T3Hs

— NCAA Wrestling (@ncaawrestling) March 21, 2021
Lee said, "I could barely wrestle, I can barely shoot, I can't sprawl." He made wrestling look easy though. And made us all feel like a bunch of wusses for sitting out due to any injury we may have had.
Spencer Lee will continue to wrestle past college. He will be an Olympic Champion one day. And no matter who he goes up against, Spencer Lee wins no matter what. Not even an ACL tear could stop him.