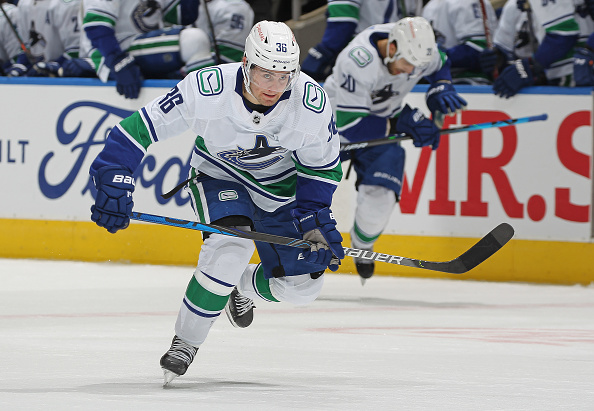 With fourteen games down, we are a quarter of the way through the 2021 NHL COVID-shortened season. It is time to give out the Vancouver Canucks report card for their first-quarter performance. We will begin our grading process with the top six followed by the bottom six, defense and goaltending.

Vancouver Canucks Report Card: First Quarter
Elias Pettersson: C+
It is an understatement to say that Elias Pettersson hasn't looked like himself so far. Coming off back-to-back 66-point seasons and 18 points in 17 games last postseason, Elias Pettersson started this season extremely slowly with just 9 points in 14 games.
Despite the promising four-game stretch against the Ottawa Senators and the Winnipeg Jets, which saw the Swedish forward put up five points, his production has not been great in his other games. Lack of confidence and poor puck management has been the problem for him and the team as a whole.
He has improved since the start of the season, however. That being said, his Vancouver Canucks report card grade for the first quarter is still low.
Elias Pettersson has now hit the post or crossbar six times in his first 12 games.

Pettersson's six posts or crossbars are double the total of the next closest NHL shooter (Verhaeghe, MacKinnon both have 3). #Canucks #Ping

— Thomas Drance (@ThomasDrance) February 2, 2021
Luck hasn't been on his side either. Although posts and crossbars are not counted as shots on net, it shows just how unlucky Pettersson has been. An inch back the other way could be the difference for him and his team in many games.
Brock Boeser: B-
Brock Boeser has had a strong start to his season, silencing the trade talk from the summer. He's been solid offensively this season, leading all Canucks forwards in scoring with eight goals and 13 points.
On the defensive side, however, Boeser has struggled, leading his line in minuses with a -6 rating. Positioning in the defensive end has been an issue for the entire team because of their man-on-man system. Boeser should look to clean up his defensive game in order to raise his Vancouver Canucks report card grade for the remaining three quarters.
J.T. Miller: C+
J.T. Miller's Vancouver Canucks report card places him on a similar boat with Boeser. He has been solid offensively with 13 points in 11 games, but irresponsible defensively with a -5 plus/minus. He has been extremely soft on the puck at times, most notably in Tuesday's game against the Montreal Canadiens where he turned the puck over in the neutral zone, leading to Jeff Petry's empty-net goal.
The key difference with Miller this season has been his face-off percentage. His 51.6% face-off percentage this season is a major decrease from his impressive 59.2% face-off numbers from last season. Miller has to improve his lackluster defensive performance to bump up his overall grade.
Bo Horvat: B-
Bo Horvat has also been solid this season offensively with 12 points in 14 games. At 25 years of age, Horvat is in his second season as captain of the Canucks. And while his numbers have been good, his consistency is lacking.
Horvat has stretches where he dominates in a similar fashion to his 2020 playoff performance against the St. Louis Blues. In between these stretches of brilliance, however, Horvat (like many players) has been nearly invisible, contributing to his low report card grade.
That being said, Horvat is known to be a solid defensive center and a humble leader. Horvat has been a good leader for his group and should continue to lead by example, playing solid north to south hockey.
Nils Hoglander: A-
Nils Hoglander has been one of the Canucks' most consistent, hard-working players night in and night out. He has shown flashes of brilliance this season with his tremendous hand-eye coordination and offensive instincts. Where the 5'9" power forward shines though, is in the corners. He is a bulldog in the corner, digging the puck out for his line-mates with his strong physical play and impressive leg strength. He has seven points in 14 games so far in his quest for the Calder Memorial Trophy.
He has quickly become a fan-favorite with his hard work. He reminds me of Mats Zuccarello when he was on the New York Rangers. Hoglander adds a unique component to the second line alongside Pearson and Horvat with his tremendous drive and dedication. He has been extremely exciting to watch this season.
[pickup_prop id="4253″]
Tanner Pearson: B-
The last up is Tanner Pearson. Pearson has been decent this season offensively with eight points in 14 games. Defensively, however, he has not managed the puck well. Like Horvat, he's been quiet at times, but that is more noticeable in the first few games of the season. He is a key part of the second line, helping Hoglander to get accustomed to the pace of the NHL.
What's Next?
The Canucks have had a frustrating start to the season. Looking at individual production, the Canucks lead the league with 48 goals for. The problem comes from inconsistency and poor defensive play, contributing to their league-leading 55 goals against.
There hasn't been a system this year and that starts with a lack of discipline and buy in. The top six has to take a major step defensively in order to salvage this season. We will continue our handing out a Vancouver Canuck report card for the bottom six.
Main Photo: