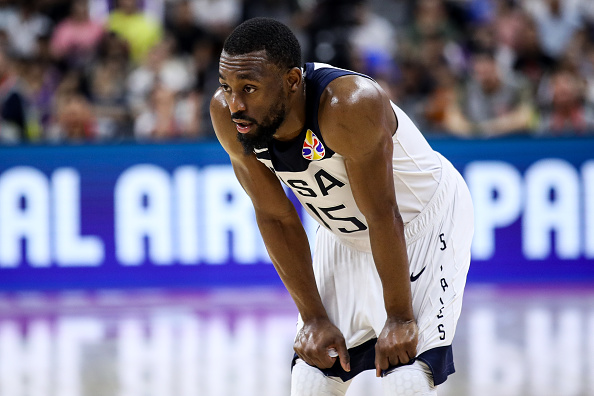 The Boston Celtics are in one of the more unique positions to be at in the NBA. With the combination of youth and star power on their roster, they are primed to compete now and for the future. Through this short point of the season, their two young stars Jayson Tatum and Jaylen Brown have elevated their games to All-NBA potential, carrying the Celtics to an Eastern Conference-best 7-3 record. The scariest part for the rest of the league is, they do not even have their third star in the rotation yet. With Kemba Walker's return coming sooner or later, as he has been cleared to return to practice with the team, what is the Boston Celtics' ceiling?
Where Does Kemba Walker's Return Put The Boston Celtics?
Rest is Key For Kemba Walker
Thankfully for the former UConn Huskie, his team has done a tremendous job of filling his absence, from the front office to the rotational players. This offseason saw some great turnover on the Celtics' roster, as they added some much-needed depth in their rotation in every department. They knew that Walker was going to miss the first chunk of the shortened season, so they brought in veteran point guard Jeff Teague to provide some serviceable minutes off the bench.
However, the biggest surprise for Boston during Walker's absence has been the rookie, Payton Pritchard. "8 Mile" has won over the entire Celtics fanbase in his short tenure. His defense, hustle, IQ, and heart on the floor are what has allowed his transition to the NBA to seemingly go flawlessly. When Walker's return finally happens, Pritchard should still receive a good chunk of minutes as he has already proven to be a key player in the rotation.
That being said, the Boston Celtics have begun to establish their identity, with their whole roster buying into what the team is trying to accomplish. With chemistry beginning to spread throughout the locker room, and success starting to translate, the Celtics are continuing to buy Walker more time to rest and rehab. His presence is not necessary at the moment, meaning this team is not on the verge of collapse without his services. The team is playing at a high level, and that should continue once Walker is back.
Walker, 30, is coming off a knee injury, which could have a direct impact on his knee now and his future. His game relies heavily on his speed and ability to make quick cuts on a dime. With the way he handles the ball, crosses over, hesitates, and blows by his opponents, his knee takes plenty of stress during games. This is why he needs as much rest and rehab as possible, which is what this Celtics team is allowing him to do.
Will History Repeat Itself For Boston?
The Boston Celtics have been in a similar situation like this before. Going back to the 2017-18 NBA season, the Celtics lost Gordon Hayward in the first five minutes of the year and played the entire postseason without Kyrie Irving. They relied on their young guys, rookie Tatum, second-year Brown, Terry Rozier, Marcus Smart, and a veteran Al Horford. They came up just short of a Finals appearance, but with the newfound depth going into the following year. However, that was not the case.
When the Celtics finally incorporated their two stars back into the fold, it became the team's downfall. The sense of unspoken entitlement that came with Gordon Hayward and his relationship with coach Brad Stevens drew the ire of a good portion of the fanbase and even some of the players. Granted, Kemba Walker does not have the same depth in his relationship with Stevens as Hayward did. This team now is very different than 2018.
Stevens made it a point to rehab Hayward by throwing as many minutes and touches his way as possible, sacrificing the true talent they had in players like Tatum and Brown at the time. This time around, the Celtics are being careful and being cautious, which is the correct move now and what the team should have done then. Tatum and Brown are coming into their own. They are the Celtics' identity now and for the next four, five, even six years.
What Is Kemba's Role On The Team?
So, once Kemba Walker's return finally happens, what is the All-Star point guard's role on the team? Tatum and Brown have been a top five duo in the league this year, and at the ages of 22 and 24, they are each in the Celtics' long-term plans. Last season, Tatum earned his first All-Star selection, and a Third-Team All-NBA selection. It was clear that he was becoming the Celtics' franchise superstar. This year, Brown has elevated to Tatum's level a season ago, and likely already surpassed it, and so has Tatum. The two are playing at a level that is better than almost any duo across the NBA, and they are only going to get better with more experience.
What does Kemba Walker's return add to the Celtics? Walker is a pure scoring point guard with a history of scoring points in bunches and hitting clutch shots whenever necessary. His presence adds another player to shoot a late-game shot aside from Tatum or Brown, it adds another 20+ point scorer, and an experienced veteran who can play at an All-Star level while being the team's third-option. That is where the real question lays. Is Walker ready to be a third-option at this point in his career.
In his first nine seasons, Walker was the man in Charlotte. He was the one who had to carry the offense night-in and night-out. On the Celtics, he does not have to and can defer to Tatum, Brown, and even guys like Marcus Smart some nights. With how much help the Celtics have gotten in the backcourt, and even with the additional scoring help they have received from Tristan Thompson and breakout Robert Williams, Walker may not even have to be a 20 point per night scorer. It would obviously be helpful, but with the great strides that Tatum and Brown have taken since last season, Kemba Walker's return may benefit this team aside from just his scoring.
Does Kemba Walker's Return Make The Boston Celtics A True Contender?
Absolutely. It is arguable that the Boston Celtics without Walker are a championship contender. Tatum, Brown, and Smart, the team's core three, have plenty of playoff experience in their young careers to know what it takes to endure a long postseason run. They have not yet escaped past the Conference Finals, where Walker at just 75-80% may be enough to do so. This season's Celtics' team possesses what last year's team did not, which saw them be eliminated by the Miami Heat in six games. They have depth, they have the scoring, and they have chemistry.
Walker is a leader at heart. If Tatum and Brown continue to play at the level they are at, then Kemba Walker's return to the fold and his role with the team could be limited to just being the team's moral compass. One thing is clear though, the Celtics are yet to hit their ceiling, and if Walker comes back close to full strength, it may be just what the team needs to pursue banner number 18.