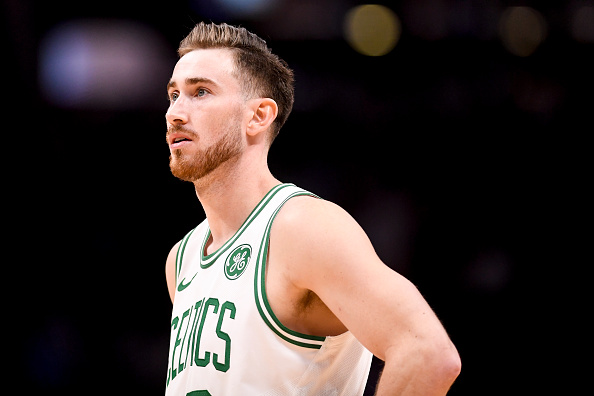 Well, there you have it. The Gordon Hayward Boston Celtics era has come to an abrupt end. What started as such a promising and star-powered experiment back in 2017 has reached its end as Hayward signed with the Charlotte Hornets on a 4 year, $120 million contract Saturday afternoon. This move came at the surprise of many throughout the league, as Charlotte was not even in play less than 24 hours ago. But Michael Jordan got his guy, it just came at the price of $30 million a year.
As for Celtics fans, this past week has been a rollercoaster of rumors, emotions, hypotheticals, and a handful of sources, both credible and non-credible. Gordon Hayward's decision was going to impact this team's status heading into next season and beyond, and it became more and more clear that Hayward was not going to be a part of that future.
Hayward had an interesting relationship with the fans in Boston. Their opinions on the former All-Star flipped on a game-to-game basis, and it put Hayward at a disadvantage from the start. So, to fully close the story that was Hayward's time in Boston, let's stroll down the timeline of the last three years for Hayward in green. An era filled with bad luck and misfortune for a team that prides itself on the luck of the Irish
The Gordon Hayward Era With The Boston Celtics Has Ended
Season One: The Injury
July 4, 2017, was a day of celebration for not only America as a whole but for Boston Celtics fans specifically. The Celtics signed Hayward to a max deal, believing the team was ready to compete for an NBA Championship. The team had brought in Kyrie Irving, drafted Jayson Tatum, and had their All-Star big man Al Horford to round out a championship-caliber lineup. However, that plan went out the window five minutes into game one of 82, as Hayward suffered that gruesome ankle injury that saw him miss out on the entire season.
Surprisingly enough, Hayward's injury did not impact the Celtics in 2017-18 as badly as many assumed. The team finished with home-court advantage in the playoffs and were mere minutes away from knocking off LeBron James and reaching the NBA Finals. Fans saw the team's success without Hayward and believed that the team was good enough to win as it was. However, once they were eliminated, Hayward was believed to be added ammunition for the following season, as he was the missing piece in their championship pursuit. The expectations for Hayward were through the roof for 2018-19.
Season Two: The Rehab
Prior to the start of the 2018-19 season, the Boston Celtics were seen as a favorite to reach the NBA Finals, perhaps even winning it. Jayson Tatum looked like a future star in the league, Jaylen Brown took a massive leap in his second season, Terry Rozier improved in a larger role in the 2018 playoffs, and of course, Kyrie Irving and Al Horford were still in tow. Hayward was also coming back after a year of inactivity. Things were looking up for Boston.
However, several underlying problems arose in Boston that year that hindered the team's progress. Hayward struggled out of the gates, and fans could visibly see that the injury a season prior was still in his head, as he lacked aggression and speed with the ball. His confidence was shaken, as he could not produce a lot of offense. But, Brad Stevens insisted on feeding him more and more minutes in order to get his legs underneath him.
The chemistry was shaken and the team underperformed. A team with championship expectations finished as the fourth seed, one game removed from being out of home-court advantage. Surprisingly, the Celtics swept the Indiana Pacers in the first round but were knocked off by the Milwaukee Bucks in the following series.
The 2018-19 Celtics were a headache to root for. Hayward's lack of confidence and consumption of minutes translated to a shaky locker room that had lost the trust in its coach and themselves. Their collapse left Celtics fans wondering what could have been. That offseason brought drastic turnover to the locker room. Kyrie Irving, Al Horford, Terry Rozier, and Marcus Morris all left town, and fans wondered what was to come in 2020. Little did they know, that less actually turned out to be more for Boston.
Season Three (1/2): Redemption
The Celtics signed Kemba Walker to a max contract that summer, brought in a handful of rookies, and Enes Kanter. The team losing some of its star power and rotational players meant more touches and attention for Tatum, Brown, and Hayward. This time around, despite having less talent, the Celtics produced more, creating a more team-based basketball environment. Hayward looked as strong as he did as an All-Star in Utah. His aggression was back, he was quick and decisive with the ball in his hands, and his production was exceptional.
Many thought Gordon Hayward was well on his way back to the All-Star Game, but one run-in with LaMarcus Aldridge on a screen meant a broken hand for Hayward, which sidelined him for 4-6 weeks. He was red-hot and had his momentum halted to a stop because of an accident. Hayward returned a little over a month later and stepped right back into where he had been prior to the injury.
Although Gordon Hayward missed out on All-Star consideration, he still performed at a high-level, facilitating the Celtics offense. His momentum was once again cut off as the league moved to a four-month-long hiatus due to the COVID-19 pandemic.
Season Three (2/2): The Bubble/Playoffs
This year's NBA Playoffs were unlike anything we've ever seen before. Playing in a bubble in Orlando, Florida without any fans created an unusual and unprecedented environment for the players. After months of inactivity, many could not predict how these players would perform. However, Hayward returned without missing a beat, playing some of the best basketball of his career. The Celtics headed into the playoffs as a gelled and cohesive unit, squaring off with the Philadelphia 76ers in the first round.
The Sixers were without Ben Simmons, but Boston was fully loaded, that was until after Game One, as Hayward's string of misfortune continued as he went down with a sprained ankle that kept him out of the next two playoff series. Simultaneously, as Hayward rehabbed from his ankle injury, his wife was nearing the birth of the couple's fourth child, their first son. However, the team was succeeding in the playoffs and had even pushed through to the Eastern Conference Finals. The team was playing well, but they needed that extra gear that was Hayward.
Hayward made the decision to miss the birth of his son to rejoin in the team in Orlando. The Celtics managed to win two games with Hayward, but the Celtics fell to the Miami Heat in six games, so it was all for not. Fast forward to now, and here we are.
The Decision
As we neared the draft and free agency this past week, Hayward was faced with a deadline to opt-in or opt-out of his $34 million player option. The NBA allowed his deadline to be moved from Tuesday to Thursday, so fans believed that there was a plan for Hayward. As time continued to wind down, it became more and more clear that Hayward was not happy in Boston and wanted out. Hayward waited until less than 10 minutes of the deadline to make his decision to opt-out, leaving $34 million on the table.
The Celtics were still trying to orchestrate a deal to sign and trade Hayward so they wouldn't lose him without getting anything back. He was focused on joining Indiana, so the two teams negotiated. As it turned out, neither team walked away with Gordon, or anything for that matter, as Charlotte scooped him up at $30 million a year.
The Impact
Hayward's decision-making throughout this process was clear in hindsight. Moving back home to Indiana during the pandemic, waiting until the last minute just to opt-out of his deal, refusing to comply with a sign-and-trade agreement, and signing with a third-party suitor leaving his former team nothing in return.
The Boston Celtics fanbase was extremely critical of Gordon Hayward, and the relationship between the fans and the player always was a bit rocky. This was the team that asked him to miss out on the birth of his son in order to help bring them a championship. Hayward ultimately made that decision to return to play, but imagine the scrutiny he would have faced if he hadn't. This train of thought does not apply to all Boston Celtics fans, but those few bad apples who fail to see the bigger picture.
Perhaps it was a personal decision, or maybe it was able to money, but Gordon Hayward is no longer a member of the Boston Celtics. What felt like unfinished business for some is now finished, and that window is now closed. Hayward will go down as one of the most unlucky players in Celtics history, and fans will be left wondering what could have been in Boston.
Main Photo:
Embed from Getty Images