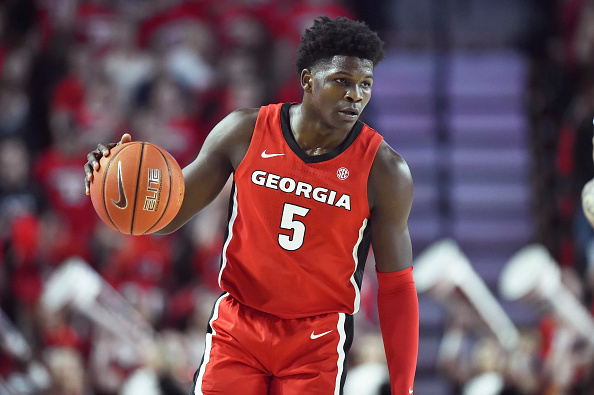 On Wednesday, the 2020 NBA Draft took place in a virtual setting. Unlike most years, we didn't know what to expect at the top of the draft. There were a few good candidates to be taken number one overall, but the Minnesota Timberwolves settled on Anthony Edwards. The Georgia product was just one of 12 players taken from the SEC, the most in the 2020 NBA Draft. This is great news for a conference on the rise in College Basketball. This year's draft might've not been as strong as others but there were plenty of great players to choose from.
The SEC Leads The Way In The 2020 NBA Draft
Round One
Anthony Edwards (Pick: 1, Minnesota Timberwolves)
In the 2020 NBA Draft, there was no clear-cut number one player to be selected. Many wondered if it would be Edwards, LaMelo Ball, or James Wiseman. The Timberwolves settled on Edwards and it was a good pick. In one season with Georgia (32 games), he averaged 19.1 points, 5.2 rebounds, 2.8 assists, 1.3 steals, and shot 50 percent from two-point range.
Edwards was a perfect fit for this young Timberwolves team, who was looking for a guy at the guard position like this Georgia product. The SEC Freshman of the Year is looking forward to his new challenge and will try to help put Minnesota back on the map.
Isaac Okoro (Pick: 5, Cleveland Cavaliers)
In his lone season in college at Auburn, Isaac Okoro made the SEC All-American Second Team, All-Freshman Team, and All-Defensive Teams. With 28 games under his belt, Okoro averaged 12.9 points a game while shooting 51 percent from the floor.
His size, strength, and athleticism made him a perfect choice for a young and rebuilding Cleveland Cavaliers team. Having him on the same floor with last year's pick Collin Sexton will make for an interesting team to watch.
Kira Lewis Jr. (Pick: 13, New Orleans Pelicans)
Kira Lewis Jr spent two seasons with Alabama and he improved significantly from year one to year two. He averaged 18.5 points (13.5 last year), 5.2 assists (2.9 last year), and 4.8 rebounds this season (2.6 last year). Lewis was recognized as one of the top points guards in the country with an All-SEC First Team honor. His big improvement from 2019-20 has shown his ability to adapt and change his game if need be.
The speed and size of a point guard like Lewis to go along with a smooth jump shot is what sets him apart from others at his position. This New Orleans Pelicans team is on the verge of doing good things with Zion Williamson and company. Adding Lewis will just make things better.
Other First Round Picks:
Aaron Nesmith (Pick: 14, Boston Celtics)
Tyrese Maxey (Pick: 21, Philadelphia 76ers)
Immanuel Quickley (Pick: 25, Oklahoma City Thunder)
Round Two
Saben Lee (Pick: 38, Utah Jazz)
Saben Lee shined in his third year at Vanderbilt as he averaged 18.6 points with 4.2 assists a game. He recorded four 30-points games last season and was voted to the All-SEC Second Team by the coaches. Lee loves to attack and finish at the rim and has good defensive ability. The Utah Jazz is looking for just that as they try and hit their stride over the next few years.
Robert Woodard ll (Pick: 40, Memphis Grizzlies)
The Memphis Grizzlies drafted Robert Woodard ll with the 40th overall pick but they traded his rights and 2022 second-round draft pick to the Sacramento Kings for draft rights to Xavier Tillman Sr.
Woodard took big strides in his second year with Mississippi State as he averaged 11.4 points with 6.5 rebounds a game. He's a versatile defender that can challenge just about anyone with his strength and seven-foot-one wingspan. Scoring 11 points a game while having his defensive ability is what the Kings acquired him for. 
Nick Richards (Pick: 42, New Orleans Pelicans)
The Pelicans drafted Nick Richards and traded him to the Charlotte Hornets. Richards is going to make sure that the Pelicans regret trading him. He has the experience of being on a winning program while at Kentucky for three years.
Richards hit his stride last season as he averaged 14 points and 7.8 rebounds a game. He was named to the All-SEC First Team and All-SEC Defensive Team with his 2.1 blocks per game. Putting the ball in the basket was his strong suit as he ranked fourth in the country with an impressive 64 percent shooting. With this trade, the Hornets get a big man who can attack and provide on both ends of the floor.
Other Second Round Picks
Isiah Joe (Pick: 49, Philadelphia 76ers)
Skylar Mays (Pick: 50, Atlanta Hawks)
Reggie Perry (Pick: 57, Los Angeles Clippers)
Main Photo:
Embed from Getty Images