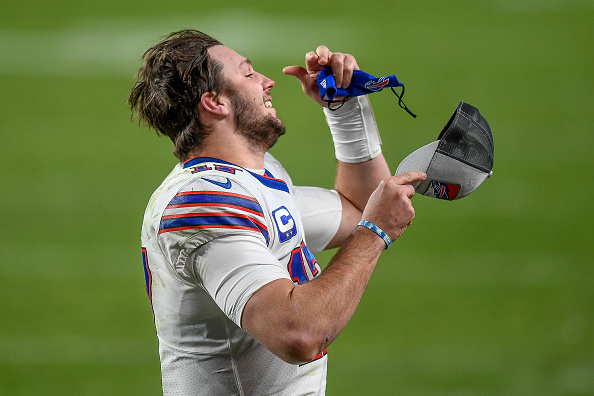 Week 15 what a whole lot of fun. A pair of playoff-bound teams were upset by basement dwellers. While the NFC playoff picture is seeming to be a little more clear, the AFC side is quite muddy. There's a legit chance that a team that finished 11-5 could be left out! Hopefully, the chips fall in place and this doesn't happen. Either way, let's take a look at the NFL Week 16 LWOSports staff picks.
Standings
Drew: 127-65 (13-3 last week)
Filip: 125-67 (12-4)
Shane L.: 123-69 (10-6)
Will: 122-70 (10-6)
Nick: 120-72 (11-5)
Danny: 120-72 (10-6)
Derek: 119-73 (12-4)
Jordan: 118-74 (10-6)
Shane C.: 117-75 (10-6)
Shiree: 108-84 (10-6)
Chris: 107-85 (11-5)
NFL Week 16 LWOSports Staff Picks
Drew: Nothing like a "Minneapolis Miracle" rematch on Christmas Day in the NFL Week 16.
The hero of that game is no longer on the team and the Vikings are not close to a playoff spot this year. Last week, this team was on the receiving end of a divisional loss. They still have one of the best running backs in the league in Dalvin Cook, not to mention the possible offensive rookie of the year in Justin Jefferson.
New Orleans got Drew Brees back and wasn't 100% last week. Star receiver Michael Thomas was put on IR, shutting him down for the regular season. And they still had a shot against the best team in the NFL. The Saints play elite defense, so good luck moving the ball.
For this NFL Week 16 matchup, the Viking will want to get Cook cooking. Against the fourth-best rush defense, it'll be difficult. Minny was able to give up 130+ yards on the ground against a lackluster Bears team. Alvin Kamara is going to go off and the Saints will cover whatever spread is set.
| | | | | | | | | | |
| --- | --- | --- | --- | --- | --- | --- | --- | --- | --- |
| Drew | Jordan | Filip | Shiree | Shane L. | Shane C. | Nick | Derek | Danny | Chris |
| NO | NO | NO | NO | NO | NO | NO | NO | NO | NO |
Shane C.: The NFL schedule makers were kind to the Tampa Bay Buccaneers. Where the third quarter of the season was the Autumn of their discontent. Insert three home losses to playoff-bound teams and a narrative pitting the future hall of fame quarterback against the head coach. Conversely, the final quarter of the NFL season has set up to be the Winter of their revival. Although the Minnesota Vikings were formidable, they were dispatched soundly. The Atlanta Falcons then gave them all that they could handle before administering the knock out blow. They now end the season in Detroit and again, against the Falcons. 
The Buccaneers just have too many weapons. While Tom Brady and head coach, Bruce Arians have been criticized for being able to get the offense fine-tuned up to this point. The timing couldn't be any better as they aim to overtake the NFC South. As the  Falcons could attest, they are well on their way. Additionally, whether Leonard Fournette or Ronald Jones gets the bulk of the carries one is sure to have a solid day against the weak Detroit rushing defense. While, the trio of Chris Godwin, Mike Evans, and Antonio Brown are a nightmare for any secondary, Detroit's can easily be exposed. 
The Detroit Lions can't get a break. They go from facing offensive juggernaut, Tennessee Titans, to another in the NFL Week 16 schedule. Matthew Stafford could endure only so much before relenting to an injury. He gave all the Tennessee Titans they could handle but, they were too much for the depleted Lions. Stafford is currently questionable and is trending toward doubtful for this week's match-up. Meaning Chase Daniel will most likely get the nod at quarterback against the formidable Buccaneers defense. 
While the Bucs are very stout against the run they can be exposed in the short and intermediate passing game. That said, D'Andre Swift's pass-catching ability will have to be utilized. And, Daniel will have to rely on quick strikes which means a heavy dose of pro bowl tight end T.J. Hockenson. Additionally, Daniel has shown a propensity for looking Danny Amendola's way in the passing game and the Buc's pressure will make targeting Marvin Jones difficult. Although they could put some points on the board there is really no way to spin this in Detroit's favor.
Tampa Bay Buccaneers 41 Detroit Lions 24
| | | | | | | | | | |
| --- | --- | --- | --- | --- | --- | --- | --- | --- | --- |
| Drew | Jordan | Filip | Shiree | Shane L. | Shane C. | Nick | Derek | Danny | Chris |
| TB | TB | TB | TB | TB | TB | TB | TB | TB | TB |
Jordan: An NFC battle takes the midday slot on Saturday. As the Cardinals fight to stay in the playoff race, the 49ers may be getting an old friend back just in time to play spoiler.
The Cardinals currently hold the final playoff spot in the NFC. Their once realistic shot at the division title is long gone, but their playoff hopes are looking more and more promising. The Cardinals have still maintained that explosive offensive for most of the year, but their defense has been suspect at times when they've needed them most. Kyler Murray may be dealing with an underlying injury still, so the 25+ points every week is exactly a guarantee anymore. That means the defense will certainly have to pick up some of the slack. Coming off of a steller win back at home against the Eagles, the Cardinals play quite possibly their most important game of the season this week against a middling 49ers team.
The 49ers have been decimated by injuries this year, which has resulted in some poor play this season. George Kittle looks to be set to return this week, but running back Raheem Mostert has once again been placed on IR and will miss this week's matchup. Jimmy Garoppolo is unlikely to start this week and with Nick Mullins out as well, it looks like C.J. Beathard will get the snaps against the Cardinals. The 49ers don't have anything to play for at this point and are simply looking to next year for a reset.
I'm fully expecting the Cardinals to come out swinging this week. An important late-season conference game to keep you in the playoffs? If this doesn't bring out the best in Murray I don't know what else would. Cardinals by 14.
| | | | | | | | | | |
| --- | --- | --- | --- | --- | --- | --- | --- | --- | --- |
| Drew | Jordan | Filip | Shiree | Shane L. | Shane C. | Nick | Derek | Danny | Chris |
| ARI | ARI | ARI | ARI | ARI | ARI | ARI | ARI | ARI | ARI |
Filip: If someone would have said that there would be a Tua Tagovailoa versus Marcus Mariota matchup, then they would be considered crazy. That is not true anymore, as this matchup will occur as they will lead their respective teams, the Dolphins and Raiders into a high stakes game. This game is as simple as the winner gets a better chance to make the playoffs, while the loser gets a lower chance.
The Dolphins come in sitting in the seventh seed and riding high after eliminating their rivals, the New England Patriots. The Dolphins' offense hasn't been explosive this year, but they get the job done. Tua helps them score enough points, and he doesn't turn the football over. Something positive about this offense, though it does not occur regularly, they do have some games where their running game is on fire.
Though the Dolphins' offense isn't the best, they shouldn't have a ton of problems against the Raiders' defense. The Raiders have been absolutely awful this season on defense, as they have given up the eight most yards per game this season. They also give up an average of 30.1 points per game. They don't have a pass rush, and they have a hard time stopping receivers.
The only reason the Raiders are in the playoff hunt this season is because of their offense. Last week against the Chargers, Derek Carr, who has had a great season, went down with an injury and is unlikely to play. This might have been the end of the Raiders season, but Marcus Mariota stepped up and flashed his skill that was previously seen in his Heisman season. He finished the game with over 200 passing yards, but most importantly he had 88 rushing yards. The Chargers had a hard time stopping him because they couldn't game plan for him.
Marcus Mariota won't have the same success in this game, because the Dolphins will have tape on him, and the Dolphins have a fantastic defense. There is an argument for them being a top 10 defense. Their biggest strength is their secondary led by Xavien Howard who has nine interceptions on the season. They also have a sneaky pass rush, but their weakness is their run defense, which the Raiders can exploit with Josh Jacobs and Marcus Mariota.
In this game, the Raiders will rely heavily on their offense, because their defense won't be able to get stops. The problem is the Dolphins have a very good defense and they will likely hold them under 24 points. On the other side, the non-explosive Dolphins' offense will help their defense out by scoring on an abysmal defense. The Dolphins are the younger team, but they have lots of talent and are more balanced than the Raiders. Therefore, the Dolphins will win this game to continue boosting their playoff hopes.
Prediction: Dolphins win 27-20
| | | | | | | | | | |
| --- | --- | --- | --- | --- | --- | --- | --- | --- | --- |
| Drew | Jordan | Filip | Shiree | Shane L. | Shane C. | Nick | Derek | Danny | Chris |
| MIA | LVR | MIA | MIA | LVR | MIA | MIA | MIA | MIA | MIA |
Drew: Both of these teams are looking forward to the off-season. Unfortunately for the Texans, they don't have a first-round pick! I've said it before and I'll say it again: Deshaun Watson deserves better.
The Texans have lost each of its last three games and are not looking good heading into NFL Week 16. Remove Watson, this offense wouldn't be able to do anything. The defense can't stop anyone. They're the second-worst in terms of yards allowed. Even against a team that can't move the ball, they're going to struggle.
Oh boy. The Cincinnati Bengals just beat their 11-2 divisional rival. They had no business winning this game, but they did. The defense stepped up in a massive way. Roethlisberger had the worst game of his career. But they were able to win this with their third-string quarterback who has a hard time hitting the broad side of a barn. They just wanted it more and that's not something you hear when it comes to this matchup.
There is nothing more Cincinnati than winning a game they shouldn't then dropping the next. Deshaun Watson has a history of playing well against Cincinnati and I think he will be enough to get them past. Admittedly, this game has massive draft ramifications for the Bengals. A win could drop them three or four spots.
| | | | | | | | | | |
| --- | --- | --- | --- | --- | --- | --- | --- | --- | --- |
| Drew | Jordan | Filip | Shiree | Shane L. | Shane C. | Nick | Derek | Danny | Chris |
| HOU | HOU | HOU | HOU | HOU | HOU | HOU | HOU | HOU | HOU |
Jordan: There are very few teams in the past decade compared to the 2020 Chiefs. The electric offense has only gotten better as the year has gone on and now they face a limping Falcons team just looking to make it to next year.
The Chiefs may already have the #1 seed locked up by the time they play their game, but either way, they'll have a chance to do it themselves this week. Patrick Mahomes and company are nearly unbeatable at this point, with Travis Kelce having one of the most historic tight end seasons ever, and Tyreek Hill making NFL defenses look like pee-wee squads. It's an amazing sight to see the Chiefs really make any team in the league look mediocre. The Chiefs are in playoff form already and the Falcons are simply a traffic cone in the middle of a highway ready to get run over any second.
Matt Ryan and the Falcons have had a very disappointing yet revealing season. Ryan looks to be on his last leg, while star wide receiver Calvin Ridley is becoming one of the best receivers in the league. The injuries on both ends of the field didn't help, but the issues are deeper than just the injury report. It seems like the Falcons need a bit of a rebuild to get back on track. With that being said, they still have a couple of games left in the 2020 season. Their offense hasn't been that bad this season and most of their problems stem from their defense. However, the Chiefs possess the toughest challenge by far on the offensive end, not to mention their defense has played rather well this season too.
The Chiefs are rolling into the playoffs with very few teams standing a chance to stop them. The Falcons are for sure not one of those teams and I'd expect a blowout pretty earlier on in favor of KC. I'll take the Chiefs by 17.
| | | | | | | | | | |
| --- | --- | --- | --- | --- | --- | --- | --- | --- | --- |
| Drew | Jordan | Filip | Shiree | Shane L. | Shane C. | Nick | Derek | Danny | Chris |
| KC | KC | KC | KC | KC | KC | KC | KC | KC | KC |
Drew: Each of these teams is coming off of victories…but the Jets lost by winning. They might've lost out on Trevor Lawrence.
There are rumblings that the Jets are content with Sam Darnold. Judging by how they won last week, that could be a good move. The Jets are similar to the Bengals in the sense that they're bad and need more than just one player. Finally, Denzel Mims is starting to show up, but not to the tune to justify drafting him in the second round.
The Browns, with a win here, could be setting up a Week 17 matchup with the Steelers for the AFC North division title. Yes, you read that right! Baker Mayfield has been waking up feeling dangerous all year. Cleveland is finally starting to utilize its three-headed monster of a tight end room. Oh, and Nick Chubb is a top-five running back in the league.
These are not your daddy's Browns. They're fast, physical, and will smack you in the mouth. If you think about it, Mayfield is likely the weakest link on this team. But it's not like he's hindering the team. Browns win this and set themselves up for their first divisional title in 31 years when the division was the AFC Central. The Jaguars have won this division twice in that time!
| | | | | | | | | | |
| --- | --- | --- | --- | --- | --- | --- | --- | --- | --- |
| Drew | Jordan | Filip | Shiree | Shane L. | Shane C. | Nick | Derek | Danny | Chris |
| CLE | CLE | CLE | CLE | CLE | CLE | CLE | CLE | CLE | CLE |
Nick: Three weeks ago when the Steelers were 11-0, this game looked like a completely different game than it does now. While losing their last three games, the Steelers have looked more like a first-round exit than a title contender. The Colts, on the other hand, are playing as the Steelers did earlier in the season. They've won five of their last six thanks to their balanced roster and elite defense.
If the Steelers want any chance of winning,
Ben Roethlisberger
has to be better. Last week against the Cincinnati Bengals, Roethlisberger played one of the worst games of his career. In fact, he's thrown an interception in five straight games now. Another thing that's sunk them is a nonexistent ground game. Before the Bengals game, they failed tor each 50 rushing yards as a team in five of their last seven games. The defense has continued to do their part for this team, but have been burdened by being on the field too much. With
Vince Williams
returning from the COVID list this week, the linebacking core will get a lot more stable. Their chances in this game will fall on the shoulders of Roethlisberger and his pass-catchers who lead the league in drops.
As mentioned earlier, the Colts are a lot like the Steelers were earlier this year. Their defense has been their strength all season long. On the year they've allowed the fifth-fewest passing yards, and have a lot of star power leading them. Although they've slipped some from where they were earlier this year, they're still a group that's incredibly opportunistic at getting turnovers. They're third in takeaways with 26. But what's just as impressive is how little they turn the ball over. They've only given the ball away 12 times! Running back Jonathan Taylor has been hot as of late, and the Steelers' run defense has slipped since the injuries began to mount.
This game has the chance to be down to the wire if the Steelers offense can take care of the ball, and give their defense some breaks. Regardless if they do, turnovers will be essential in this game. It could very well come down to one costly play making the difference. And after the last three weeks, the Colts look like the team to trust not to make those critical errors rather than the Steelers. The Colts will win in a one-possession game.
| | | | | | | | | | |
| --- | --- | --- | --- | --- | --- | --- | --- | --- | --- |
| Drew | Jordan | Filip | Shiree | Shane L. | Shane C. | Nick | Derek | Danny | Chris |
| IND | PIT | IND | PIT | IND | IND | IND | IND | IND | IND |
Shane L.: Heading into the last two weeks of the season, no one expected this game to mean something for both teams but it does for different reasons. The Chicago Bears got a huge win last week against the Minnesota Vikings to stay one game back from the third wild card spot. Mitchell Trubisky managed the game and didn't have to do much as David Montgomery carried the ball 32 times for 146 yards and two touchdowns. Even with a few mistakes by Trubisky, the defense stepped up in a big way.
Even though the Jacksonville Jaguars are 1-13, they have a lot to play for but in a different way from the Bears. With the New York Jets win over the Seattle Seahawks last week, the Jaguars are now in the top spot for the number one overall pick in the NFL Draft. They lost last week in a convincing way 40-14 against the Baltimore Ravens. This week, the Bears are desperate for a win to stay in the wild card hunt so this is another perfect opportunity for Jacksonville to lose.
The Bears are only one game out of the final wild-card spot and the Jaguars are a bad football team. Chicago should be able to role on defense and stay sound on offense as the Jaguars have their eyes set on the Trevor Lawrence sweepstakes. It's a dominant win for the Bears this week.
| | | | | | | | | | |
| --- | --- | --- | --- | --- | --- | --- | --- | --- | --- |
| Drew | Jordan | Filip | Shiree | Shane L. | Shane C. | Nick | Derek | Danny | Chris |
| CHI | CHI | CHI | CHI | CHI | CHI | CHI | CHI | CHI | CHI |
Jordan: Both the Giants and the Ravens have some fantastic young talent to look forward to in the near future. However, one squad is having a bit more immediate success.
The Ravens secured a bit of breathing room from the Raiders this past week, but they still are playing catch-up with the Dolphins who currently hold the final spot in the AFC playoff picture. Lamar Jackson seems to have come alive in these past few weeks and boy did Baltimore need that. Following an electric win against the Browns on Monday Night Football just two weeks ago, the Ravens took care of business last week to further push their playoff hopes into reality. They put themselves in a tough spot early on, but they've since recovered and would be a huge threat to any of the top seeds if they do make it in. The Ravens need to continue their winning ways this week, otherwise, it's a party down in Florida for the Dolphins.
The Giants are still (somehow) competing for a playoff spot as well. They are just a couple of games back from the division-leading Washington Football Team, who currently have a messy situation developing behind center. The Giants have won some very important games in the second half of the season, proving that they do have the talent to compete with many NFL squads. However, they still lack a lot of the offensive side of the ball and it's what I truly believe will keep them out of the playoffs. The defense in New York has some significant potential and is living up to it, but the offensive side of the ball is simply too stagnant to put any sort of trust in.
I think this game could become a lot closer than some think. The Ravens have struggled against solid defensive teams like the Giants, so I'd expect a low-scoring affair in this one. I'll take the Ravens by 7, but don't be surprised to see the Giants stick in this one till the final whistle.
| | | | | | | | | | |
| --- | --- | --- | --- | --- | --- | --- | --- | --- | --- |
| Drew | Jordan | Filip | Shiree | Shane L. | Shane C. | Nick | Derek | Danny | Chris |
| BAL | BAL | BAL | BAL | BAL | BAL | BAL | BAL | BAL | BAL |
Drew: Here we have a battle of 5-9 AFC West foes fighting over which team was more disappointing based on pre-season expectations. Each of these teams is frustrating because they have rosters that are legitimately talented.
Drew Lock has some serious weapons in Denver. KJ Hamler, Jerry Jeudy, and Noah Fant are a trio of young playmakers who can usher the Broncos into a new age. This defense is an issue, however. Where Denver averages scoring 19.7 points per game, they allow 28.2.
The Chargers are in the same boat. Rookie Justin Herbert is challenging for offensive rookie of the year and looks like he will be good for a long time. Like Denver, they have weapons, but can't close out games. This season, the Chargers have lost nine games, seven of which by one score. They are coming off of a victory over a divisional foe who is looking to make playoffs, so they could be feeling themselves.
This will be the highest-scoring game of the weekend, so bet the over. When in shootouts, look to the better quarterback. Herbert is the real deal, so LA wins this one.
| | | | | | | | | | |
| --- | --- | --- | --- | --- | --- | --- | --- | --- | --- |
| Drew | Jordan | Filip | Shiree | Shane L. | Shane C. | Nick | Derek | Danny | Chris |
| LAC | LAC | LAC | DEN | LAC | DEN | LAC | LAC | LAC | LAC |
Shiree: The Panthers are traveling to Washington to take on the Football Team and, more importantly, to speak to an old friend—for the few that are left from his time as head coach in Carolina.
The Panthers are playing for pride at this point but trust that the Football Team will not make it easy considering they lost a close one to the Seattle Seahawks with Dwayne Haskins as their quarterback, nonetheless. They have to start out fast this week if they want to win this game, something they couldn't do against the Green Bay Packers a week ago. They were down 21-0 before they eventually came back and made it a close one but not before Aaron Rodgers gave his team a comfortable enough lead for the go-ahead win.
It's no surprise that the Panthers have been plagued with injury throughout most of the season. But, at this point, a statement needs to be made. Brian Burns is the latest injury on an already depleted defense. Tweaking his knee in last week's loss almost guarantees he won't be playing Sunday.
For Rivera and his team, they still sit atop their division despite losing last week. The New York Giants are just one game back though so Washington has to make sure they are taking care of business on their end. This is a win-and-you're-in type scenario for them. Haskins has been dealing with his team outside of football due to poor decision making on his part. Will this be a distraction for him? Or will he use it to fuel him to a win?
This will probably be the easiest game for the Panthers down the stretch, their last game being against the New Orleans Saints. But do they have enough in them to win one more time even if the victory is solely moral? Somehow, I think they pull it off.
| | | | | | | | | | |
| --- | --- | --- | --- | --- | --- | --- | --- | --- | --- |
| Drew | Jordan | Filip | Shiree | Shane L. | Shane C. | Nick | Derek | Danny | Chris |
| WAS | CAR | WAS | CAR | WAS | CAR | WAS | WAS | CAR | WAS |
Danny: Before the season this matchup looked like it would decide the NFC East with a showdown of Dak Prescott and Carson Wentz like we were used to.
Well, this game could still decide the division, but the quarterbacks are Andy Dalton and Jalen Hurts and these are the bottom two teams in their division with a chance to win it. Both of these teams have been playing better recently. The talk of the NFL right now is how impressive second-round rookie Jalen Hurts has looked. He has lit a flame under the offense and beat the Saints and almost came back and beat the Cardinals.
Both performances were impressive. Dalton has more weapons at his disposal, and they have been putting up a lot of points. However, Doug Pederson's teams are very impressive in December. The better coach and QB will win this one.
Cowboys 27
Eagles 30
| | | | | | | | | | |
| --- | --- | --- | --- | --- | --- | --- | --- | --- | --- |
| Drew | Jordan | Filip | Shiree | Shane L. | Shane C. | Nick | Derek | Danny | Chris |
| DAL | PHI | PHI | PHI | PHI | DAL | DAL | PHI | PHI | PHI |
Jordan: Sit back, relax, and get ready for some great football. This matchup is going to be a good one.
The Rams have proven nearly every hater wrong all season, yet when everyone was on their side last week, they choked it away. An incomprehensible loss to the now loan-win NY Jets has now put a lot more stock into this game. Instead of having a chance to secure the division, the Rams are now fighting with the Seahawks to take it back and they are running out of time. Jared Goff and this Rams offense has had many flashes of excellence over the past couple of months. It's undoubtedly due to their plethora of talent at nearly every position, but they can't seem to find consistency. Cooper Kupp has struggled mightily over the past couple of weeks. Cam Akers has running wild on everyone and everything until an ankle injury slowed his role. What's truly keeping this Rams team in the elite conversation is their defense. Led by Aaron Donald and Jalen Ramsey, this defense has been lights out nearly all year and the expectation is this Sunday, they'll continue that trend.
One of the hottest teams at the beginning of the year has now turned into one of the more middling teams in the second half of the season. The Seahawks dropped some crucial games back in November and their once locked in division title is now up for grabs. Russell Wilson has cooled off immensely over this past month or so and it has hurt this team badly. Their defense has steadily improved with the return of some key pieces, but they still aren't a defense you can rely on. This offense will be the lifeblood of the Seahawks' potential playoff run and it'll need to get back in tune rather quickly. Wilson has a stigma attached to him that paints him as a first-half quarterback. It's time for him to kick MVP Wilson back into high gear and prove those doubters wrong.
This will be a fantastic game no matter who wins. Both teams deserve a playoff spot and I believe both will get one in the end. However, I think the Rams defense is going to step up in Week 16 and push the Rams back into the division lead. Rams by 6 in a classic NFC division battle.
| | | | | | | | | | |
| --- | --- | --- | --- | --- | --- | --- | --- | --- | --- |
| Drew | Jordan | Filip | Shiree | Shane L. | Shane C. | Nick | Derek | Danny | Chris |
| SEA | LAR | LAR | LAR | LAR | SEA | SEA | LAR | LAR | SEA |
Chris: In a rare cross-conference matchup for Sunday Night Football in NFL Week 16, the Tennessee Titans travel to Lambeau Field to battle the Green Bay Packers. Red-hot on offense over the past two weeks, the Titans have scored over thirty points in back-to-back games, winning each matchup in blowout fashion. Led by a perennial offensive player of the year candidate Derek Henry, the team has also rushed for 444 yards during that period, with over seven yards averaged per carry. 
Victorious over the Panthers in Week 15, the league's number-three overall offense quickly jumped out to a 21-3 lead. Battling back in the game's final 30 minutes, a young Panthers pass rush was able to stymie Aaron Rodgers and company as the team was outgained 214-49 in the last half of play. Able to hold onto the victory after a late defensive stand in the final two minutes of the game, Matt Lafleur's group won their 11th game of the season as they look to hold onto the all-important top seed in the NFC playoffs. 
Staying atop the AFC South with a victory over the Detroit Lions a week ago, the Titans are riding high on offense over their past five contests. Averaging over 400 yards of offense over that stretch of time, the team is led by the NFL's rushing yards leader in Henry. Enjoying another standout season on the ground, the former Alabama running back has rushed for 1679 yards on 321 attempts with 15 scores.
Susceptible against the run at times this season, the Packers have given up over 110 yards per game on the ground, ranking them 11th in the NFL. However, the team has allowed multiple standout performances over 15 weeks, with Dalvin Cook rushing for 163 yards and three touchdowns in week eight, along with Tampa Bay running back Ronald Jones rushing for 113 yards and two scores in the team's blowout victory. 
Winners of four of their past five games, Matt Lafleur's team remained in the driver's seat for a first-round bye in the NFC playoffs following a win over the Panthers last Sunday. Led by one of the favorites for the league's most valuable player award in Rodgers, the team has averaged over 160 yards per game on the ground during that period of time, leading to 31.5 points per game.
Unable to slow down opposing passing attacks all season long, Mike Vrabel's team has allowed 276 yards per game through the air to opposing signal-callers, leading teams to convert over 52.6 percent of their third-down opportunities. In addition to this, the Titans have been unable to register any pressure on opposing quarterbacks as the team ranks dead last in the NFL with just 14 sacks through 15 weeks. In for a tall task if they are unable to generate any pressure on Rodgers, look for points to be plentiful throughout this matchup.
Clicking on all cylinders on the offensive side of the ball right now, look for the Titans to give the Packers their toughest test of the season on Sunday night. Led by Henry and quarterback Ryan Tannehill, the high-powered Tennessee offense should be able to have their way with Mike Pettine's group. However, expect Rodgers to be the difference-maker in this one against an undermanned Titans pass defense that has struggled to slow down quarterbacks all season long. Destined to capture the number one seed and a first-round bye in the playoffs, the Packers will win a close game in this one.
Final Score: Tennessee Titans 30 Green Bay Packers 33
| | | | | | | | | | |
| --- | --- | --- | --- | --- | --- | --- | --- | --- | --- |
| Drew | Jordan | Filip | Shiree | Shane L. | Shane C. | Nick | Derek | Danny | Chris |
| GB | GB | GB | TEN | GB | TEN | GB | GB | GB | GB |
Derek: The Buffalo Bills travel to Foxborough for an NFL Week 16 matchup with New England.
The Bills are on fire recently with decisive wins over the 49ers, Steelers, and Broncos in recent weeks. Josh Allen is coming off of another AFC offensive player of the week performance with 392 total yards and four total touchdowns. The Bills blew out the Broncos 48-19 and made a statement to the rest of the AFC. The win secured Buffalo's first AFC East championship in 25 years. Josh Allen is only in his third season, but he is changing things in Buffalo and has made them a true contender in the NFL.
New England is the old guard of the AFC East. They have been eliminated from playoff contention for the first time since 2008. The Patriots have little to play for and will be without pro bowl cornerback Stephon Gilmore. Gilmore's absence could lead to another big day for Allen and the Bills, but cornerback JC Jackson may have something to say about it with eight interceptions on the year.
Buffalo would be 5-0 in their division with a win and could set themselves up for a chance to go undefeated within the AFC East with a win next week against the Miami Dolphins. Buffalo should defeat New England to remain hot heading into the playoffs. For the Patriots, they must look to prepare for their first off-season without playoffs in 12 years.
| | | | | | | | | | |
| --- | --- | --- | --- | --- | --- | --- | --- | --- | --- |
| Drew | Jordan | Filip | Shiree | Shane L. | Shane C. | Nick | Derek | Danny | Chris |
| BUF | BUF | BUF | BUF | BUF | BUF | BUF | BUF | BUF | BUF |
Main Photo: