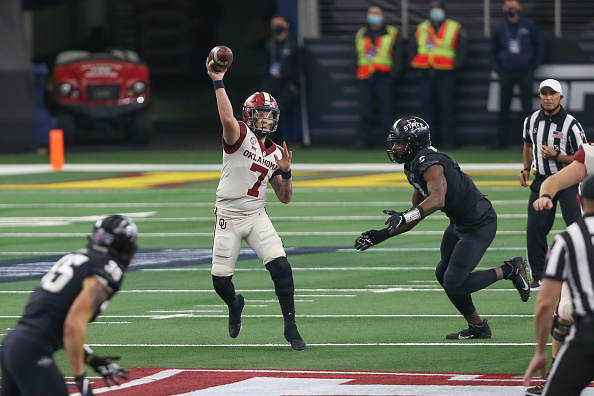 It's the most wonderful time of the year! As I did in 2019, I will preview each of the 2020 Big 12 bowls as well as every other conference (plus the FBS Independents). Bowl games will likely look different this year. Many states have their own restrictions due to the COVID-19 pandemic, so we will likely see even fewer fans than normal. Additionally, a number of bowl-eligible teams elected to opt-out of the post-season, so there will be fewer matchups this year.
Seven teams with losing records made bowls this year (four from the SEC; imagine that). This year, one team will be making its bowl debut. Plus, this season will feature ten first-time matchups. Strap in, it's time for 29 bowl games! 
2020 Big 12 Bowls Preview
Head-to-head: Oklahoma State 0-1 Miami (FL)
Oklahoma State bowl record: 19-11 
The first matchup in the 2020 Big 12 bowls pits a pair of orange jersey-wearing teams. Oklahoma State, despite playing to a 7-3 record, Cowboys fans feel a bit disappointed. They started off 5-0 and beat a couple of very solid Big 12 teams. They then traded wins and losses to end the season, including Bedlam. 
The star of this offense is stud junior running back Chuba Hubbard. Since he decided to opt-out to focus on the Draft, OSU will turn to Dezmon Jackson. Jackson has been a welcome change of pace, running for 526 yards and four touchdowns, good for 5.7 yards a pop. 
If the team has to throw the ball, they are in good hands. Sophomore, second-year starter Spencer Sanders is no stranger to slinging it and he continued his ways in 2020. He wasn't the most productive in the conference, but he still has that big-play ability. His favorite target is senior receiver Tylan Wallace. Wallace is dealing with a knee injury, so he is questionable to suit up for this game. 
The Oklahoma State defense is about as Big 12 as you can get. One area they tend to struggle is defending the run. More specifically, the mobile quarterback. Each of the Cowboys' losses, they were torched by mobile quarterbacks. Even though the first two couldn't manage ten yards between them, the threat took away focus. In their final game, the TCU quarterback went off for more than 100 yards on the ground. 
The allure of this game would be greater if Hubbard had not opted out. Regardless, Oklahoma State has the ability to take the top off defenses and will likely score plenty of points. However, Miami (FL) is a very good, very athletic team. Hurricanes beat Cowboys. 
Alamo Bowl (December 29, 9:00 p.m., ESPN)
Texas vs Colorado
Head-to-head: Texas 11-7 Colorado
Texas bowl record: 30-24-2 
Nothing quite says "we're back" like an Alamo Bowl appearance. The next matchup on the 2020 Big 12 bowls slate pits a pair of former Big 12 rivals. Given, the two did not play often while Colorado was part of the conference, but 18 times is second-most games between bowl foes in this season (the most will be below). Can the burnt orange send their quarterback out on a high note? 
Sam Ehlinger is a good quarterback, nobody can deny that. However, his declaration following their 2019 Sugar Bowl victory will live in infamy. He has thrown for 2,405 yards and 25 touchdowns this year and only five interceptions. He has a plethora of weapons outside like Brennan Eagles and Michigan transfer Tarik Black. They have the ability to spread out defenses and Colorado will have a rough time. 
The leading rusher for this team is a monster of a freshman in Bijan Robinson. He only has 520 yards and three touchdowns, but he came on late. Once the Longhorns really started to feed him, he took off for 339 yards and three touchdowns in his most recent three games. This kid is special and it going to make this Texas team really, really good for the next couple of years. 
Unfortunately, the Longhorns' best defensive player opted out of the bowl game in Joseph Ossai. They will certainly miss his 15.5 tackles for loss, 5.0 sacks, and two forced fumbles. In six of their nine games, the Texas defense gave up at least 433 yards. Sure, Big 12 offenses are explosive, but that's not a good look. 
This will likely be a good game to watch. Colorado has a physical defense and dynamic running back, Texas has a potentially explosive offense. Initially, I was leaning towards Colorado, but the Texas Longhorns will get the first of the 2020 Big 12 bowls wins. 
Cotton Bowl (December 30, 8:00 p.m., ESPN)
Oklahoma vs Florida
Head-to-head: Oklahoma 0-1 Florida
Oklahoma bowl record: 29-23-1 
The first of two prime 2020 Big 12 bowls is the NY6 bowl, the Cotton Bowl. The Sooners are 1-1 all-time in the prestigious Cotton Bowl, both games against SEC teams. They've faced some good offenses this year and started off slow, losing their first two Big 12 games. But they've rattled off seven-in-a-row, including Bedlam, Red River, and the Big 12 Championship, avenging one of their losses. Realistically, the Sooners had a better claim to the CFP than Texas A&M. 
He was mightily hyped up, but Spencer Rattler has finally begun to play like one of the great Lincoln Riley quarterbacks. His 2,784 passing yards and 25 touchdowns lead the entire conference. Freshman receiver Marvin Mims is going to be special. He leads the team with 583 yards and eight touchdowns and showed up in a big way in the Big 12 Championship. 
Initially, the leading rusher on this team is T.J. Pledger, but the Sooners made the switch to Rhamondre Stevenson midway through the season. Stevenson supplanted Pledger with four fewer games, so they've found their running back. 
This defense may not the best, but it's done its job. Oklahoma allows 21.9 points per game but held opponents to two or fewer touchdowns in five of their games. One of those games was against their hated rival, so they've shown up in big spots. 
This is a very intriguing matchup. While Florida could certainly be a top team, they have lost three games, so the Sooners probably should have gotten a different foe (like Coastal Carolina?). Regardless, the game is to be played and it will be a fun one. I imagine I won't be in the majority here, but I think the Sooners are peaking at the right time and are much better then their two losses suggest. 
Liberty Bowl (December 31, 4:00 p.m., ESPN)
West Virginia vs Army
Head-to-head: West Virginia 1-2 Army
West Virginia bowl record: 15-22 
Now, this is a game. Initially, West Virginia was slated to play an atrocious 3-7 Tennessee team. However, they backed out and the Liberty Bowl picked up 9-2 Army. Justice. This game will at least be worth watching now.  
After tearing up the MAC at Bowling Green in 2018, Jarret Doege took his talents to Morgantown. He was on pace for nearly 2,500 yards and more than 20 touchdowns before an injury shortened his 2019. Nobody passes it more often than Doege within the Big 12. He leads the conference in attempts (349) and completions (224) and is among the leaders in passing yards (2,428, third) and touchdowns (13, fifth).  
Junior running Leddie Brown is a decent game away from his first career 1,000-yard rushing season. He is also a weapon in the passing game, so he's amassed a total of 1,147 scrimmage yards and 11 touchdowns. Army will have to contain him if they want to win this one. 
West Virginia has one of the best defenses in the Big 12, but it is very susceptible to giving up big days from opposing rushing attacks. In their four losses, the Mountaineers give up nearly 200 yards per game on the ground as compared to 68 yards in their five wins. 
Reportedly, teams were chickening out of facing Army and its lethal triple-option. Win or lose, good on Neal Brown and West Virginia for stepping up and taking on Army. Unfortunately for WVU, their game will fall on the losing column of the 2020 Big 12 bowls record. That rush defense is a bit too bad for me and Army will exploit it. 
Texas Bowl (December 31, 8:00 p.m., ESPN)
TCU vs Arkansas
Head-to-head: TCU 24-44-2 Arkansas
TCU bowl record: 17-16-1 
Editor's note: The Texas Bowl was canceled the Tuesday before due to COVID-19 concerns within the TCU program.
The penultimate game on the 2020 Big 12 bowls slate features the 6-4 TCU Horned Frogs against yet another SEC team with a losing record in 3-7 Arkansas. They were beaten by three of the Big 12 bowl teams and the enigmatic Kansas State, but they beat Texas and Oklahoma State, so they can play with good teams. Wonder what dope unis TCU will be rocking in this one… 
The Horned Frogs are led by impressive dual-threat quarterback Max Duggan. On top of his 1,795 yards and ten touchdowns through the air, he accounted for a team-leading 526 yards and ten touchdowns on the ground. Those ten rushing scores are good for second-most in the entire Big 12, so good luck containing him.  
Behind Duggan, TCU turns to a pair of freshman running backs in Darwin Barlow and Zach Evans. As a team, the Horned Frogs average 216 yards per game. Arkansas allowed 192.1 yards on the ground per game, so it'll be like a hot knife through butter. 
Defensively, TCU is not good. They allowed more than 200 yards rushing on six occasions. That includes two performances of 300+. Arkansas can run the ball well, so these teams could just be trading big runs back and forth. 
Both of these teams can run the ball. Neither of these teams can defend it. It could come down to quarterbacks and who can manage the game throwing it. Give me Duggan and the Horned Frogs in this one. 
Fiesta Bowl (January 2, 4:00 p.m., ESPN)
Iowa State vs Oregon
Head-to-head: 0-0
Iowa State bowl record: 4-11 
The final game on the 2020 Big 12 bowls schedule is the second NY6 matchup for the conference. The Cyclones very nearly came back to win the Big 12 Conference and beat the Sooners twice in a year. If it weren't for an embarrassing 17-point loss to Sun Belt foe Louisiana, ISU would have been in the CFP conversation before the Big 12 Title Game. 
This Cyclones offense is headed by two dynamic players, led by running back Breece Hall. Only a sophomore, Hall accounted for 1,436 yards and 19 yards on the ground. He hasn't hit 100 yards in the last three games, but if his team didn't dig themselves into a 17-0 hole against Oklahoma, he would have. Realistically, he could declare for the NFL Draft this year and be a top running back pick. 
At quarterback, a three-year starter in Brock Purdy. It's hard to duplicate a season where you lead the conference in passing yards, attempts, and completions, but he didn't need to carry the team in 2020. With Hall balling out, Purdy needed to be more of a game manager. Even then, he threw for 2,594 yards and 18 touchdowns. 
Iowa State has a decent defense overall. They allow an average of only 21.8 points. They have some playmakers, though. Junior linebacker Mike Rose leads the team with 90 tackles and four interceptions. Up front, Will McDonald (11.5 tackles for loss, 9.5 sacks) and JaQuan Bailey (13.0 tackles for loss, 7.0 sacks) terrorize opposing quarterbacks. Oregon has a good offensive line, so they'll have to earn theirs. 
This is one of the more interesting 2020 Big 12 bowls. Iowa State tripped up a couple of time and lost its chance at a CFP berth. Oregon only played six games and lost two of them. The fighting Matt Campbells should be able to take care of business here in what will likely be a high-scoring, explosive affair. 
These Are Some Quality 2020 Big 12 Bowls
Leading the way are a couple of bluebloods. Could Iowa State finish 2020 with a win and generate some hype and momentum for 2021? I'd be willing to bet the Cyclones and Sooners will be atop the pre-season Big 12 projections. The conference is full of fun offenses and is likely to light up the scoreboard, so tune in. You won't regret it. 
Main Photo: