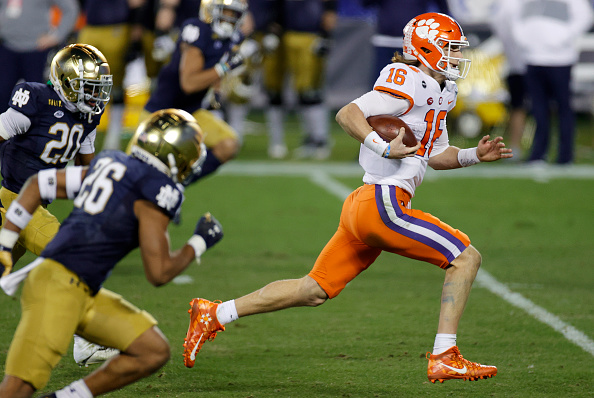 It's the most wonderful time of the year! As I did in 2019, I will preview each of the 2020 ACC bowls as well as every other conference (plus the FBS Independents). Bowl games will likely look different this year. Many states have their own restrictions due to the COVID-19 pandemic, so we will likely see even fewer fans than normal. Additionally, a number of bowl-eligible teams elected to opt-out of the post-season, so there will be fewer matchups this year. 
Seven teams with losing records made bowls this year (four from the SEC; imagine that). This year, one team will be making its bowl debut. Plus, this season will feature ten first-time matchups. Strap in, it's time for 29 bowl games! 
2020 ACC Bowls Preview
Cheez-it Bowl (December 29, 5:30 p.m., ESPN)
Miami (FL) vs Oklahoma State
Head-to-head: Miami (FL) 1-0 Oklahoma State
Miami (FL) bowl record: 19-21 
The first game of the 2020 ACC bowls slate features possibly the best two-loss team in the Miami (FL) Hurricanes. They will be facing off against a hot-and-cold Oklahoma State Cowboys team who started off with high expectations but faltered. "The U" could finish this season with fewer than three losses for the first time since 2003. 
Heading into the season, we weren't really sure what to expect from Miami. Enter Houston transfer and two-year starting quarterback D'Eriq King. He knew he was going to transfer, so he opted out of the 2019 season after four games to preserve his redshirt. He only transfers to Miami and leads the team in passing (2,570 yards, 22 touchdowns) and rushing (520 yards, four touchdowns). The quarterback has made a seamless jump to the ACC from the AAC and is a massive reason this Hurricanes team has succeeded. 
Junior running back Cam'ron Harris has taken a big step forward this year. In three fewer games, Harris topped his marks in both rushing yards and touchdowns from last year. Look for them to establish the run early with this duo. Senior wide receiver Mike Harley leads the way in receiving with 730 yards and six touchdowns, but don't ignore the talented tight end lined up next to him. Junior Brevin Jordan is a force to be reckoned with and will be playing on Sundays in the future. 
The defense is not the greatest, but it's still serviceable. In their two losses, the Hurricanes gave up 550 yards and 778 yards (554 rushing!). They have struggled against high-powered offenses and will again in this game. They did get a transfer by the name of Quincy Roche from Temple. Roche is the real deal, tallying 14.5 tackles for loss and 4.5 sacks. He will hear his name called early on in the 2020 NFL Draft. 
The team Miami is playing has a very high-powered offense, but will be without its best player. OSU has also struggled on defense but their three losses came against mobile quarterbacks. The U may not be back to the good ole days, but they will take this matchup of orange teams. The 2020 ACC bowls schedule is off to a good start.
Duke's Mayo Bowl (December 30, 12:00 p.m., ESPN)
Wake Forest vs Wisconsin
Head-to-head: 0-0
Wake Forest bowl record: 9-5 
The Demon Deacons are next up in the 2020 ACC bowls and will face the Wisconsin Badgers for the first time in history. Wake rolls into this game with a 4-4 record, losing to the four good teams on their schedule. Plus, a win over FCS Campbell. 
Head coach Dave Clawson has been known for his great offenses and this Wake team is no different. They average 37.0 points per game off of 435.4 yards. Redshirt sophomore Sam Hartman can sling it and has to the tune of 1,906 yards, ten touchdowns, and only one interception. Easily, his favorite receiver is Jaquarii Roberson and his 795 yards and five touchdowns off of 54 receptions. He burst onto the scene this year as he had all of 13 catches in his career before the season.  
The Deacs do have a potent rushing attack headed up by Christian Beal and Kenneth Walker III. It will be Beal who gets the bulk of the carries in this game as Walker elected to opt-out of the season after their seventh game.  
Wake's defense has been gashed, but when you play certain high-powered offenses in the ACC, things do tend to skew. What they are good at is forcing turnovers. Freshman Nick Anderson recorded three interceptions and senior Carlos Basham, Jr. Has forced four fumbles. Wisconsin will be able to move the ball, they'll just have to make sure they keep possession of it. 
Even at only 3-3, Wisconsin is a good team. They've got a good freshman quarterback and have always been able to maul within the trenches. Wake has not faced a team as physical as Wisconsin, so the Badgers should take this one. 
Rose Bowl, CFP Semifinal (January 1, 5:00 p.m., ESPN)
Notre Dame vs Alabama
Head-to-head: Notre Dame 5-2 Alabama
Notre Dame bowl record: 19-19 
This is the second time Notre Dame has found itself in the CFP. The first time, the Irish fell in spectacular fashion, 30-3. Notre Dame owns a 5-2 all-time record over the Tide. It's not going to help them here. Heading into the year, many believed Notre Dame to be an overhyped paper tiger. They proved that they are actually a legit team. 
The year was going perfectly before they forgot to show up for the ACC Championship game. Senior quarterback Ian Book is a dynamic playmaker who takes chances and isn't afraid of getting physical. He's been able to command the offense to the tune of 2,600 yards and 15 touchdowns. He doesn't have one true favorite weapon, considering Notre Dame has two receivers with at least 35 receptions and four with over 300 yards. 
A name to know, if you don't already, if Kyren Williams. Williams, a sophomore, is a monster running back and quite possibly the best back the Irish have had in years. He's run for 1,061 yards and 12 touchdowns, but it will be tough sledding against this Alabama defense. 
No CFP team is perfect and each has issues within its defense, but Notre Dame has been consistently good against everyone but the Clemson Tigers. They were able to shut down the ridiculous rushing attack of North Carolina. In five games, the Irish held opposing quarterbacks to under 140 yards, and seven times a team failed to register 100 yards rushing. 
Notre Dame enters this game as a massive underdog. This could be the best Notre Dame team in quite some time, but they are running into a freight train. I think the Irish can cover but ultimately will lose. It would be the greatest achievement of the 2020 ACC bowls if they should shock the world.  
Sugar Bowl, CFP Semifinal (January 1, 8:45 p.m., ESPN)
Clemson vs Ohio State
Head-to-head: Clemson 4-0 Ohio State
Clemson bowl record: 25-21 
For the first time in its short history, the ACC is the second conference to have multiple teams in the CFP and the first in ACC history. Avenging its only loss to Notre Dame (albeit without their quarterback), Clemson dominated its way to a sixth-straight ACC title. The "Another Clemson Championship" conference strikes again! 
There's this up-and-coming quarterback you might want to keep an eye on. His name is Trevor Lawrence, maybe you've heard of him? All jokes aside, the junior quarterback is destined to be the number one pick in the NFL Draft and it's rightfully so. Lawrence is the best college quarterback since Andrew Luck. The only "flaw" in his game is that when he runs or is about to take a sack, he shrinks his large frame. This has resulted in a few helmet-to-helmet shots on the 6'6" frame by guys six inches shorter. 
Travis Etienne is one of the best running backs in the nation and has been for a couple of years. He did not need to return for his senior year, but that loss in the National Championship game left a bad taste in his mouth. At 1,406 scrimmage yards and 15 total touchdowns, Ohio State will have to contain him in both the rushing and passing attack. He only managed 36 rushing yards in their matchup in the CPF last year, but he added 98 receiving yards and two touchdowns. 
The defense was able to coast through their schedule and was taken by surprise by Notre Dame the first time around. They fixed those issues and allowed 195 fewer yards the second time. They will be without senior safety Nolan Turner for the first half of the game due to a targeting call, so the Buckeyes will likely try to take advantage of his replacement. 
Dabo Swinney has made it clear that he does not respect Ohio State. They are riding a 4-0 all-time record which were all memorable games, in their own right. The Woody Hayes punch. Braxton "Hutin' Buckaroo" Miller. 31-0. Then last year. Clemson is the better team. They are favored by about a touchdown, as they should. But don't overlook Ohio State's ability to motivate with all of the bulletin board material. I've got the Buckeyes, close. 
Gator Bowl (January 2, 12:00 p.m., ESPN)
NC State vs Kentucky
Head-to-head: NC State 0-1 Kentucky
NC State bowl record: 17-14-1 
Overall, the ACC was better this year. They had five teams with at least eight wins and this NC State team is one of them. This is a favorable matchup and could be the most decisive of the 2020 ACC bowls. At 8-3, the Wolfpack was a decent surprise, but it must be noted that they did not play either Clemson or Notre Dame. 
There were two quarterbacks to suit up for NC State: Bailey Hockman and Devin Leary. Leary suffered a broken leg, so Hockman, who started nine games, will be the primary signal-caller. He will have plenty of weapons in this game as wide receivers Devin Carter, Emeka Emezie, and Thayer Thomas as well as tight end Cary Angeline have been good this year. Each player reordered at least 400 yards and multiple touchdowns. 
In addition to those weapons out wide, NC State has a pair of dynamic running backs in Zonovan Knight (736 yards, nine touchdowns) and Ricky Pearson, Jr. (646 yards, four touchdowns). This team can beat you every which way, so containing one unit will prove to be difficult. 
The weakness of this team is its defense. Three times, they allowed more than 500 yards which include an abysmal 620 yards in a loss to Miami (FL). Lucky for them, their opponent is not a consistently good team on offense. There is an equal chance that they completely shut them down as there is they get absolutely torched. 
It would be nice to have seen this NC State team against the two best teams in the ACC. Could they have upset either one of them? Probably not, but it certainly would've given a clearer picture of what the Wolfpack could do. Following this game, the all-time record between the two teams will be even at 1-1. 
Head-to-head: 0-0
North Carolina bowl record: 15-19 
The final officially scheduled game of the 2020 ACC bowls is the NY6 game, the Orange Bowl. North Carolina, in Mack Brown's second year (12th overall at UNC), was one of the best teams in the ACC and was six points away from a 10-1 record and a legitimate argument for a CFP bid. Their resume would have been the same as their opponent: beat up on bad teams, beat one decent team, and get royally smashed by an actual CFP team. 
Of the teams not in the CFP, UNC has the most explosive and exciting offenses in College Football. It is not hyperbole to say that the one-two punch of Javonte Williams (1,140 yards, 19 touchdowns) and Michael Carter (1,245 yards, nine touchdowns) is one of the best tandems in recent memory. How many teams (that don't run the triple-option) can boast two 1,000+ yard rushers? Carter opted out of this game to prepare for the NFL Draft, so we will get to sit back and watch Williams ball out all by himself. 
In addition to this lethal rushing attack, UNC has a great up-and-coming quarterback in Sam Howell. He threw for 3,641 yards and 38 touchdowns as a true freshman in 2019 and backed those stats up magnificently. In two fewer games, Howell threw for 3,352 yards and 27 touchdowns. The only reason he "took a step back" is because of those monster running backs eating. Even more impressively, the Tar Heels boast a 1,000-yard receiver in Dyami Brown, though he will not play in this game as he opted out to prepare for the Draft. Next leading receiver is Dazz Newsome and his 616 yards and five touchdowns. With a name like Dazz Newsome, you better be an elite receiver. 
Texas A&M has a great rush defense and has held opponents to under 100 yards five times. They did give up 222 yards to a bad Arkansas team, so it can be done. Look for the Tar Heels to win this game and show ole Jimbo that they did not, in fact, deserve a CFP berth. 
Can 
The
 ACC 
Persuade
 Notre Dame 
To
 Stay?
Without an ACC schedule, Notre Dame might not have gotten the respect it did this year. Notre Dame should want to stay with the conference full-time, as they are in basketball. Either way, the conference impressed. To me, they are the best conference in the nation. Sure, the SEC has one elite team, but the ACC is pound-for-pound better. This 2020 ACC bowls schedule should prove that. 
Main Photo: