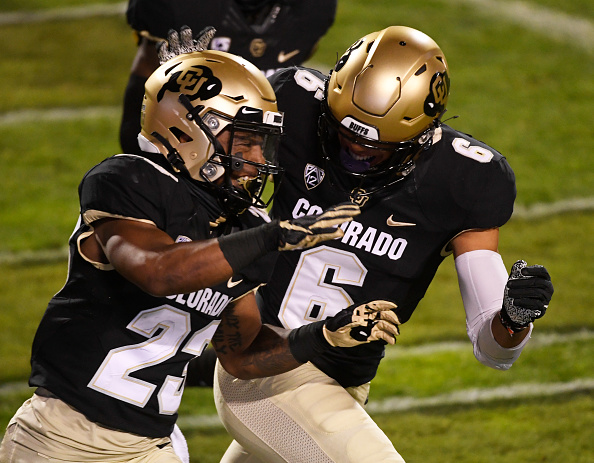 It's the most wonderful time of the year! As I did in 2019, I will preview each of the 2020 Pac-12 bowls as well as every other conference (plus the FBS Independents). Bowl games will likely look different this year. Many states have their own restrictions due to the COVID-19 pandemic, so we will likely see even fewer fans than normal. Additionally, a number of bowl-eligible teams elected to opt-out of the post-season, so there will be fewer matchups this year. 
Seven teams with losing records made bowls this year (four from the SEC; imagine that). This year, one team will be making its bowl debut. Plus, this season will feature ten first-time matchups. Strap in, it's time for 29 bowl games! 
2020 PAC-12 Bowls Preview
Alamo Bowl (December 29, 9:00 p.m., ESPN)
Colorado vs Texas
Head-to-head: Colorado 7-11 Texas
Colorado bowl record: 12-17 
The first of two 2020 Pac-12 bowls features the Colorado Buffaloes facing off against the Texas Longhorns. When the Big XII's future was uncertain, Colorado bolted for the Pac-12. These two teams used to play each other semi-frequently, but Texas has won the last five matchups. At 4-1, many thought Colorado should have played USC in the Pac-12 Championship game. However, the Conference decided to keep with the divisional alignment, so no. 
After heading a balanced offensive attack that averages 421 yards per game, senior quarterback Sam Noyer's status is up in the air for this game. If Colorado has to move on without Noyer, they will be missing his 1,000 yards and six touchdowns. Junior quarterback Tyler Lytle will be the next man up. Considering he's attempted all of eight passes in his career, look for the Buffs to lean on the rushing attack with sophomore running back Jerek Broussard. 
Broussard, through only five games, ran wild for 813 yards and three touchdowns. Should they have to throw the ball, redshirt sophomore Dimitri Stanley and true freshman Vontae Shenault will be the first guys they look for. Yes, he's Laviska Shenault's younger brother. 
The defense has been what has kept this team in games. They were led by senior linebacker Nate Landman, but he suffered a season-ending ankle injury. His 39 solo tackles still lead the team. However, junior linebacker Carson Wells has stepped up in a big way. His 13.5 tackles for loss and 4.5 sacks lead the team. The defense did break a bit in their lone loss in the final game, so it will be interesting to see how they respond against a good offense. 
Texas is not what it once was. Every year, they get touted as being back only to disappoint. While they are not back by any means, I think that they will take this game. Colorado is a good Pac-12 team, but that's not really saying much, unfortunately.  
Fiesta Bowl (January 2, 4:00 p.m., ESPN)
Oregon vs Iowa State
Head-to-head: 0-0
Oregon bowl record: 15-18 
This game probably could have included an Indiana or Coastal Carolina, but it doesn't. Oregon is coming off a win over USC in the Pac-12 Championship game, but it was only due to a COVID-19 cancellation that they even got a shot. The Ducks were initially hyped as a possible CFP team. Now that the dust has settled, they are the lowest-ranked Power Five Conference Champion only getting into a NY6 bowl due to Automatic Qualifying rules. 
The best offensive player for Oregon opted out before the year: left tackle Penei Sewell. Without the eventual top-three NFL Draft pick, the Ducks were still able to move the ball with sophomore quarterback Tyler Shough. It's not the high-flying offense we are used to, but Shough was still able to get the job done to the tune of 1,480 yards and 13 touchdowns. He can also beat you with his legs, tallying 238 yards and two touchdowns. 
Junior running backs CJ Verdell and Travis Dye have had a decent season, but nothing too crazy. Dye hasn't reached 100 yards in a single game. Verdell started off strong rushing for 105 yards and 108 yards in the first two games with a touchdown in each. Since then, 27 carries for 62 yards and one score. 
This Ducks defense has some serious playmakers. Kayvon Thibodeaux is an absolute monster and is destined to be a top-five pick in the 2022 NFL Draft. He took a step back, statistically. That sort of thing happens when you have an elite freshman year and teams gameplan against you. This has helped out the likes of freshman linebacker (and brother of Penei), Noah Sewell, and junior linebacker Isaac Slade-Matautia. This will be the most physical defense Iowa State will have faced this year. 
The Cyclones have an exciting offense and one of the fieriest coaches in the nation. They just lost the Big XII Championship, so they are looking for something to make this season worth it. Even though they lost at home to Louisiana by 17, ISU should take this one. Oregon has a great defense and we are going to hear the three aforementioned defenders' names frequently. ISU has too much firepower. 
Only Two 2020 Pac-12 Bowls? Yikes.
The fact that there are only two bowls is pretty sad. It must be said, however, that the region that the Pac-12 resides in has continually taken the COVID-19 pandemic more seriously than other areas of the country. USC, Arizona State, and other decent Pac-12 teams felt it was not worth the risk. They probably could have sent as many teams as other conferences, but we only get two. 
Main Photo: