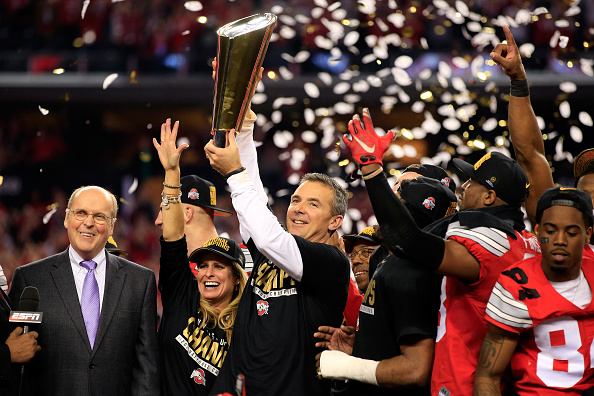 Despite only coaching at Ohio State for seven years, the Urban Meyer Ohio State era was legendary. Each year, the Buckeyes were in the B1G and BCS/College Football Playoff discussion. The era featured a CFP championship, another CFP appearance, seven-straight seasons of finishing at least tied for first in the B1G East division, three B1G Titles, and an overall record of 83-9.
With all of these accolades, there were some not-so-good moments. Often, Meyers' teams overlooked beatable opponents (2017 Iowa and 2018 Purdue come to mind) or lost pivotal games due to questionable playcalling (2013 MSU, 2015 MSU). Let's take a look at five big "What Ifs" of the Urban Meyer Ohio State era.
Biggest "What Ifs" of the Urban Meyer Ohio State Era
Honorable Mentions
What if Urban Meyer had fired Zach Smith before the 2018 season?
The first three games of 2018 were coached by eventual head coach Ryan Day thanks to Ohio State suspending Urban Meyer for "not upholding the values of the university." This stemmed from Domestic Violence allegations against then-Wide Receivers coach Zach Smith. If Meyer had fired Smith sooner when the allegations arose, he would not have been suspended. Thus, we would not have gotten to see Day at the helm. This could have resulted in the Buckeyes going another direction when they replaced Meyer (Matt Campbell, anyone?).
What if "The Spot" was reversed?
In 2016, the Buckeyes were the beneficiaries of a 50/50 call in the second overtime against Michigan. Quarterback J.T. Barrett took a designed quarterback run to the left side, got hit before the line to gain, went airborne, hit the back of his blocker, and was down. It was a classic case of "if it's called short, it'll stand; if it's called good, it'll stand." Naturally, if Barrett was short, Michigan wins, plays Wisconsin in the B1G Title game, and has a chance to make the CFP. Would they have met the same fate as the 2016 Buckeyes and got gobsmacked to biblical times by Clemson?
What if Ohio State self-imposed a bowl ban in 2011?
2011 was a lost season for the Buckeyes. Jim Tressel had resigned before the season for the "Tattoo-gate" scandal. Star quarterback Terrelle Pryor left for the NFL. Ohio State was forced with promoting then-Defensive Co-Ordinator Luke Fickell to Head Coach. There were some good moments like beating the Russell Wilson-led Wisconsin Badgers on a last-second Hail Mary, or finally being introduced to the human playmaker Braxton Miller. But the Buckeyes went 6-6 in the regular season and fell to Michigan.
Due to NCAA sanctions, the Buckeyes were banned from postseason play in 2012, so what if they decided to just self-impose a bowl ban a year earlier? Well, the Buckeyes wouldn't finish with their first losing season since 1988 because they wouldn't play Florida in the Gator Bowl. More importantly, 2012 would've ended very differently.
The Buckeyes finished the regular season 12-0 and would've played a weak Nebraska team in the first-ever B1G Title game. Ohio State won the regular-season matchup 63-38. At 13-0, Ohio State would have been either ranked number one or two in the BCS standings. Also undefeated was Notre Dame. It's not outlandish to think that the 2012 BCS Championship Game would've been Notre Dame vs Ohio State.
Ohio State hasn't lost to Notre Dame since 1936 and this would have been no different. The Urban Meyer Ohio State era would've started with a National Championship.
What if Braxton Miller had converted 4th & 1?
Riding a 24-game win streak, Ohio State was a victory away from playing for a BCS Title. Unfortunately for them, that victory never came. Michigan State had other plans.
The Spartans jumped out to a commanding 17-0 lead, but the Buckeyes clawed back by scoring 24-unanswered points. Then Sparty took the lead back after a field goal and Connor Cook touchdown pass. With 5:46 to go, the Buckeye faced a long 4th & 1 and were stuffed. But what if they had converted?
Braxton Miller was terrible throwing the ball (8-21, 101 yards, one touchdown), but the Buckeyes had no issue running the ball. In total, Miller ran 21 times for 142 yards and two scores and Carlos Hyde ran it 18 times for 118 yards. Sitting, at worst, at Michigan State's 35-yard-line, the Buckeyes could go back to their rushing attack, bleed the clock, and score. Even if they only get a field goal, the offense was seemingly clicking enough that Meyer would feel good about his chances.
A B1G Title in 2013 would have resulted in the Buckeyes playing for a BCS National Championship. An undefeated Ohio State team would likely have gotten in over a one-loss Auburn team to face Heisman winner Jameis Winston and Florida State.
Nobody can say with certainty whether or not Ohio State could beat that Florida State team, but at least the Buckeyes would've been spared another loss at the hands of Clemson. Not to mention we would have all been spared from Matt Millen constantly reminding us that Miller was a "hurtin' buckaroo" every other play.
What if Meyer and Tom Herman fed Ezekiel Elliott?
The 2015 season was a mess, but it was arguably the most talented Ohio State team to this point. 36 of the 85 scholarship players on the team eventually went on to get drafted. That includes 12 first-round picks! But none of that matters when you can't decide on a starting quarterback. Both J.T. Barrett and CFP hero Cardale Jones played behind center, so nobody was able to get into a true rhythm. This was evident by close wins against the likes of lesser opponents like Northern Illinois, Indiana, and Minnesota.
The loss to Michigan State in 2015 should not have happened, but that's why they play the game. Starting quarterback Connor Cook was out so the Spartans turned to a two-quarterback system in sophomore Damion Terry and junior Tyler O'Connor. O'Connor, a Lima Central Catholic alumn from Lima, Ohio, was fueled by the motivation to beat the home state school and put his Spartans in a position to win. And win they did.
Overall, this game was ugly. It was cold, rainy, and windy. Michigan State totaled 294 offensive years to Ohio State's 132. Neither team could really get anything going. Both of Ohio State's touchdowns came off of short fields from turnovers (36 and eight yards). Both of Michigan State's touchdowns came immediately after. Eventually, the Buckeyes got "Tressell-ball'd." They went three-and-out, punted from their end zone, and Michigan State kicked the game-winning field goal.
Heading into this game, junior star running back Ezekiel Elliott was averaging 142.5 yards and 1.6 touchdowns off of 22 carries per game. The man was garnering legitimate Heisman hype and was on fire. In this game, Elliott carried it 12 times for 33 yards and a short touchdown. He would declare for the NFL draft immediately following the game. There is no "ifs/ands/buts" about this one: if Ohio State fed Ezekiel Elliott, they would have won.
A victory here sets Ohio State up for another 12-0 season, a B1G Title game where they expose Iowa, and another CFP birth to defend their Championship. As a likely three-seed, they would have drawn a rematch with Alabama. While I do not think this would have resulted in an Ohio State win, nobody expected the Buckeyes to defeat the Crimson Tide in 2014. Anything could happen.
What if Tyler Durbin's kick wasn't blocked?
Looking purely at statistics, Ohio State should have won this game handily. The Buckeyes out-gained Penn State 413 to 276 and won the turnover battle. Penn State was held to 2-13 on 3rd down. Penn State fumbled a punt that led to a touchdown and gave up a safety. Curtis Samuel and Mike Weber each rushed for 71 yards and Barrett threw for 245 yards and a touchdown. So what happened?
Up 21-17, Ohio State lined up for a 45-yard field goal with 4:27 to go. Tyler Durbin's kick was blocked and returned to put the Nittany Lions up 24-21. Ohio State couldn't do anything to answer and Penn State won.
As a coach, you can't blame a single play or player for a loss. There were plenty of other situations where you could have put the game away and wouldn't have needed to rely on a late field goal to extend a lead to seven. But if this kick was converted, Penn State would have likely had a similar final drive, as evident by all of the other close losses they've suffered at the hands of the Buckeyes.
In the end, a victory here would have resulted in a B1G Title game appearance against Wisconsin. A win there puts Ohio State in the CFP, but the only difference would likely have been seeding. Ohio State would have been the two seed, played Clemson, and gotten rocked again. Of all of these "What Ifs" of the Urban Meyer Ohio State era, it is likely the least consequential.
What if Emory Jones and/or D'wan Mathis had signed?
The final "What if" has to do with recruiting. In 2017, Ohio State held a commitment from the number five dual-threat quarterback, Emory Jones for 509 days. Jones was a highly-recruiting four-star quarterback from Georgia and had a strong arm. Despite his long commitment, Emory Jones de-committed and flipped to Florida on Early Signing Day.
Flash forward to today, Jones is a redshirt sophomore, second on the depth chart behind Kyle Trask. Considering Trask is a redshirt senior, 2021 could be the season we see Jones as a full-time quarterback.
In that class, Ohio State took two quarterbacks: Matthew Baldwin and Tate Martell. Where are they now? Baldwin retired from football due to injury and Martell is at Miami (FL), though he opted out of the 2020 season.
The following season, Meyer's final in Columbus, the Buckeyes were gearing up to sign another top Georgia quarterback in D'Wan Mathis. Mathis was a 6'6″ pro-style quarterback who committed to Ohio State on June 24, 2018, after de-committing from Michigan State. It seemed Ohio State had their quarterback of the future in Mathis, depending on what Dwayne Haskins was going to do. Unfortunately for the Buckeyes, Mathis flipped on Early Signing Day to Georgia.
Today, Mathis is a redshirt freshman is in the confusing quarterback room in Georgia with Stetson Bennett and JT Daniels. In the 2019 class, Ohio State hauled in Justin Fields, who transferred from Georgia.
So what if the Buckeyes get either of these highly-recruited quarterbacks? With Emory Jones, Fields would have likely found another transfer destination. Obviously, Fields is better than Jones, but it would not have been surprising to think that Jones and Martell would have been the two to battle it out for the starting quarterback position.
Considering where Fields is today and where Jones and Martell are, Ohio State would likely not be as elite as they are. If the Buckeyes locked down Mathis, I think Fields would have still transferred to Ohio State. Even if Mathis was considered the heir-apparent to Haskins, Fields would have looked at that competition (against a true freshman) and believes he would win.
The Urban Meyer Ohio State Era Was Legendary
83-9. Even though Ohio State stumbled a couple of times against lesser opponents, Meyer's time in Columbus has him regarded with the greats. There are plenty of "What ifs" that would have resulted in negative outcomes like if Tim Beck or Ed Warriner had not left for other jobs. More consequentially, what if Meyer had not brought in Kevin Wilson or Ryan Day?
Looking back at what-if scenarios is always a fun thought experiment. If Ohio State had flipped the four game-central what-ifs, the Buckeyes might have three more National Championships. One can only hope that the Ryan Day tenure at Ohio State is more straightforward (CFP loss to Clemson notwithstanding).
Main Photo:
Embed from Getty Images