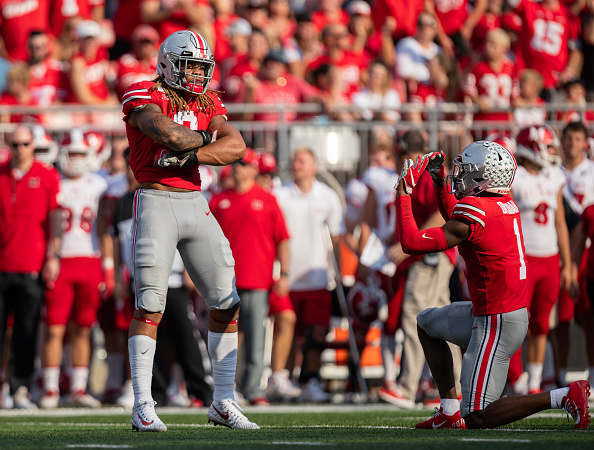 This year, there are 16 Ohio State NFL draft prospects. These former Buckeyes have led the team in all facets and they will each be missed in Columbus. Some of these can be marked in permanent marker that they will be selected. Others will have to rely on their tape and pre-draft "visits" for a team to fall in love. Since 2000, 131 former Buckeyes have been drafted. That mark is good for best in the nation. Of those 131, 31 were first-rounders which is tied for most (Alabama). These marks are certain to increase. Let's take a look at all of the Ohio State NFL draft prospects.
Note: Joe Burrow, though he did attend and graduate from Ohio State, is not on this list.
2020 Ohio State NFL Draft Prospects
Certain To Be Drafted
Most likely, the first Buckeye to hear his name called will be Chase Young. Young was an absolute terror this year. He accounted for 16.5 sacks, which was best in the nation. Highley regarded considering he comes from the same system as Joey Bosa and Nick Bosa, Young made his own way and solidified his own elite status. In 2019, the defensive end finished fourth in Heisman voting. That is tied for the best showing by a defensive lineman with Ndamukong Suh (2007) and Steve Emtman (1971) since Hugh Green's 1980 Heisman runner-up season.
Most mock drafts have Young going second-overall to Washington. There is still a sect of Cincinnati Bengals/Ohio State fans who are holding out hope their team selected the edge rusher first-overall; I am not one of them. Washington is going to enjoy the 2019 B1G defensive player of the year who also won the Nagurski, Bednarik, and Hendricks Awards to go with his consensus All-American honor. He is Pro Football Focus' (PFF) top edge prospect and the third-best overall.
Since 2014, Ohio State has produced 10 cornerbacks to be drafted. Six of those were first-round talents. Okudah affectionately refers to the Ohio State secondary as B.I.A. or "Best In America." Considering these, paired with the fact OSU could have a pair of corners and a safety taken in 2020, the claim is not without merit. PFF has Okudah as their best cornerback prospect and number four overall, right behind Young.
Even though there is plenty of speculation about whether or not the Detroit Lions will trade out of their third-overall pick, many have Okudah slotted here. He broke out during the 2017 Cotton Bowl against USC and stepped into the shoes of Denzel Ward when he left. Statistically, corners do not jump out at you. Okudah is no different, but that's because offenses respected his ability and went another way. When challenged, Okudah was the epitome of physical, but legal play. He went the entire 2019 season without committing a pass interference or defensive holding penalty. Whether he goes third-overall or falls due to early quarterback craziness, Okudah is the slam-dunk of these Ohio State NFL draft prospects.
Can we get Gus Johnson to call NFL games next year? We have to hear "J.K. All Day!" one more time. Dobbins had a great junior campaign after a bit of a sophomore slump and was integral to the success of Justin Fields and the 2019 Buckeyes. Considering the impressive history of Ohio State running backs, Dobbins cemented his place. He holds the single-season rushing record for his 2,003-yard performance in 2019. That mark was tied for best in the B1G along with his B1G-best 21 touchdowns (also tied with Jonathan Taylor).
Dobbins has all of the tools to be a great pro. Last season, however, he worked on pass protection as well as catching the ball out of the backfield. Considering he is going into a league that is less about smash-mouth running the ball and more about play-making running backs who are multifaceted (like Christian McCaffrey), Dobbins can make a day one impact. At PFF's 95th-overall prospect and fifth-best running back, Dobbins could be a steal. Don't be surprised if a team like the Kansas City Chiefs snag the former Buckeye at the end of the first round. Of the Ohio State NFL draft prospects, Dobbins might be missed the most. Go get it and come back with it.
The sneaky pick to be a surprise first-rounder is the cornerback who has played opposite Ward, Okudah, and Kendall Sheffield. Damon Arnette has been the most polarizing of the Ohio State NFL draft prospects for his play in the last four years. If you want a physical, handsy corner to disrupt quarterback-to-receiver timing, Arnette is your guy. The four-year starter considered testing the NFL waters after the 2018 season, but Ohio State alumn Chris Carter advised him to return to school to refine his craft. This was the best possible decision.
Arnette played the majority of 2019 with a broken hand, but that did not stop him at all. He managed to pull down an interception against Indiana and return it 96 yards for a touchdown. However, his style of play has gotten him into trouble with defensive holding or pass interference penalties. He has been burnt for touchdowns on a few occasions as well. The talent is certainly there. PFF has him as their 88th-best prospect and 14th-best cornerback. The NFL team who selects him will have to try and reign Arnette in because he tends to wear his emotions on his sleeve. You know the joke where a quarterback overthrows the receiver by 15 yards and the corner freaks out and celebrates? That's Arnette.
The next of the Ohio State NFL draft prospects is the redshirt senior transfer, Jonah Jackson. After spending four years at Rutgers, Jackson elected to grad transfer within the division and promptly won a spot on a very solid Ohio State offensive line. PFF has Jackson as the 40th-ranked overall player and second-best guard in this draft. Like Arnette, Jackson could be another surprise first-round selection on Thursday.
Jackson progressed and developed throughout the season. By the time the Buckeyes faced off with Clemson in the CFP, Jackson was mauling defensive linemen left and right. In addition, the Buckeyes ran the ball well thanks to Jackson's ability to get to the second level. It will be interesting to see if Jackson can adapt to the length at the next level.
The next linebacker to come from Ohio State will be Malik Harrison. Thanks to the Buckeyes' continual tradition of boat-racing lesser competition like Indiana or Michigan, Harrison was able to make a difference early. This year's linebacker class is quietly deep. Harrison is currently PFF's 102nd-ranked prospect and the number seven linebacker. This goes to show that even if he manages to fall to the third round, an NFL team could have a day one starter.
Over the course of his career, Harrison continued to get better. His stats culminated in 2019 with 75 tackles, 16.5 tackles for loss, and 3.5 sacks. He really took a step forward last year and turned into a very good run stopper. He is a very sure tackler, but he will need to work on coverage or else offenses will be able to take advantage of the middle of the field. Harrison is another candidate to go a little earlier than most would expect.
There have been a number of interior defensive linemen to come through Ohio State thanks to the increased attention to stud edge rushers. Davon Hamilton will be the next. In 2019, Hamilton took a step forward and dominated the interior and was a run-stuffing monster. He broke through for 9.5 tackles for loss and six sacks. PFF sees a lot in Hamilton and they have him ranked 71st overall and as the seventh-best defensive lineman.
Hamilton will translate to be a nose tackle/1-tech in the NFL. Good luck running up the middle against this guy. All in all, if an NFL defense wants to run a two-gap scheme, Hamilton would be the ideal guy to plug up the middle. There are drawbacks, of course. His pass-rushing needs some work and he does not have a large sample size when it comes to film. Either way, he showed up in the biggest game of the year in the CFP semi-final. Considering the NFL talent on that Clemson offensive line, it could give NFL teams hope that it all translates to the next level.
Of the Ohio State NFL Draft prospects, K.J. Hill is the only one who holds a career statistic record. He surpassed David Boston's (1996-1998) mark of 191 receptions and finished with 201. Hill established himself early as a safe, go-to option for all four starting quarterbacks he played with. His senior year came and went and all Hill did was catch 57 passes for 636 yards and 10 touchdowns. Admittedly, his production took a step back in 2019, but that could have been due to the emergence of Chris Olave and Garrett Wilson.
PFF's 73rd-ranked prospect is also the 15th-ranked receiver in a very deep, very exciting wide receiver class. K.J. Hill is an elite route-runner with about as sure a pair of hands as you will find. In some instances, all he needed was one hand. When Hill is at his best, it looks as smooth and effortless as can be. He was never a dominator in the game, but he will likely be able to be a very solid slot receiver at the next level. Any team that picks him will find Hill is a very polished, very smart receiver.
Like Hamilton, Robert "BB" Landers benefited greatly from the attention to elite edge defenders. Yet another Larry Johnson product made himself some money these last couple of years. One downside of Landers' game is the fact that he never played a full, healthy season. In nine games, Landers worked with Hamilton to stuff the run accounting for 6.5 tackles for loss. PFF does not have Landers in their top 250, but CBS does. Landers is their 139th-best prospect and 16th-best defensive lineman.
There is probably a good reason why PFF is lower on Landers than CBS, but he will certainly be worth a draft pick. His strength is his strength. Landers could move linemen in a conference with beefy linemen. In addition, he's got great hands, like the rest of those who come from OSU's defensive linemen room. He can play nose tackle at the next level and continue to plug up the middle. A team will take a flyer out on him and all of his cowboy hat-wearing greatness.
Could Be Drafted
The first of the four Ohio State NFL draft prospects whose draft status is up in the air is Jordan Fuller. Fuller has been a regular force on the Ohio State defense for the last few years. There is a reason he was voted captain for the last two seasons. Over his four seasons in Columbus, Fuller tallied five interceptions, ten passes defensed, and even recovered three fumbles. Realistically, his first touchdown should have been the go-ahead touchdown in the CFP semi-final, but nobody knows what a catch is anymore.
If selected, Fuller will provide a physical, downhill defender who is not afraid of hitting anyone. Even though the NFL is not as much of a run-heavy league as it was, Fuller will be able to shoot the gaps and bring the pain. Think of another former Buckeye: Vonn Bell. The ability to cover tight ends is also crucial in today's game and Fuller can take care of business. His tackling ability is good unless he has to chase down a guy via an angle. He lacks that closing speed that you'd like to see. Teams love leadership, so I would not be surprised if a team takes a chance on Fuller.
As stated above, this year's wide receiver class is deep. Binjimen Victor is the second Buckeye wide-out on this long list of Ohio State NFL draft prospects. Across his four years, Victor was never a number-one receiver, but he had plenty of clutch moments. He burst onto the scene as a sophomore, reeling in 23 passes for 349 yards and seven touchdowns. These may not be stats to jump out at you, but when you nearly average a touchdown per three receptions, you are worthy of praise. Buckeye fans will forever remember his 47-yard touchdown against Penn State in 2018 in the fourth quarter to give the Buckeyes hope.
Victor is a 6'4″, 200 pound, lanky red zone threat. He is no Tyreek Hill in terms of speed, but he has the frame and control to haul in passes if put in his general vicinity. The man's catch radius is off the charts. When running routes, Victor looks faster and smoother than you would expect. While you can't teach speed, if Victor were able to pick up a step or two, he could be a monster at the next level. I suspect a team will use a late-round pick on Victor. In today's age of spread offenses and how much we love to use goal-line fades, Victor would be a fine addition to just about any squad. He is PFF's 213th-rated prospect and the 32nd-best wide receiver.
Stop me if you've heard this before: Ohio State has a deep, talented defensive line. Yet another Buckeye defensive lineman made himself some money this season. For the last few years, Cornell has been a part of a very good, very deep rotation on the Buckeye defensive line. Last year, Cornell had his best season, which is impressive considering Ohio State starters very rarely played full games (which could be said about all of these Ohio State NFL draft prospects). Again, seven and a half tackles for loss and four sacks may not jump out at you, but he was huge in the run game.
Out of 250 prospects, Cornell ranks at 249th-overall and is the 20th-best defensive lineman according to PFF. This is fair, but whoever selects Cornell will get a steal. As a Buckeye, he always terrorized the interior run game. In addition, he has been able to get off blocks in passing situations, although Ohio State likes to substitute to have four elite pass rushers. Cornell could be a very solid, very safe day three selection.
It's kind of crazy that a member of one of the best offensive lines in football with experience at both guard and tackle did not receive an invitation for the NFL Combine. Either way, Branden Bowen was an integral part of the Buckeyes offensive line before his gruesome injury and once he returned.
Bowen will likely be selected as depth for an NFL team. However, he does have the strength and athleticism to challenge for a starting role. It will be interesting to see if a team takes a chance on Bowen with a later pick in order to get prime value.
Potential Undrafted Free Agents
Austin Mack has been a reliable option for Ohio State quarterbacks when healthy. Every year, it seems like his season gets hampered by some kind of injury. Like Victor, Mack's production just was not there to be considered as a top receiver prospect. Despite this, Mack slated himself into Buckeye lore when he converted a third-down in 2017 on a pass from Dwayne Haskins. Ohio State and Michigan fans alike remember this as the first play after J.T. Barrett got hurt and was the unofficial start of the Haskins legendary era at the helm.
PFF actually has Mack rated higher than Victor at 198th overall and 29th at wide receiver. However, it's because of the injury questions that I suspect he would go undrafted. If he does get drafted, it will be because he is a strong boundary receiver with the ability to win contested catches. In addition, he's had a history of not shying away from contact, especially towards the middle of the field. If 2019 was not hampered by a foot injury, perhaps Mack would have had a much better season. I'm a big fan of Mack's, so I hope he will get a legitimate shot at the next level.
There is no denying that Rashod Berry is one of the more athletic entries here. Recruited as an edge defender, Berry made the switch to tight end during his freshman year. Due to injuries, Berry's career was much less productive than it could have been. However, in 12 games (at tight end), Berry recorded 17 receptions for 198 yards and four touchdowns. It sure seemed like he was on the field for longer, didn't it?
I don't foresee Berry's name getting called by Roger Goodell in his basement this weekend. Having said that, I do think that his athleticism would be well worth an undrafted free agent contract. When fully healthy, Berry certainly deserves a shot at the next level.
Known for his inception tee-shirts when walking into camp, Liam McCullough was a well-known commodity. It's not glamorous being a long-snapper. It's even less glamorous as a long-snapper for a team that punts and settles for field goals as infrequently as the Buckeyes do. Every year, there are a small handful of teams that need to replace a long-snapper. McCullough clocks in as the fourth-ranked long-snapper in this year's class. Even if he is not selected, he very well could earn an undrafted free agent contract to fight for a spot.
Time And Change Will Surely Show
As stated above, 131 Buckeyes have been drafted into the NFL since 2000. The most Ohio State players to be selected in a single draft is 14 (2004). Last year saw nine Buckeyes get paid. There are 16 Buckeyes on this list. It may take the stars aligning for this year's class to break that record, but it is clear that there will be yet another large group of Buckeyes drafted this year.
Main Photo:
Embed from Getty Images