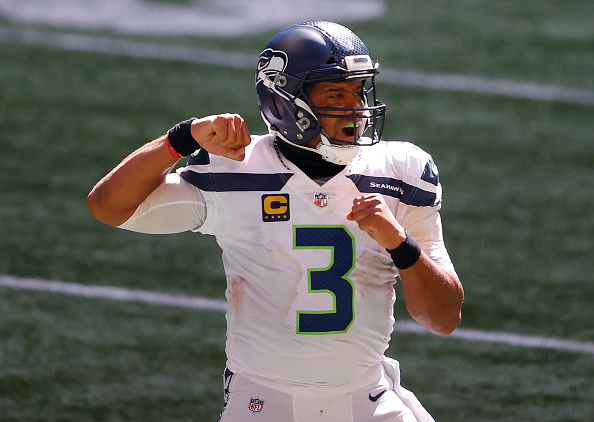 The NFL is back! Week one started with a Kansas City Chiefs victory over the Houston Texans on Thursday Night Football. On Sunday, week one continued with thirteen games on tap. Even with a limited training camp and no preseason football, we still saw some great games along with top quarterback performances. Upsets and spectacular highlights were only the beginning of 15 more weeks of great football. As we review the action that took place, let's take a look at the top quarterback performances on Sunday.
Top Quarterback Performances On Sunday
Russell Wilson
In the Seattle Seahawks 38-25 win over the Atlanta Falcons, Russel Wilson was nearly perfect throwing the football. He couldn't miss as he completed 31 of 35 passes for 322 yds and four touchdowns. Wilson had some great options to throw to as he hit D.K. Metcalf and Tyler Lockett for over 90 yards receiving and hit running back Chris Carson for two touchdowns threw the air. Wilson also connected on a touchdown with newly-signed veteran tight end Greg Olsen. The Falcons defense was exploited and the Seahawks quarterback showed us early that he's the MVP favorite.
Aaron Rodgers
He's back! Everyone who thought Aaron Rodgers was damaged goods might want to rethink their decision. He was on fire and torched the Minnesota Vikings defense. He was 32 for 44 with 364 yards passing and four touchdowns to three different receivers. Rodgers had a great connection with wide receiver Davante Adams as he had 156 yards receiving and two touchdowns. He connected on a few deep passes and made plenty of clutch throws. The Vikings secondary had a lot of young and inexperienced players but not many quarterbacks can put on a performance like Rodgers did for the Green Bay Packers.
Lamar Jackson
The reigning MVP is at it again. Lamar Jackson showed us great skills both through the air and on the ground. He went 20 of 25 for 275 yards with three touchdowns and added 45 yards on the ground. In a blowout win against the Cleveland Browns, Jackson threw two touchdowns to tight end Mark Andrews and threw five passes for 101 yards to Marquise Brown. If Jackson keeps performing like this, he'll be yet again in the discussion for MVP and the Baltimore Ravens will go far.
Josh Allen
Have a day Josh Allen. While leading the Buffalo Bills to a 27-17 win over the New York Jets, Allen threw for 312 yards and two touchdowns while completing 33 of 46 attempts. He also added great ability on the ground as he has 57 yards on 14 rushes and a touchdown. The Bills added a new toy for Allen in the form of Stefon Diggs, who had 86 yards receiving. Buffalo got off to a fast start and never looked back. They are projected to have a great season and with days like these from Allen, they definitely will.
Other Notable Top Quarterback Performances
Matt Ryan: 37/54, 450 yards, 2 TDs, 1 INT
Phillip Rivers: 35/46, 363 yards, 1 TD, 2 INTs
Micthell Trubisky: 20/36, 242 yards, 3 TDs
Gardner Minshew: 19/20, 173 yards, 3 TDs
Final Drive
Week one finishes off with a Monday Night Football doubleheader. The Pittsburgh Steelers will travel to face the New York Giants and the Tennessee Titans will travel to the mountains to face the Denver Broncos. Both of these Monday night games have the potential to give us more great highlights and top quarterback performances. With seeing what week one provided, week two can't come soon enough.
Main Photo:
Embed from Getty Images