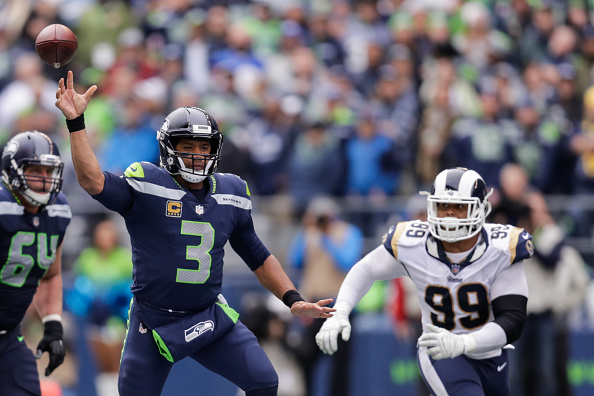 The argument for the most talented conference between AFC and NFC is a good one; the argument for the most talented division is not. Frankly, the NFC West top five players blow everyone else out of the water. This division contains four players who ranked in the top ten of the NFL top 100. It is scary how loaded this division is truly is.
NFC West Top Five Players Heading Into the 2020 Season
Honorable Mention
Normally, there would not be anything in this category except for the player's names, but this division is so talented that it was impossible to even mention all the players deserving of honorable mention. Each of the players selected to Honorable Mention has either been a 1st team all-pro or have been named Defensive Rookie of the year.
Jamal Adams – Safety, Seattle Seahawks
Nick Bosa – EDGE, San Francisco 49ers
Jalen Ramsey – Cornerback, Los Angeles Rams
Bobby Wagner – Middle Linebacker, Seattle Seahawks
Chandler Jones is incredible. He is also one of the most underrated players in the NFL today. Over the last three seasons, Jones has 49 total sacks and 52 tackles for loss while reigning in two first-team all-pro selections. Jones has 96 total sacks in only eight seasons. That is two fewer sacks than Von Miller had through his first eight seasons, yet, Miller is an eight-time pro-bowler compared to only three pro-bowl selections for Jones. Chandler Jones is putting together a Hall of Fame career and it's about time the general public started to notice.
4.) DeAndre Hopkins – Wide Receiver, Arizona Cardinals
90.3 receptions, 1,228.9 yards, and 7.7 touchdowns. These are DeAndre Hopkins' yearly averages over his seven-year career. Hopkins is one of, if not the, best wide receivers in the league and is on pace for a potential Hall of Fame career. Hop is a new addition to the NFC West this offseason after a trade from the Houston Texans. It almost seems unfair to add one more elite NFL player to this already stacked division but here we are.
3.) George Kittle – Tight End, San Francisco 49ers
"The highest-paid tight end in NFL history", that is how George Kittle can introduce himself at parties from now on. The San Francisco 49ers made it official on August 13th, and with good reason. Kittle is the best blocking tight end in the NFL and currently holds the NFL record for most yards in a season by a tight end. Kittle earned his contract the hard way, by drudging through the trenches. However, it also didn't hurt that he is one of the most explosive receivers in the league and near impossible to bring down when he has the ball. Kittle is the real deal and his contract now reflects that.
2.) Russell Wilson – Quarterback, Seattle Seahawks
Russell Wilson plays the most important position in football and very few do it better than he does. Wilson could make any team he played for into an immediate playoff contender. If you switched him with either Patrick Mahomes or Lamar Jackson he could run both of their offenses with success even though they are astronomically different. Wilson will be a Hall of Famer one day. However, he is still not even the best player currently residing in the NFC West.
1.) Aaron Donald – Defensive Tackle, Los Angeles Rams
Aaron Donald is a Hall of Famer. If he retired today, you would eventually see his jersey in Canton, Ohio. In six seasons, he is a five-time first-team all-pro player and two-time Defensive Player of the Year. He has produced some of the most incredible interior pass-rushing seasons the NFL has ever seen notching 20.5 sacks in 2018 and 72 sacks over six seasons. Aaron Donald is the best player in the NFL not named Patrick Mahomes and he caps off this list filled with the leagues best of the best from the NFC West.
Main Photo:
Embed from Getty Images