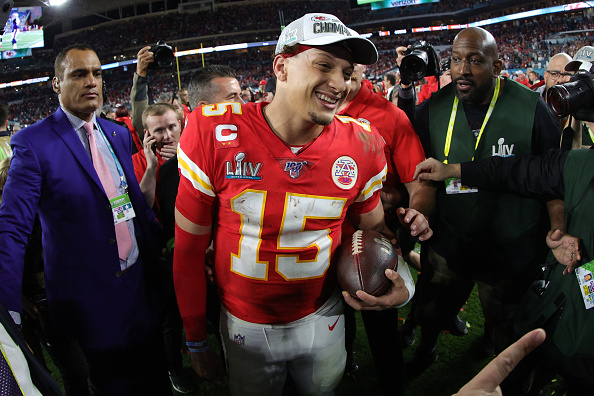 In this unique offseason, teams have been willing to pay their big-time players. Most of the these players that have been paid are from the 2017 NFL Draft. It ranges from the highest-paid at a position to the highest paid in all of sports. The terms of these deals has us shocked, but not surprised. The 2017 NFL Draft has given us some special players and you can believe that they're just getting started.
The 2017 NFL Draft Class Is Getting Paid This Offseason
George Kittle
George Kittle went from being selected in the fifth round of the 2017 NFL Draft to one of the, if not the, best tight end in all of football. Earlier this week, he got a record-setting five-year, $75M contract from the San Francisco 49ers. That makes him the highest-paid tight end in all of football as he deserves to be. In three seasons, he has 216 catches for 2,945 yards and 12 TDs. He followed up 1,377 yards receiving in 2018 with 1,053 last season. He has tremendous size and strength and will be a focal point in the 49ers offense for a long time.
Patrick Mahomes
Many think Patrick Mahomes is on pace to be the best quarterback of all-time if he keeps up the great play. In his first season of being the starting quarterback for the Kansas City Chiefs, Mahomes put up great numbers. In 16 games, he threw 12 interceptions but he had an amazing 50 touchdowns and over 5,000 yards passing. Last season, he only played 14 games due to injury but he threw 26 touchdowns with 4,031 yards passing.
Mahomes has brought home some hardware as well. In 2018, he was named to the first-team All-Pro and MVP. In 2019, he won the ultimate prize and that was the Super Bowl. Mahomes was rewarded with a massive 10-year, $450M contract that could be worth up to $503M, which is the richest contract in American pro sports. He is a special quarterback and he has many years to build an already great resume.
Myles Garrett
A 5-year $125M contract is what it took for Myles Garrett to extend his time with the Cleveland Browns. $100M of it was guaranteed, which is the second most guaranteed money given to a defensive player. In his rookie year, he made the all-rookie team with seven sacks in 11 games and 31 tackles. He had a breakout year in his sophomore season as he had 13.5 sacks with three forced fumbles and 44 tackles. Last season, Garrett was suspended six games due to an altercation with Pittsburgh Steelers quarterback Mason Rudolph. In only ten games, he had ten sacks, two forced fumbles, and 29 tackles. The Browns see Myles as the future for a team that possibly can make some noise.
Christian McCaffrey
The Carolina Panthers made Christian McCaffrey the highest-paid running back in NFL history with a four-year, $64M extension with $16M annually. In his three years, McCaffrey's had two, 1,0000 yard seasons with his best year coming last year as he had 1,397 yards rushing, 1,005 yards receiving, and 19 total touchdowns. If you watch the game tape, McCaffrey knows the game inside and out with his routes and moves in the backfield. His speed and elusiveness allow him to run through holes and other players to get the yardage he needs. The Panthers have needed someone like this and with this deal, he'll be the cornerstone of this franchise for a while.
Eddie Jackson
With a year left on his rookie contract, Chicago Bears safety Eddie Jackson signed a four-year extension worth $58.4M, making him the highest-paid safety in NFL history. He had a good rookie season as he played all 16 games while making 73 tackles, three fumble recoveries, and two interceptions with one being a pick-six. He had another outstanding year in 2018 when he played 14 games and had 51 tackles with six interceptions and two being a pick-six. In 16 games this past season, he had 60 tackles with two interceptions. Jackson has made two pro bowls with a first-team all-pro in 2018. He's a premier player on this Bears defense and one of the best in this game.
Final Drive
This NFL has produced a lot of talent from the 2017 draft class and they're just getting started. There's still a lot of talent who is yet to get an extension like T.J. Watt and Deshaun Watson among others. All of the players from the 2017 class are on the back end of their rookie deals. Some teams will have to get creative and figure out ways to extend these players. The future of the NFL is coming up fast for these talented group of guys.
Main Photo:
Embed from Getty Images