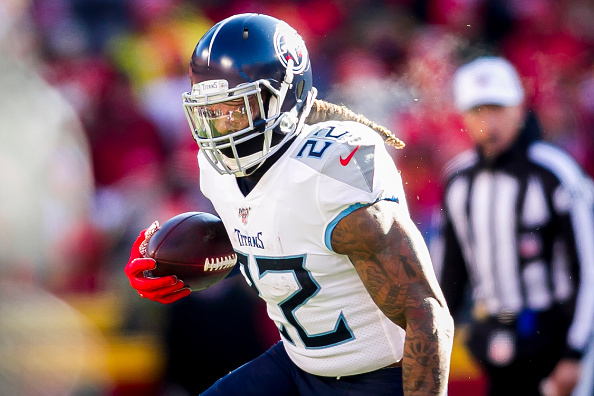 Last season, 16 running backs ran for over 1,000 rushing yards and the top ten rushers combined for 12,788 yards of offense. This is evidence that running backs are still an important part of an NFL offense. In fact, they could be considered more important than ever despite the league being viewed as a passing league. Many of today's running backs have become top threats in the receiving game as well. The Carolina Panthers' top receiver in 2019 was running back Christian McCaffrey. Here are the top five running backs going into the 2020 NFL season.
Top Five Running Backs in 2020
Honorable Mentions
2019 Stats: 1,654 scrimmage yards, 13 total touchdowns, Pro Bowl
2019 Stats: 1,424 scrimmage yards, 8 total touchdowns.
2019 Stats: 1,330 scrimmage yards, 6 total touchdowns, Pro Bowl
McCaffrey had a breakout season in 2019 for the Carolina Panthers. He rushed for 1,387 yards and had an additional 1,005 yards receiving. His 2,392 yards from scrimmage is the third-most in a season in NFL history. McCaffrey is also the third running back to ever have 1,000 yards rushing and receiving. The other two running backs were Roger Craig and Marshall Faulk. McCaffrey finished second in the NFL in receptions behind only Michael Thomas. This level of domination is something that cannot be achieved easily. McCaffrey's impressive 2019 season saw a level of production that comes along once per decade. With McCaffrey only 24, he could be the best running back in the NFL for several more years and is easily the best running back going into 2020.
The former fourth overall pick has been as consistent as they come since entering the NFL in 2016. He led the NFL in rushing his rookie season with an incredible 1,631 yards and nearly had 2,000 yards from scrimmage. In his second year he had the worst season of his career but still managed 983 yards rushing in just 10 games. The next season, Elliott led the NFL in rushing again with 1,434 yards and eclipsed 2,000 yards from scrimmage. In 2019 he had another season of more than 1,300 rushing yards and made his third pro bowl in four seasons. Elliott led the NFL in rushing yards per game in each of his first three seasons and led in total carries twice. Elliott is as durable as they come and his consistency at the top is why he is one of the NFL's best.
Derrick Henry entered the NFL the same year as Zeke and was coming off of a Heisman Trophy. Despite this, Henry fell to the Titans in the second round of the 2016 NFL draft. Henry suffered from a crowded depth chart in his first two seasons and some wondered if he would ever be able to be a workhorse running back for the Titans due to his style of play. In Henry's third season the Titans took the reins off Henry a bit and he finished the season with 1,059 rushing yards and 12 touchdowns.
The highlight of his season came when he ran for a 99-yard touchdown against the Jacksonville Jaguars. Then, in 2019, Henry exploded for 1,540 rushing yards and 16 touchdowns. He led the NFL in carries, rushing yards, rushing touchdowns, and rushing yards per game this past season. This level of production on the ground has established Henry as one of the best running backs in the NFL and will be again in 2020.
Saquon Barkley had tons of hype surrounding him when he entered the NFL in 2018. The second overall pick came with big expectations in his rookie season for the Giants and he did not disappoint. Barkley had 1,307 rushing yards and 11 touchdowns. He led the NFL in yards from scrimmage that season with 2,028 yards and made the pro bowl as a rookie. He also won the offensive rookie of the year award. In 2019 Barkley continued his excellent play despite missing three games.
He finished the year with another 1,000-yard season and had 1,441 yards from scrimmage. To show how well running backs played in 2019, Barkley did not earn a pro bowl nomination for his 1,400-yard season. Although he did not make the 2019 pro bowl, Barkley has shown in his young career that he is one of the NFL's best at his position and should continue to dominate now that he is 100 percent healthy.
Nick Chubb also entered the NFL in 2018 with the Cleveland Browns. Chubb did not become the team's starting running back until the eighth game of the season but still managed to finish the year with 996 rushing yards and eight touchdowns. He had over 1,100 yards from scrimmage and 10 total touchdowns. In his second season as the full-time starter, Chubb had 1,494 rushing yards and 1,772 yards from scrimmage. This performance led Chubb to his first pro bowl appearance. Chubb should continue to progress heading into his third season, and he should be a big part of the Browns' offensive plans for 2020.
Main Image: Embed from Getty Images