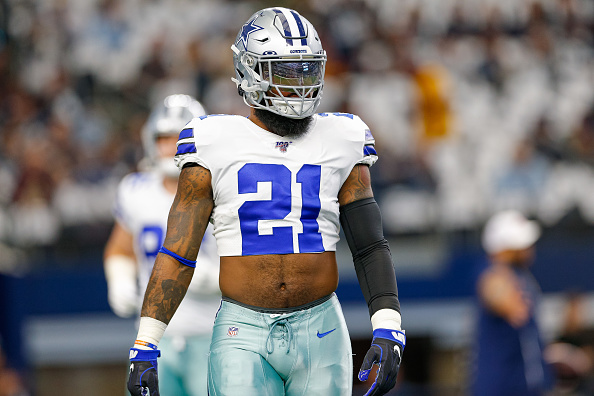 COVID-19 has come to impact Texas football, including the two NFL teams that call it home. According to multiple reports, players from both the
Houston Texans
and the
Dallas Cowboys
have tested positive for the global pandemic virus, COVID-19. Star running back,
Ezekiel Elliott
, is among one of the players to test positive. The organizations will not name the other infected players. Elliott took to Twitter talking about his frustrations with the news of his diagnosis leaking. Although upset about the situation, Elliott reports that he feels fine and has little-to-no symptoms.
COVID-19 Comes to Impact Texas Football
NFL Policies and COVID-19
Due to the NFL's rule and policies for dealing with COVID-19, the teams haven't had access to their practice facilities. The Cowboys
released a statement
on the situation:
"Due to federal and local privacy laws, we are unable to provide information regarding the personal health of any of our employees. We are following all CDC, local, and NFL guidelines to keep our facilities safe, including limiting employee access."
Most believe the pandemic was brought to the two Texas teams when the NFL allowed all team facilities to open on May 19. In a quote,
Roger Godell
released
this statement
:
"Clubs may reopen their facilities beginning on May 19 if they are permitted to do so under governing state and local regulations, are in compliance with any additional public health requirements in their jurisdiction, and have implemented the protocols that were developed by Dr. Sills and distributed to all clubs on May 6."
Unfortunately, the precautions for reopening team facilities proved to be a costly one. The
Cowboys
and Texans are not the only teams to have players infected with COVID-19. Other big-time NFL names have come down with the Coronavirus, such as
Von Miller
and coach
Sean Payton
.
Impact Due to the Rising of Cases
This setback COVID-19 impacting Texas football will impact how the NFL continues to reopen. Roger Goodell will have to rethink reopening because of the new cases.
The NFL Players Association doctor gave his opinion on what will happen if the NFL reopens too quickly:
"Frankly, if we get people in camps at the club facilities and the virus begins to propagate quickly, we're probably close to game over because of the spread of the virus. So we want to avoid that, number one to keep the players safe, but also to avoid a situation where we've got complete clubs out and issues like that."
The decisions made by Roger Goodell will determine if there will be an NFL season. If case numbers grow, Goodell will have a callous decision to make on the fate of the 2020-2021 NFL season.
Main Photo:
Embed from Getty Images