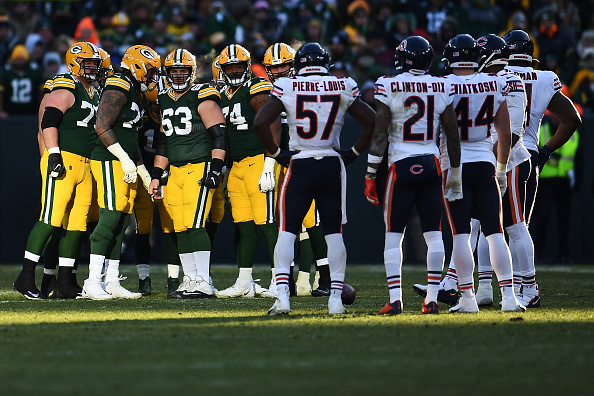 In the midst of the COVID-19 pandemic, the NFL plans to start training camp on time. With virtual mini-camps taking place last month, players are ready for the main camp. Training camps are set to take place on time in July. Things are changing seemingly every day so there is no guarantee plans will stay the same. When training camps commence this summer, the NFC North has quite an interesting group to watch. There are a lot of battles and players to watch out for. All four teams will have something to prove and it'll be a fight to the end. As we take an in-depth look at the NFC North, we'll preview what to look out for and what to expect heading into training camp.
NFC North Training Camp Preview
Green Bay Packers
The Green Bay Packers are planning to open training camp on July 28th. Coming into this off-season, the Packers were limited in the number of moves they made in 2020 because of the signings they made in 2019. They made two new free agent signings in the same day and they were linebacker Christian Kirksey and offensive lineman Rick Wagner, who are both replacements for their respective positions. Many didn't think they got any better in the NFL Draft as they drafted a quarterback with the first pick and they didn't get Rodgers any receiving help. There's a lot of mixed emotions about what the Packers did in the offseason but one positive thing is that they're coming off of an NFC North title while going 13-3 and making it to the NFC Championship Game.
One Position Battle To Look Out For
The Packers don't only have one of the most interesting training camp battles in the NFC North but in all of football. One position battle to keep a close eye on is the number two wide receiver spot. Davante Adams is the clear number one of the team and he's one of the best receivers in the league. The spot behind him is wide open for the Packers. Last season, we all thought that Marquez Valdes-Scantling could've taken over that spot but he faded as the season went on. A guy who stepped up and filled his role was Allen Lazard, who came up in big situations when Aaron Rodgers needed him. Valdes-Scantling is still in the mix but he'd have to really step up this season.
Another name to really keep an eye on is newly acquired free agent Devin Funchess. In 2017, he caught 63 passes for 840 yards with Cam Newton in Carolina. He was also the number one receiver at times for the Panthers. Funchess is coming off of a collarbone injury but if he can get back to 2017 form, he's going to be the front runner to be the number two. There's plenty of other receivers to look our for as well. The Packers might not have got Rodgers what he was looking for, but they have a lot of young and talented receivers to choose from.
Minnesota Vikings
The Minnesota Vikings are coming off of a 10-6 season and a win against the New Orleans Saints in the NFC Wild Card game before getting rolled by the San Francisco 49ers. The Vikings had a pretty good offseason in both free agency and the draft. They traded Stefon Diggs to free up cap space so they can re-sign guys like Anthony Harris. The Vikings also signed free agents like Michael Pierce and Tajae Sharp. Draft night was also highly successful as they drafted more receiving help with Justin Jefferson in the first round. The division will be up for grabs this year and with the Viking's improvements, the division title might be headed back to Minnesota.
One Position Battle To Look Out For
The Vikings have a very interesting decision to make for the 2020 season. A position that the Vikings have needed to figure out for a while is the cornerback position. They're going to have a whole new cornerback group in 2020 as Mike Hughes is the only returning starter from last season. Jeff Gladney is the likely candidate to start alongside Hughes as he has the tools to play around the field. A couple of other candidates to watch out for is Holton Hill and Kris Boyd. All of these players will have to show that they can either stay on the field or improve their game above others. They'll have a lot of new cornerbacks stepping up to the plate this season and all of them will have to deliver to secure a spot.
Chicago Bears
In 2018, the Chicago Bears had an outstanding season. They went 12-4 and had a top tier defense. The Bears fell short with a loss in the NFC Wild Card game and they never could seem to get back to good football. Their 8-8 record last season was a disappointment coming off of a great season. This year, we don't know what to expect. They could either be really good or stuck in the middle again. They'll be in a tight race for the NFC North so they have to improve all parts of their game if they want to compete.
One Position Battle To Look Out For
The most important position on the field will have all the spotlight in training camp. The starting quarterback position is up in the air after the acquisition of Nick Foles. Micthell Trubisky has been leading this team since 2017 and while having good moments, he's had a lot of bad ones too. Last season didn't look good for Trubisky so for assurance at the position, they got Foles. Foles was the starter for the Jacksonville Jaguars last season but only played four games due to injury. He's won a Super Bowl and has experience so the battle won't be easy for Mitch. Trubisky now has an even bigger chip on his shoulder and is looking compete at a high level in camp to try a secure the spot. This one battle will determine the fate of the whole season for the Bears.
Detroit Lions
Despite getting a lot of talent last offseason, the Detroit Lions only won three games. This offseason, they've done the same. They went out and made multiple moves. The Lions did trade Darius Slay but they signed Desmond Trufant and Jamie Collins on the defensive side of the ball. They also drafted a top cornerback with their first-round pick in Jeff Okudah. Mix that in with the talent they got last year and you got a pretty good team. They just have to learn to play together and if they do that, this team could be sneaky in 2020.
One Position Battle To Look Out For
The linebacker position is crowded in Detroit. They have a few returning players including Jarrad Davis. The Lions declined his fifth-year option for next season but they still have faith in him for this year. Detroit also drafted Jahlani Tavai in 2019 and picked up Collins this offseason. Collins is a lock but there could be a battle for the number of snaps between Davis and Tavai. Even though Davis isn't in the long-term plans, he can still come out and win over the coach. Tavai was a tackling machine in college and he showed it in his rookie season as well. They'll have other challengers but these two are at the top to watch in training camp.
Black And Blue Division
The NFC North will be one of the most interesting divisions to watch in 2020. The NFC North training camp is upon us and every team in this division is looking to get better. Each team has the potential to reach a high level and compete for the division title. There's a reason they call it the black and blue division and it'll be a fight until the end. 
Main Photo:
Embed from Getty Imageswindow.gie=window.gie||function(c){(gie.q=gie.q||[]).push(c)};gie(function(){gie.widgets.load({id:'FpZdg8ELQJlIDlQVDExQWw',sig:'zt5k9L8KUX3jX3kYuJ5HlRmI-u4hqnU1Mkp_mIP-Giw=',w:'594px',h:'396px',items:'1194329173′,caption: true ,tld:'com',is360: false })});