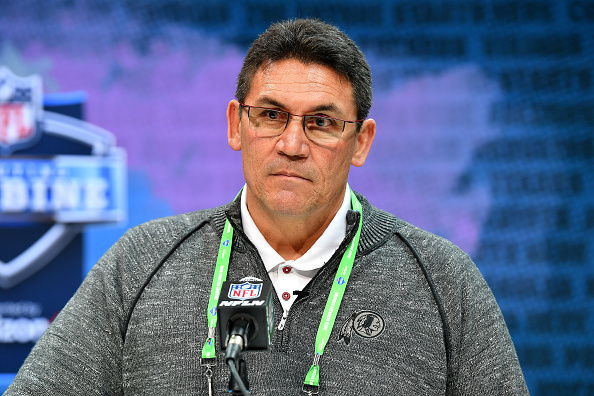 Over the past two seasons, there has been a lot of head coaching changes around the league. That includes five in 2020. These new coaches will be challenged in getting their teams ready to compete for the future. Four of the five changes are in the NFC with three of them being from the NFC East. These new head coaching changes were certainly interesting to follow and now we will see how they play out.
NFL Head Coaching Changes In 2020
In: Matt Rhule
Out: Ron Rivera
After nine years, the Carolina Panthers move on from Rivera to hire former Baylor head coach, Matt Rhule, for seven years at $62M. Rhule brought along a new offensive and defensive coordinator. The Panthers have a new look on offense after signing quarterback Teddy Bridgewater and felt like they needed a new feel on defense after Luke Kuechly retired. Baylor had great success in 2019 and the Panthers hope that Rhule can translate that over to the NFL.
In: Kevin Stefanski
Out: Freddie Kitchens
The Cleveland Browns hired Kitchens in 2019, the same year they acquired Odell Beckham and put talent all around the team. Everyone thought the Browns would be contenders or at least vastly improve. That didn't happen. They went 6-10 which led to the firing of Kitchens after only one year. With quarterback Baker Mayfield and weapons all around, they needed a new look on offense so they hired Stefanski, the former Minnesota Vikings offensive coordinator. Like Rhule, Stefanski also brought in a new offensive and defensive coordinator. Stefanski has had some success in Minnesota and is looked at as a great offensive mind, which is what the Browns need.
In: Mike McCarthy
Out: Jason Garrett
For the past several years, the Dallas Cowboys have had the roster to contend but never could find that switch. Last season, they had their most complete collection of talent, but what was on paper didn't translate on the field. They missed the playoffs with an 8-8 record. It was time to take action and they did just that by firing Garrett. They turned to that man who's had the upper hand on that team for years and always seemed to outlast the Cowboys and that's McCarthy, former Green Bay Packers head coach.
After taking a year off to redesign himself, McCarthy comes in with a fresh mind and is ready to tackle his next task. Coming into his first season, he already is under pressure because the Cowboys have high expectations yet again and have talent all around. Jerry Jones is very high on McCarthy to lead this team to the promised land.
In: Joe Judge
Out: Pat Shurmur
In the last two seasons under Shurmur, the New York Giants had four and five-win seasons. They drafted quarterback Daniel Jones with the sixth overall pick in 2019. The Giants feel like he has potential but they needed a change. They fired Shurmur and hired Judge, who was the assistant coach in New England. Jones teaming up with a young coach (38) like Judge can be a beneficial thing for him and the team. They also hired two new coordinators with one of them being Jason Garrett from Dallas (offensive coordinator). The Giants don't have many expectations this season, but what they want to find out is if Judge is capable of grooming a young quarterback and getting a bad team out of their funk.
In: Ron Rivera
Out: Jay Gruden
The Washington Redskins have been a mediocre team at best under Gruden. Last year, the team was far worse than mediocre and after just five games, Gruden was out. In steps Rivera. Rivera spent nine seasons in Carolina and was fired after 13 weeks last season. He's had some pretty good seasons, including three with 11 wins or more. He's also appeared in a Super Bowl. This is a do or die season for quarterback Dwayne Haskins and Rivera will have to immediately step in and show why the Redskins made a good choice at the quarterback position. Washington has talent all around that Rivera looks to bring out on both sides of the ball.
Last Drive
There will surely be more coaches on the hot seat this season and more head coaching changes in 2021. All five of these teams have something to prove in their own way this season and it's time to show that they made the right choice in picking the coach of the future.
Main Image: Embed from Getty Images