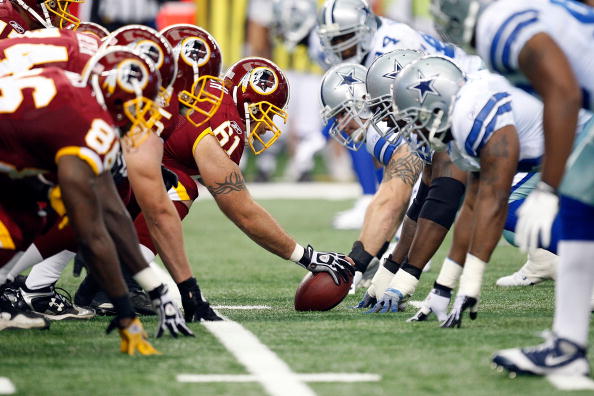 Football on Thanksgiving Day is a tradition like no other. On Thursday, the NFL released the schedule for the 2020 season. There are great matchups to look forward to, including the Thanksgiving Day matchups. Two out of the three matchups are divisional games and that includes a classic game between the Redskins and Cowboys. There's a lot to be thankful for and the NFL giving us three Thanksgiving Day matchups is one of those things.
NFL Schedule Release: Thanksgiving Day Matchups
Texans vs Lions (12:30 ET)
Since 1934, the Detroit Lions have been a part of our Thanksgiving Day traditions. This year, they'll be facing AFC South opponent Houston Texans in the first game of the day. The Lions have had an interesting offseason. They traded franchise cornerback Darius Slay and released defensive tackle Damon Harrison but signed linebacker Jamie Collins and cornerback Desmond Trufant. Detroit has weapons outside with Kenny Golladay, Marvin Jones, Danny Amendola, and former Green Bay Packers receiver Geronimo Allison. They also have T. J. Hockenson and Jesse James at the tight end position while drafting running back D'Andre Swift to pair along with Kerryon Johnson. The Lions no doubt have a lot of talent but they can never seem to put it all together, as we saw last year. The team is hoping that they can get it together coming into this game and season.
The Houston Texans come into the season under a lot of heat with their offseason moves, specifically head coach/general manager, Bill O'Brien. Arguably the biggest and most surprising news of the offseason is the Texans trading DeAndre Hopkins for almost nothing. This didn't make sense whatsoever and it makes the Texans worse in every way. They signed receiver Randall Cobb and traded for Brandin Cooks. These two are good receivers for Deshaun Watson but they're no Hopkins. As long as they have Watson, they'll compete but many aren't sold. This Thanksgiving Day matchup will be an interesting one to say the least.
Redskins vs Cowboys (4:30 ET)
The Washington Redskins and Dallas Cowboys have had some memorable Thanksgiving Day games against each other. No matter the records coming into this game, it's always a great matchup. The Cowboys had a great draft and that includes getting star receiver CeeDee Lamb out of Oklahoma. They also signed defensive help with Dontari Poe, Gerald McCoy, and Ha Ha Clinton Dix. They have a contending group, they just hope they can bring it all together unlike last season when they went 8-8.
The Redskins had the second-worst record last season but are in a rebuilding mode right now. The Redskins spent first-round picks on pass rushers the last two years with Montez Sweat last year and Chase Young this year. They also have established guys like Ryan Kerrigan and Reuben Foster. When it comes to the offensive side, they have a young wide receiver in Terry McLaurin who looks like a star. Throwing to him is second-year quarterback Dwayne Haskins, who is in a pivotal prove it year for Washington. This team hopes to see something from Haskins that says he is the franchise. Come Thanksgiving Day, they hope Haskins has shown them enough to face Dallas. When it comes to these two teams on this day, throw everything out of the window.
Ravens vs Steelers (8:20 ET)
Probably the most interesting game on Thanksgiving Day comes at night. The Pittsburgh Steelers lost Ben Roethlisberger early last season and still went 8-8. They stayed in the race because of that defense. They made a great trade to acquire Minkah Fitzpatrick from the Miami Dolphins last season and he fit right in and became a huge part of that team. With Big Ben coming back and JuJu Smith-Schuster leading the receiving group, this team is primed to come back better than ever.
Many think they'll be in a good position heading into this matchup but they'll be facing a Baltimore Ravens team who only lost two games last season and added key pieces that include trading for Calais Campbell and signing Derek Wolfe along with drafting J.K Dobbins. Quarterback Lamar Jackson had a great season last year as he won MVP and is set to have a similar season. This will be a must-watch game between two teams who have had great battles over the years.
Last Drive
Three great Thanksgiving Day matchups are just what we need in what has been a crazy 2020 so far. With these matchups coming weeks into the season, we should have a pretty good idea of what these teams are and how they'll perform the rest of the way. On this national holiday, sit down and enjoy some turkey and a football game with the family and be thankful for what the NFL is providing us.
Main Photo:
Embed from Getty Images