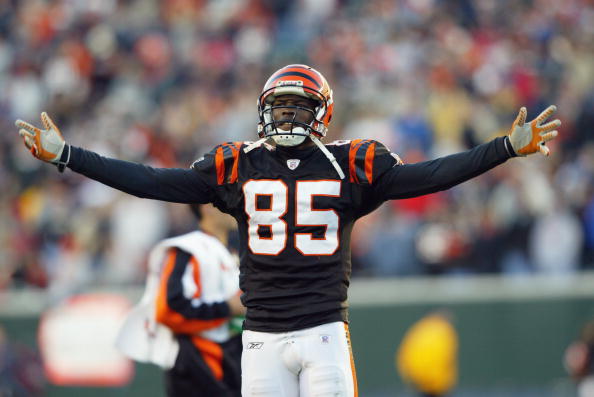 With solid quarterback play by the likes of Ken Anderson, Boomer Esiason, Carson Palmer, and Andy Dalton, one would have to assume that the Cincinnati Bengals have had a few great wide receivers in its time. Now, the debate of who to include in the top five Cincinnati Bengals wide receivers discussion would be heated. There have been periods of futility that could only rival the modern-day Cleveland Browns. Even then, the Bengals have had great wide receiver play. Let's take a look at who the top five Cincinnati Bengals wide receivers are.
Top Five Cincinnati Bengals Wide Receivers Of All Time
5. Chris Collinsworth (1981-1988): 6,698 Yards, 36 Touchdowns
Number five on this list is the popular NBC Sunday Night Football analyst who slides onto your screen, Chris Collinsworth. Collinsworth was selected in the second round of the 1981 NFL Draft and immediately made an impact. His rookie year saw Collinsworth going for 1,009 yards and eight touchdowns for the AFC Champions. He did his best to help lead the team from a 20-0 hole with his five-catch, 107-yard performance, but Joe Montana would not be denied.
At 6'5″, Collinsworth was a matchup nightmare and often took advantage of smaller corners. Through the rest of his career, big number 80 made three Pro Bowls, caught 417 passes, and surpassed 1,000 yards on four occasions. In 1985, he actually signed to play with the defunct USFL squad, Tampa Bay Bandits. After a failed physical, he returned to play his final four seasons and retired after a three-catch, 40-yard performance in Super Bowl XXIII where Montana would not be denied, again. Collinsworth holds a dear place in Cincinnati fans and is almost universally considered to be one of the top five Cincinnati Bengals wide receivers.
Also, did you know he has a Juris Doctor degree? That's Chris Collinsworth, J.D. to you!
4. Isaac Curtis (1973-1984): 7101 Yards, 53 Touchdowns
Next up is the original 85, Isaac Curtis. Curtis was selected in the first round of the 1973 NFL draft out of San Diego State. Oh yeah, he only played wide receiver for the one year he was at SDSU after transferring from Cal where he was a running back and track star. In a league that was not as pass-heavy as it is now, Curtis was blindingly fast and explosive and was a favorite target for Ken Anderson. Longevity is the tale of the tape here. Curtis played 167 games in the NFL, all with the Bengals.
Curtis burst onto the scene and was selected to four consecutive Pro Bowls and three All-Pro teams to start his career. He is third and fourth in Bengals history in reception yards and touchdowns, respectively. This is impressive considering that in his final season, he only caught 12 passes. His 17.1 yards per catch remains a Bengals record to this day and was lauded as "Jerry Rice before Jerry Rice" by his quarterback. Mighty praise for a guy who only started playing the position a year before entering the NFL.
3. Carl Pickens (1992-1999): 6,887 Yards, 63 Touchdowns
Next up, we have yet another second-round selection from the SEC. This time, it is Carl Pickens out of Tennessee in the 1992 NFL Draft. The 1990s were not kind to the Bengals fandom. In the eight seasons with Pickens, the Bengals went 40-88, never doing better than 8-8 (1996). It just goes to show how good Pickens was for the team that they were that bad and he still was able to put up numbers. He was actually the Offensive Rookie of the Year in 1992 thanks, in part, to his kick/punt return prowess which included a 95-yard return for a touchdown.
As a receiver, Pickens notched at least 100 catches five times and joined the 1,000-yard club four times. His 63 touchdowns are tied for second-best in franchise history. Perhaps due to the fact he was on an overall-bad team for the duration of his tenure, he was only selected to the Pro Bowl twice in 1995 and 1996. In 1995, he led the NFL in touchdowns with 17. What he is probably most infamous for is the "Carl Pickens Clause" in Bengals contracts, which nullifies some bonuses if the player publicly criticizes the franchise. Even one of the top five Cincinnati Bengals wide receivers gets frustrated with how the team is run. He eventually ended his career after a year with the Tennesee Titans in 2000.
2. Chad Johnson (2001-2010): 10,783 Yards, 66 Touchdowns
Now for the fun part. Second on this list of the top five Cincinnati Bengals wide receivers is the one and only, Chad "OchoCinco" Johnson. Growing up, I idolized Johnson and even bought three of his jerseys. He was the most polarizing player in the league during his time and even went so far as to publish Who Covered 85 in '05 to notate if corners were able to cover him on a weekly basis. Spoiler alert: not many were able to. As of now, he holds the Bengals records for most receiving yards and touchdowns.
Another second-round pick, Johnson was an explosive playmaker in an offense that needed it. Once the team selected Palmer in 2003, the two gelled like nobody's business. Over his 10 years in Cincinnati, Johnson amassed 1,000+ yards seven times and even led the league with 1,369 in 2006. He was selected to six Pro Bowls and two All-Pro teams as well. If there was a record to be broken, Ocho took it out with ease. Johnson was one of the most entertaining receivers in the "No Fun League" and was fined a total of $115,000 for celebrations. Funnily enough, one of the fines was after he held up a sign after a touchdown that said, "Dear NFL, Please Don't Fine Me Again."
After Cincinnati, his career faltered. Trips to the New England Patriots and then the Canadian Football League resulted in his retirement. Watch out for his son, Chad Johnson, Jr. The legacy will be on full display at Arizona State starting this fall.
1. A.J. Green (2011-Present): 8,907 Yards, 63 Touchdowns
Number one on this ranking is the current Bengal, Adriel Jeremiah Green. This selection will result in flak, I can just tell. It seems like Bengals fans are frustrated with Green after only playing in nine games in the last two seasons after missing all of 2019. Oh ye of little faith! The first-round selection out of Georgia in the 2011 NFL Draft, Green linked up with Dalton immediately. As it stands, Green is second all-time for receiving yards and touchdowns (tied). In his eight seasons played (disregard 2019), Green surpassed 1,000 yards six times. In 2016, he came 36 yards short of 1,000…in only ten games. Even then, he earned one of his seven Pro Bowl selections.
As it stands, Green is number two, statistically. However, based on his 80 yards per game and 0.57 touchdowns per game, he is not far off. The best part is that Green has put up similar numbers to Johnson in 40 fewer games. If he returns in 2020 healthy and continues with his trend, he will surpass Johnson's receiving yards mark in 24 games and his touchdowns mark in five. If he plays the same number of games (151) as Ocho and keeps to his averages, Green will sit at 12,107 yards and 85 touchdowns. He has done all of this without behavioral issues or distractions. Of the top five Cincinnati Bengals wide receivers, Green is number one in terms of yards per game played and touchdowns per game played. Imagine what he will be able to do with Joe Burrow.
Who Dey Thinkin' They Can Cover These Bengals?
In its 50 seasons of play, the Cincinnati Bengals have not been the premier franchise in terms of on-field success. Even then, they have developed and enjoyed some great receiver play. If he can put together a full career similar to these guys, could we see a Tyler Boyd crack the top five? Only time will tell, but he certainly has some work to do. Considering the lack of overall success by the franchise during some of these guys' tenure, these numbers are quite impressive. Could they select the next great Bengals wide receiver in this year's draft? Who knows! But this much is certain: we are ready for football to be back.
Main Photo:
Embed from Getty Images