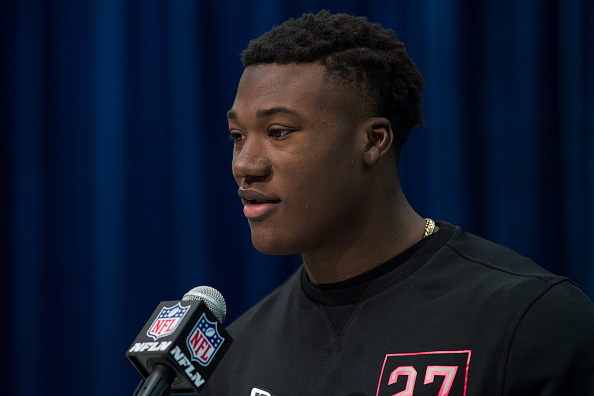 Since the 2020 NFL Combine has come and gone, all that's left to get Cincinnati fans by is some Bengals mock draft action! It could be considered that we are in a dead zone of NFL content, so why not fill the void with an updated Bengals mock draft? There were plenty of athletes whose stock rose during the combine, whereas some may have fallen. Let's take a look at how the Bengals will fill their needs in an attempt to return to being competitive.
Round 1, Pick 1
It seems like it has become a foregone conclusion that Cincinnati will select LSU signal-caller Joe Burrow 1st overall. Burrow has been touted as a home-run prospect, perfect for the Bengals. Not even a franchise with a stingy owner who has no more than two draft scouts on any day could mess this one up. The consensus about Burrow is both reassuring and worrying. It's reassuring because Bengals fans can rest easy knowing that their quarterback of the future is on his way. It is worrying because what if we spend all this time anointing Burrow as the savior, only to have the team trade back or select a guy like Tua Tagovailoa or Justin Herbert 1st overall?
Round 2, Pick 33
The first two picks of this Bengals mock draft remain consistent with my first mock. In the last couple of years, the Bengals' linebacker play has been less than stellar. They need a guy who can come into camp and be a day-one starter. Kenneth Murray is certainly that guy. Once again, I would be surprised if Murray falls to Cincinnati at 33. However, it is certainly likely due to the fact that there are other positions (wide receiver, mostly) with so much top-end talent that teams may elect to pass up a Kenneth Murray or Patrick Queen to get their playmaker.
His 257 tackles, 29.5 tackles for loss, and 8.5 sacks in his two years as a starter earned him the respect of the Big XII. Considering that the two linebackers with significant experience that are currently on the Bengals' roster are Nick Vigil and Germaine Pratt, Cincinnati cannot go without drafting at least one linebacker. Don't be surprised if they decide to go out into free agency and sign one as well.
Round 3, Pick 65
One major theme of Bengals fandom on social media is the team's need to work on re-tooling the offensive line. Getting Jonah Williams back from injury could certainly help, but Cincinnati still needs help. Isaiah Wilson is an athletic tackle from Georgia. Wilson is raw, however. His pass protection is not the greatest but thrives in run blocking. This fits the Bengals scheme because Zac Taylor wants to continue to work Joe Mixon and building off of the run game.
Some mock drafts have Wilson off the board by this point. His raw ability may scare some franchises who are looking for a more polished product. Perhaps the Bengals could take advantage of and mold the former Bulldog by harnessing his ability to get the job done. Wilson would provide competition for Bobby Hart and Isaiah Prince for the right tackle position. He could be considered a high-ceiling project, so perhaps he may not play much this year. I expect Wilson to be a contributor in the future, however.
Round 4, Pick 97
For the last few seasons, the Bengals have struggled to get to the quarterback. Derrell Taylor would be able to step right in and contribute. As a defensive end, Taylor's best traits are his hands. He is able to get by his blocker, though he has struggled in passing situations. One area where the Bengals defense struggled was protecting the edge on off-tackle runs or sweeps. Taylor is proficient in establishing the edge and containing.
Interestingly enough, Taylor would become yet another flexible defensive end/linebacker on this defense along with Carl Lawson. Last season, the Bengals worked from multiple defenses which included an Ohio State-esque "Rushmen" package. That is to say: on passing downs, the defensive line consisted of mostly pass-rushers in Sam Hubbard, Carl Lawson, and Carlos Dunlap. Adding Taylor would certainly allow the Bengals defense to improve on third-down defense.
Round 5, Pick 129
In a wide receiver draft as deep as this one, it is only natural that this Bengals mock draft has Cincinnati selecting at least one. Enter Chase Claypool from Notre Dame. While my previous mock had the Bengals selecting two receivers, Claypool is the only one in this edition. Why is this? While Tyler Dragon may have reported that the Bengals were going to Franchise Tag AJ Green back in December, Jeremy Fowler from ESPN recently confirmed it. So, assuming they don't tag-and-trade him, Green will suit up to help Burrow in the fall.
Claypool's combine results had a certain feel to them. At 6'4″ and 230lbs, Claypool ran a 4.42 40-yard dash. Only one other player in NFL history ran a 4.42 at 230lbs or more: Calvin Johnson. I'm not saying that he is going to be the next Megatron, but a receiver of his size and speed would do very well opposite A.J. Green. Add in Tyler Boyd, John Ross, and Auden Tate, Joe Burrow's job could get that much easier. Having a quarterback with the ability to go over the top of the defense would certainly benefit Claypool.
Round 6, Pick, 160
The tight end group is enigmatic in this year's class. Before the combine, Harrison Bryant could very well have been considered the top tight end. However, his performances left a lot to be desired. At only 13 bench press reps, Bryant was comfortably at the bottom of the pecking order. The Bengals (or whoever drafts him) will likely look to his tape at FAU to see what he can do.
With Tyler Eifert's future in question, as it is every off-season, this Bengals mock draft projects that Cincinnati will utilize Bryant as more of a pass-catcher, rather than a blocking tight end. Last year, the Bengals had a bit of a head-scratcher when they selected Drew Sample in the 2nd round. In addition, they have C.J. Uzomah, so Bryant would fit in as another sure-handed receiver. Just surround Burrow with as much talent and options as possible and watch him thrive!
Round 7, Pick: 192
Finally, we have Josiah Scott out of Michigan State. 2019 was not overly kind to the former Spartan. However, Scott led the team with three interceptions in 13 games. As it stands, he did not do much at the combine, though he did run a 4.42. You need a little speed when you're in a division with JuJu Smith-Schuster, Odell Beckham Jr., Jarvis Landry, and Marquise Brown.
As it is, the Bengals have some decisions to make. William Jackson is the number one corner, but who filters in after that? Dre Kirkpatrick is a good candidate to be cut or traded. Darius Phillips is a fan-favorite thanks to his explosive special teams play. Not to mention he came into his own at the end of last year. Scott is currently projected as a good back-up who can develop into a starter. If he can take the same route as WJIII and Phillips, the Bengals could be in good hands.
Who Dey Gonna Draft?
At only seven selections in the 2020 draft (with no compensatory projections), the Bengals have to hit on every pick. It will be an interesting storyline to watch considering both Cordy Glenn and Andy Dalton are being shopped to be traded. If they can flip these players for picks, Cincinnati could have a very solid draft to put around Burrow. There are plenty of reasons for the optimism felt in Cincinnati. Is it April 23rd yet?
Main Photo:
Embed from Getty Images