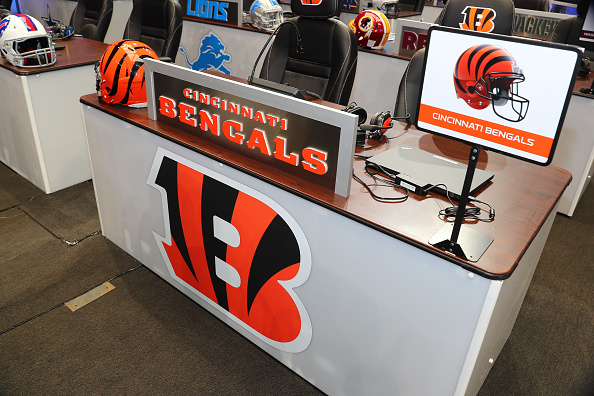 Now that the NFL draft prospect pool is complete, we can begin to speculate who will land where. Some franchises, like the Cincinnati Bengals, the first pick could very well be in. It seems like a majority of the Cincinnati Bengals mock draft write-ups are in agreement on the first pick. First-round picks are usually blue-chip and common sense. However, the real money is made later in the draft.
This mock draft was completed thanks to The Draft Network and its mock draft feature. Some selections were surprising, so the mentality for this Cincinnati Bengals mock draft is "get your quarterback, give him weapons, and the defense will figure itself out." For reference, look at the Super Bowl-bound Kansas City Chiefs.
Cincinnati Bengals Mock Draft 1.0
Round 1, Pick 1
"With the first overall pick in the 2020 NFL Draft, the Cincinnati Bengals select Joe Burrow, quarterback from Louisiana State University." Perhaps the most slam dunk, home run, insert-any-other-sports-cliche here pick, Burrow is a franchise quarterback. Considering that recently, the Bengals have zeroed in on Burrow and announced that they are unwilling to trade back, the quarterback is going to be the man.
We can write thousands and thousands of works on why Burrow is the best fit for the Bengals and why they should select him. Ultimately, the Athens, Ohio native warrants the hype and respect given. The only way Cincinnati doesn't select Burrow first overall is if a franchise blows them away with a historic trade.
Round 2, Pick 33
Of the glaring holes on the Bengals' roster, linebacker is at the top. Enter the junior from Oklahoma, Kenneth Murray. If Murray falls to 33, the value would be too good for the Bengals to pass up. When putting together this Cincinnati Bengals mock draft, I was elated to be able to select Murray.
Murray is a freak athletically and probably would have been a high draft pick last year if sophomores could declare. In his two years as a starter, the former Sooner tallied 257 total tackles, 29.5 tackles for loss, and 8.5 sacks. The biggest thing that NFL scouts are loving about Murray is his ability to drop into coverage. Normally, inside linebackers struggle with coverage. Honestly, I do not expect Murray to drop this far, but the NFL draft is a crazy process, so anything goes.
Round 3, Pick 65
A.J. Green's contract situation and John Ross's inability to stay healthy mean that the Bengals are going to take at least one receiver in this draft. A tight end would be a good pick here to potentially replace Tyler Eifert, but this Cincinnati Bengals mock draft has them selecting the next man up in Tempe after N'Keal Harry left: Brandon Aiyuk.
The Bengals need another receiver to go with Tyler Boyd and Auden Tate. Aiyuk and his 1,192 yards and eight touchdowns off of only 65 catches would provide a spark. In addition to his play-making ability as a wideout, Aiyuk returned kicks for the Sun Devils. The Bengals could use another stud to line up with/provide relief for Brandon Wilson and Alex Erickson. The Bengals will get a good look at Aiyuk at the Senior Bowl considering the receiver is on the South team coached by Zac Taylor.
Round 4, Pick 97
A seemingly reoccurring issue with Cincinnati is their offensive line. There is a possibility that the Bengals brass and the Bengals fans are at odds when it comes to this unit. Even then, this Cincinnati Bengals mock draft has them selecting a big, strong tackle out of Washington.
Trey Adams' strengths are in his run blocking and is solid in the passing game. Considering last year's first-round pick Jonah Williams missed the entirety of the season with an injury, the Bengals were scrambling early. Adams would at least provide depth at both tackle positions. The floor for the senior would be a swing-tackle backup. However, he could very well earn a spot as the Bengals' starting right tackle. A franchise that started Bobby Hart cannot be picky. I think Adams would be able to earn himself a spot, barring injury.
Round 5, Pick 129
This Cincinnati Bengals mock draft features three double-dips. The first is here at linebacker. As stated above, linebacker is a major need. Another major need for this unit is leadership. As a four-year starter, Shaquille Quarterman could emerge as a young leader quickly. Between Quarterman and Murray, the Bengals' linebacker corps would experience an immediate upgrade.
Across his four-year career, Quarterman amassed 356 total tackles, 46.5 tackles for loss, and 12 sacks. The former Hurricane made the right decision by going back to school for his senior year. He took a real step forward in his development as a player. Ultimately, Quarterman would end up as a clone of Vontaze Burfict. They are both quick and extremely physical and old school. Hopefully, Quarterman can provide the hard-hitting without all of the bone-headed and arguably criminal hits.
Round 6, Pick 160
The next double-dip is out of the National Champion squad, LSU. This pick would certainly garner some ire from Bengals fans and NFL fans alike. In their history, the Bengals have been known to be willing to give athletes second chances and possibly look past some character issues. Michael Divinity, Jr. would be a perfect fit. Divinity has a high up-side and would be able to give the defensive line some depth behind guys like Carlos Dunlap, Sam Hubbard, and Carl Lawson.
As an athlete, Divinity would be a dream to work with. He does his job and does it well. He did have issues finishing tackles, however. The biggest red flag for Divinity would be the fact that he only played in five contests in 2019, missing the rest due to eligibility issues. The final judgment came down when he failed his fourth drug test. It was only marijuana, but it's still a banned drug. If the Bengals can just keep him off the weed (or if the NFLPA can get it off the banned list), they might have a low-risk, high-reward athlete on their hands.
Round 7, Pick 192
The final pick double-dips from the wide receiver pool by selecting Ohio State playmaker Binjimen Victor. Honestly, if Victor is still on the board here, it would be a natural fit. By selecting another receiver, perhaps the Bengals could sign-and-trade Green or just use Victor as a secret weapon for a big play. Victor's natural size is perfect for the NFL.
In his four years (33 games), Victor averaged over 16 yards per touch. Considering there is a bit of an overlap between Ohio State fans and Cincinnati Bengals fans, there would be plenty of reason for hope. Buckeye fans saw Victor come up clutch in many situations and was actually able to do more than asked. The best example would be his game-winning touchdown grab against Penn State in 2018 which capped off their great comeback.
It's Gonna Be A New Dey
This Cincinnati Bengals mock draft is certainly a bit offense-heavy. While the Bengals do have more issues and holes than a singular draft could fix, this would be a great first step. Burrow is a franchise-changing quarterback, so the Bengals should look to surround him with as many weapons as possible to try and replicate the success of the Patrick Mahomes of the world. One thing that I would like to say is that this draft is very deep with wide receiver talent. Even if Cincinnati does not select two players at the position, there will be plenty of talent for the undrafted free agency period.
Main Photo:
Embed from Getty Images