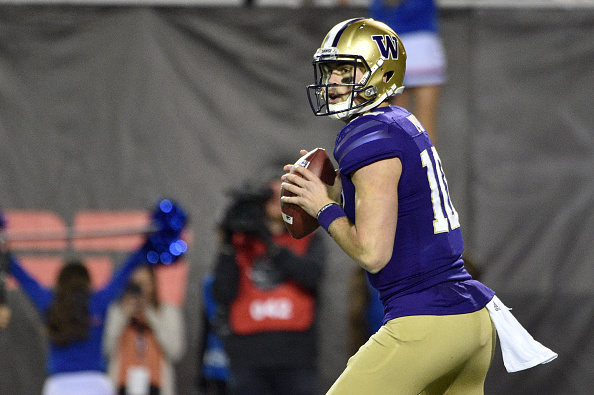 Super Bowl Sunday isn't here yet but that doesn't mean we can't talk about the NFL Draft. The Cincinnati Bengals hold the first overall pick in the 2020 NFL Draft, followed by the Washington Redskins and the Detroit Lions. The first round of the draft has a mix of players on both sides of the ball. The main position looked at in the NFL draft is the quarterback. Two to three quarterbacks are projected to be taken in the first round of the NFL Draft as we look at who they are.
2020 NFL Draft Quarterbacks
Joe Burrow (LSU)
Joe Burrow had one of the best seasons in college football history by a quarterback. He threw for a nation-best 5,671 yards and an amazing 60 touchdowns in the regular season and the post-season. Burrow was also first in the nation with a 76.3 completion percentage and in total yards. LSU went 15-0 on their way to a National Championship. He took home a lot of hardware on award night, including the Heisman Trophy. A lot of people see him going number one overall to the Bengals and he deserves to.
Tua Tagovailoa (Alabama)
If you are a starting quarterback for Alabama, you likely are one of the top players in the draft. Tua Tagovailoa suffered a season-ending injury in week nine against Mississippi State and ended any chance Alabama had at the playoffs. He entered the second half of the National Championship game against Georgia in 2017 due to the performance of Jalen Hurts. Tagovailoa led them to a comeback and yet another National Championship.
He never looked back as the next season he threw for almost 4,000 yards and had 43 touchdowns. Everyone knew he was special and he showed it. This season, before the injury, he threw for 2,840 yards and 33 touchdowns. The stats were good and would've been even better if he played all of the games. Despite his injury, teams still hold a high value on Tagovailoa and think he would be the next guy under center for any team.
Jacob Eason (Washington)
Jacob Eason started his playing career in Georgia, where he threw for 2,430 yards in 2016 but he lost his job to Jake Fromm. He didn't see playing time in 2017 and didn't play at all in 2018. He announced that he was transferring to Washington. In his first and only year there, he threw for over 3,000 yards and 23 touchdowns. A lot of people like his style of play and like his size. If all goes right, he can be a very solid player in the NFL. He is projected to go anywhere from late in the first round to early in the second.
Justin Herbert (Oregon)
In the past two seasons for Oregon, Justin Herbert threw for over 6,000 yards and 61 touchdowns combined. Like Eason, Herbert is well built for a quarterback and that's what teams fall in love with. He has a very strong arm and can make great passes no matter the position. He's been one of the best in the Pac-12 these past four seasons and especially in the last two. Herbert is likely to go early in the second round but will be a great choice for teams looking for a guy to lead their team in a year or two.
Jordan Love (Utah State)
In 2018, Jordan Love threw for over 3,500 yards and had 32 touchdowns. 2019 was a down year compared to his previous year but it was still a good one nonetheless. He threw for 3,402 yards and 20 touchdowns but also threw 17 interceptions which were unlike him. Love was number two in the Mountain West with 293 completions and was number three in total yards. He has a lot of skill and is accurate with his passes. Reading the different types of coverages might be a little bit of a concern but with help and time behind a veteran quarterback, he can improve and help a team.
Other Quarterback Prospects:
Final Word
We could see two quarterbacks go in the top five with Burrow and Tagovailoa. A lot of people have to Burrow going number one overall to the Bengals and Tua potentially going number five overall to the Miami Dolphins. It's still to be determined if this year's quarterbacks are better than last year's but we do know for certain that there are some talented players.
Main Photo:
Embed from Getty Images